You probably hear it all the time: "You need to be creating content to grow your business." The thing is, publishing blog posts on a regular basis is a lot of work.
From figuring out what to write about, doing keyword research, taking photos and more, creating a blogging process is well… a process.
I've spent a lot of time working to create a system that works for me and my team. It's been one of the most rewarding systems that I've built to date because it saves me so much time every single week and trust me when I say it was not an easy one to work the kinks out of.
WHY TO STREAMLINE YOUR BLOGGING PROCESS
It takes out some of the time it takes to blog because it's more automated.
You just create your content, read your blog post to-do list, check it off and your done! That's really important because staying consistent with your posts is a big factor in your site performance and keeps your community coming back for more.
Staying consistent is tough though when you're balancing client work, a day job, and what's for dinner tonight. So saving time on publishing makes it that much easier to share your content with the world, consistently.
I've also found that having a system allows me to concentrate more on the content I'm actually creating! I can put a lot more of my energy into the posts themselves rather than worrying about whether I did everything I need to to publish it.
Because it's on my checklist, I know it's getting done and all I need to do is write and be available to my online family – Yes, that's you!
Last, but definitely not least, is that it helps you optimize your blog posts. This is crucially important if you want a good shot at showing up on the almighty google and building up your organic traffic over time.
I know optimization is not exactly the sexy side of blogging (unless you're like me and a total nerd) but it's one of the most important parts of the process. Because you can create incredibly ah-mazing stuff, but if google can't understand what you're trying to say – no one's going to see it.
Alright, it's time to walk you through my own process to save you some time in creating your own!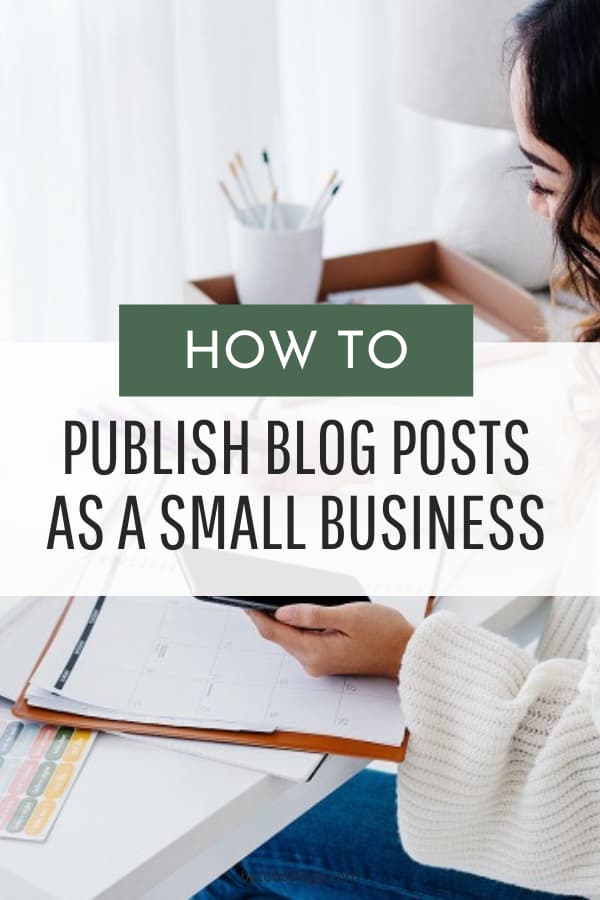 MY COMPLETE BLOG POST CHECKLIST
Brainstorm Content Ideas
One of the most common things you hear from bloggers is, "I never know what to write about!"
I certainly fall into this category if I don't plan out my post ideas ahead of time.
I like to keep a collection of ideas on a board in Asana where I can store them long-term and come back to later when I'm ready to write. More often than not, my ideas come when I'm not working or doing something unrelated to blogging. So it's nice to be able to hop in, note the idea and move on knowing that I won't be left trying to remember what it was I wanted to share about in another week.
My ideas generally come from my community of virtual assistants or from a project I'm currently working on with a client. As I'm working I think, "oh I could write a post about this!" so I put it in asana and then carry on with what I'm doing.
If you struggle to think of content ideas, I encourage you to get inside the mind of the person that you want to talk too. What does that person want to know about in relation to what you do? What questions do they have? What do they want to learn?
Always aim to answer your person's questions with your content – That's the best place to start!
Keyword Research
Once I decide on which of my blog post ideas I want to write from my list, I start the keyword research and optimization phase.
I take some time to think about and research what keywords my audience member would use to find the content that I'm writing about so that I can include them in my post.
This helps search engine tools like Google understand what my given piece of content is about so I have a better chance of my post ranking in search results.
There are some more advanced tools made to help in this process for a more in-depth analysis of what people are searching for. You can also use the search completion results on Google and Pinterest to find keywords that people are searching for. These are the words and phrases that auto-populate underneath the search bar when you are typing in a given search query.
When you see the keyword you want to rank for showing up under a key term, chances are there are people searching for it. So that's a good place to start!
*Disclaimer: Please keep in mind that this isn't the best way to find keywords, but it's certainly better than nothing at all!*
Write the Post Outline
Once I settle on 3-5 keywords I want to target for my given topic, I start writing the blog outline. I have a blog outline template that I use every week for this to make it easier.
This helps me organize my thoughts and figure out the points I want to hit before I dive into writing. It's also where I note all of the keywords I found that I can use in the post copy to optimize.
This document also creates a centralized place for my team to gather all the information and notes about the post that they need to complete their tasks for the post. They handle a decent amount of the implementation, so it's easier for them to have everything they need from me when they dive into that.
Some bloggers don't find that this step is helpful for them, but it's one of those things that you just have to try it for yourself and see!
Find Images for the Post
I love including images in my blog posts. It helps to give a visual representation of the point I'm trying to make so my dear readers (like, you!) better process and understand what I'm trying to say.
Especially since nowadays we have the attention of goldfish from being so overwhelmed by the amount of content we are given to absorb – It makes it easier to do so without having to read every single word. (And don't worry, I have the same attention span too… you're not alone.)
I'm a big fan of Stock Photography Memberships because you have a library of beautiful photos ready to use at any time. I use and recommend Ivory Mix (affiliate link!)!
So after I have my outline created and a better idea of what I'll be talking about in the post, I grab 3-5 images for my team to use in the post and promotional graphics. I upload the ones I want to use into a google drive folder with the outline to keep things centralized.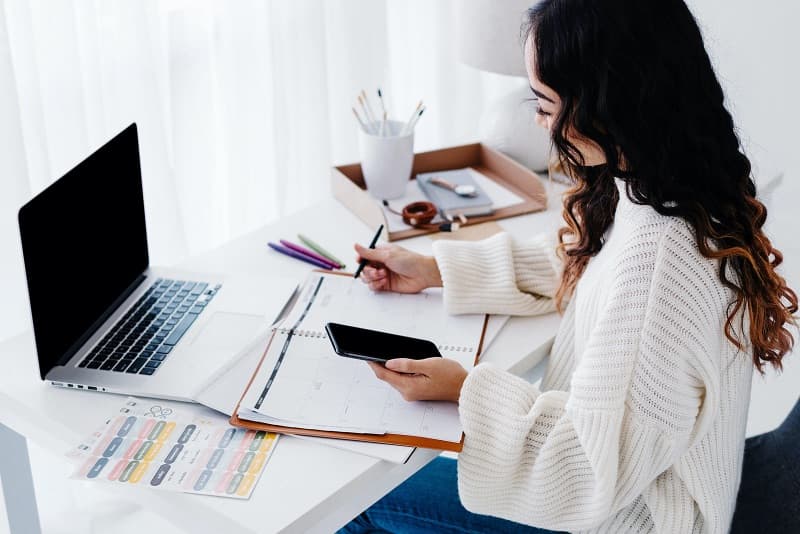 Everything from here (other than writing the post!) is stuff my team does for me!
Create Pinterest Graphics
The current team member that creates our client's Pinterest graphics also creates mine for Byte Bodega.
They hop into the google drive folder where all the materials for the post are stored to check out what the post is that week, what the name of the post is and what images to use.
Using Canva, they create the graphics using a template we have made that already has our branding elements and design put together. This again, makes it super quick and easy!
Once the graphics are finalized and approved by me, they are uploaded to the folder with the other materials.
Draft the Outline in WordPress
This is where the post content is finally moved onto the website to start the drafting process!
My team member takes the outline, Pinterest Graphics, and Images and creates a new post in WordPress. This includes copying over the subtitles and all the general notes I made in the original outline.
They also add all the nitty-gritty optimization details into the post so that the entire framework is ready to go for me to write.
Optimize the Post
What kind of optimization details, you ask?
Well, this is one of those things that everyone does differently and every SEO expert will tell you to do it a different way. I'm not an SEO expert by any means, but there are a few basic elements that are pretty consistent across the board that will do you wonders in terms of performance.
That's why I choose to concentrate on these elements and forget (a lot of) the rest.
With all that being said, here's a quick rundown of the points my team hits in our optimization checklist:
Write Alt Tags to every image in the post for screen readers
Add Primary Keyword to Yoast plugin for optimization
Upload Pinterest Graphics to social sharing plugin
Compress images upon upload for fast loading times
Updating permalink to SEO friendly phrase
Add a call to action sign up form
Add links to other posts on our website
Add links to other websites that might be supportive to my post
Write Blog Post Copy
This is the fun part for me! Once I get the head's up from the team that the blog post draft is finished in WordPress, I hop in and write the post copy!
I am really picky about what I choose to write about and how much value I include in my posts, so I still prefer to write all of my own content.
It helps me a lot having the outline ahead of time because when I start writing, I already have a general idea of what I want to say and it makes the process go a lot more smoothly. Overall though, I really enjoy the process!
Final Post Review
Once I finish the post, I always take a minimum of a 30 minute break before I reread the post to catch (most of) the typos and errors that I made. That little bit of time allows me to come back to it with fresh eyes so I can see things I wouldn't have otherwise after immediately writing.
I also take this time to review all of the optimization checkpoints that my team implements for me. Is that because I don't trust them? Good lord, no. But I also know we're all human, so I do one last glance over to make sure everything's as I want it.
Schedule The Post
Once I know I'm 100% happy with the post, I schedule it for the date that we have it planned for on our Asana content calendar.
There's no need to hop in on the day of your post to make it live. I use this to schedule a few weeks of content ahead of time!
Cross Promote Across Platforms
I give the team the head's up that the post is scheduled and finalized at this point so they know they can start the cross promotion.
The two biggest things this includes is scheduling our blog post graphics to Pinterest with Tailwind and drafting the weekly newsletter to our email list. This lets my community know that I released a new piece of content that they can check out if/when they were to find it helpful.
There you have it, folks! My complete step-by-step blogging process! I hope it helps you get started in creating your own blogging checklist so you can create more helpful, consistent posts to land more clients.