Figuring out what services to offer is one of the most challenging parts about launching your VA business.
You have to find a balance between what you love to do with what client's are actually looking for support with. The best possible option is building your services off one of the most in demand virtual assistant services if it's possible.
That way, you'll know without a doubt that there will always be clients hiring for it.
THE IMPORTANCE OF CHOOSING YOUR SERVICES
I find that a lot of new virtual assistants feel as though they don't have the skills or experience to start their business in the first place (spoiler alert: that's almost never true). Once they finally do realize that they have incredible value to offer clients, they don't know how to package it in a way that motivates clients to book their services.
That's why choosing services that are in-high demand can really be a great jumping off point if you're just getting started in the VA industry. Even if you aren't sure exactly what you want to focus on in the long-term, you can create a starting point with these services, figure out what you like to do with your first few clients – and then run with it.
If you want a more exhaustive list for virtual assistant services, check out my mega list! It'll really get your brain moving with service ideas.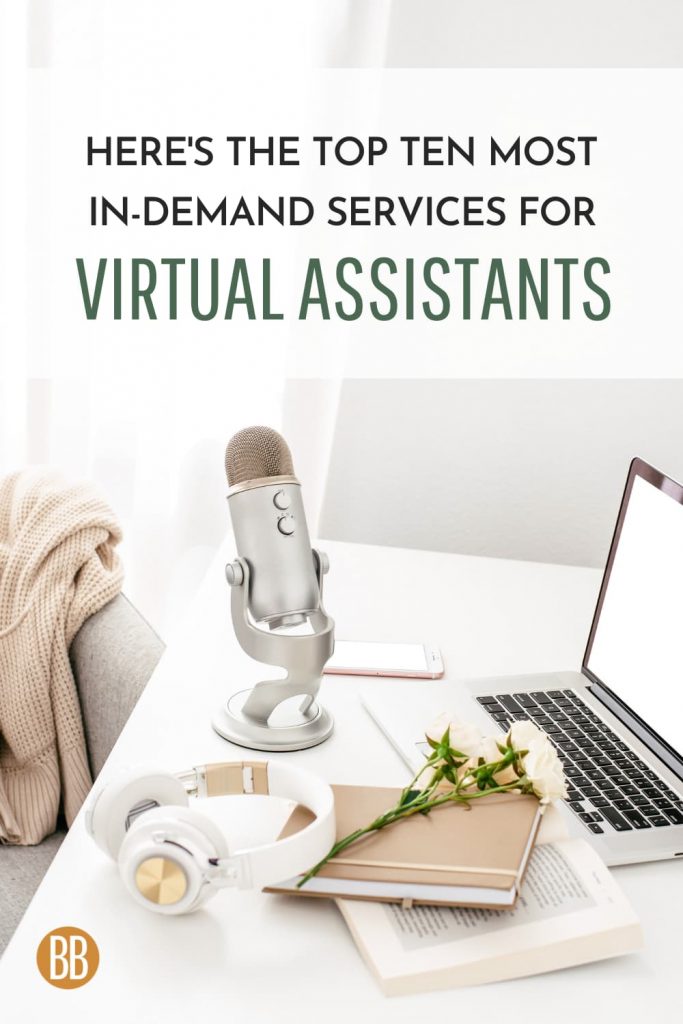 MOST IN-DEMAND CLIENT SERVICES
Email Inbox Management
I find that email inbox and calendar management kind of go hand in hand. You're generally scheduling appointments and communicating availability through your client's inbox to their contacts – So I usually pair these together.
Business owners spend an average of 465 minutes each day on email. That's a lot of time and energy that could be invested on things that can actually grow their business, rather than just manage it. That's why email management is such an incredibly popular service!
The best part is: Anyone can do it.
Have you ever sent a professional email? Yes? Well my friend, then you can provide this service.
Social Media Management
In case you live under a rock, social media is taking over the world. 🤣
Almost every single business is on the primary social media platforms as a way to gain exposure for their businesses. However, this exposure comes with a lot of work that can be outsourced to a VA. It's save business owners a ton of time to have someone else create their promotional graphics, write their captions and schedule it ahead of time.
This can be done for all the main social media platforms like instagram, Facebook, pinterest, twitter and more! It's the best way for your clients to keep gaining that exposure without doing it themselves.
Digital Ads Management
You know how it feels like Amazon and Facebook know what you're thinking in showing you that shirt you looked at a week ago in their side panel?
That's because they do. Or at least, they know what you clicked on. That's because of Digital Ads!
According to a February 2019 survey, the average company was planning to spend 62.3% of their marketing budget on digital ads. That means that companies are realizing the value of these kinds of paid advertising because they're super strategic and targeted.
Consider Digital Ads Management as a service if you love tracking data for clients, testing performance strategies and are willing to put in some work to learn the ads interfaces of the different platforms!
Blog Post Writing
Blogging is still one of the best ways for your clients to gain organic traffic to their website (from google!) and provide value to their audience.
But I can tell you first-hand that it takes a lot of time to write, optimize and schedule posts. I personally spend an average of 3-4 hours a week moving through my blogging process.
This means that it often falls on the back burner for a lot of creators and then it never gets done. So if you love to do keyword research and write incredible, creative stuff – I highly encourage you to consider blog writing!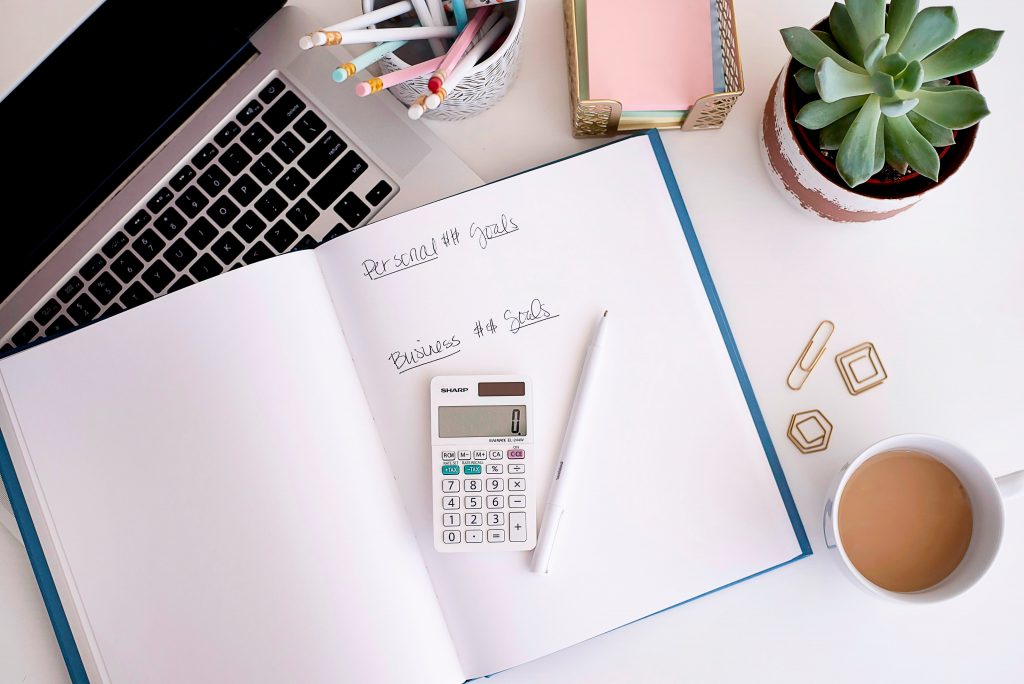 Email Newsletter Creation
Do you receive emails from your favorite creators letting you know what they've been working on recently? Maybe you have some from your favorite stores sharing their upcoming sales? These are all email newsletters!
They help business owners in nurturing their audience and their customers to buy their product, but it's easy for smaller businesses to run out of time to create and send them. So if you love creating beautiful designs online that could be formatted into an email to share about your client's business: consider email newsletter design!
This is a great service because there's a lot of flexibility in it too. You can offer it as a one-off project where you create a template for your client or you can make a new one for them every week or month depending on their needs!
Online Business Management
Online Business Managers (often called OBM's or Integrators) are a top level, expert member of a client's business. This means that they help the business owner make strategic decisions that help to grow the business, rather than just implement tasks.
This includes reviewing the performance of sales funnels and creating processes and systems that will allow the business to scale and operate seamlessly. If you have any experience in team building, management or high-level marketing – Online Business Management could be a fabulous fit for you!
Many times virtual assistants will grow their business and experience to then "graduate" into the role of Online Business Manager to offer more value to their clients and make more money.
Podcast Editing
Is it just me or does it feel like everyone you like or follow online launched a podcast in the last couple years?!
There's been a huge influx of people that have started creating audio content for their audience because it's often easier to digest while doing other things (like baking bread if you're me!) and it cultivates a closer connection. Podcast episodes give the listener a sense that you're having a conversation with the person you're listening too, and that's big for relationship building.
This shift has created a real need for virtual assistants who love audio editing. You'll more than likely edit the audio recording, write show notes for the episode and schedule it to publish on the client's website.
Video Editing
The future of the internet is video. Plain and simple. There's a huge push from google for creators to make it!
That means that business owners are launching YouTube channels to have a better chance of ranking on google and to provide more value to their community. Video is the best way to cultivate a connection (even more so than podcasts) because audience members can visually see you and chat in the comments!
The downside of this for creators is that video probably takes more time to create than anything else.
So they hire help with it! That's why is this for sure one of the most in demand virtual assistant services right now. If you love to create stories from video content – this one is for you!
Bookkeeping
We all know that on some level, every single business needs a way of tracking their money.
Most of the time though, this is the last thing that clients want to spend their time doing. So if you consider yourself a "numbers" person and love to balance spreadsheets – there's a huge market for bookkeeping services.
It's not exactly the most glamorous of the most in demand virtual assistant services, but it's one of the most vital. Because at the end of the day, if entrepreneurs don't know where their money is going, they can't make good decisions for their business.
Website Design
Did you know that more than half of small businesses still don't have a website? That's BONKERS because it doesn't even include those that do have one… but it looks like it's from 1995.
I know that part of this is because website design is one of those things that feels super techy, difficult and expensive. There are so many tools available today from developers that make the process super easy and straightforward that anyone can do it.
If you enjoy creating beautiful designs of any kind or just consider yourself a creative person, there's a huge market for website designers. It's not that hard to get started either!
There you have it! The most in demand virtual assistant services. Which one do you feel is the best fit for you? Let me know!