Throughout my time as a virtual assistant, I created a combination of free softwares that help me run my entire business top to bottom.
I've cycled through quite a few CRMs, time trackers, invoicing softwares and other virtual assistant tools – but I've finally found exactly what works for me.
It just so happens that all of them are free to start using right away as an aspiring VA. So if you're still working to setup the backend of your business, you need to hop on these asap!
WHY YOU NEED VIRTUAL ASSISTANT TOOLS
Gone are the days of tracking things in excel spreadsheets and messy, disorganized file folders.
We have way too many virtual assistant tools available to us now that solve the same problems the spreadsheets did back in the day but way more efficiently.
These softwares help you develop recurring processes and/or automated processes to keep your un-billable hours as a business owner as low as possible.
Un-billable time is spent doing things like:
Tracking client hours
Client Recruitment
Sending invoices
Answering Inquiries
Onboarding and offboarding clients
And the list goes on…
So having these softwares in place will help you cut down that time and focusing on things that actually make you money. (ahem, clients!)
The thing I want you to know here is that I do use other softwares in my business, these aren't the only ones. But these are the essential softwares I use to complete my VA client work.
So this means that if you're just starting out and you need just need the pieces to get started on the right foot – This is what you need to get setup.
You can always add in other things later like an email marketing platform, website host, etc.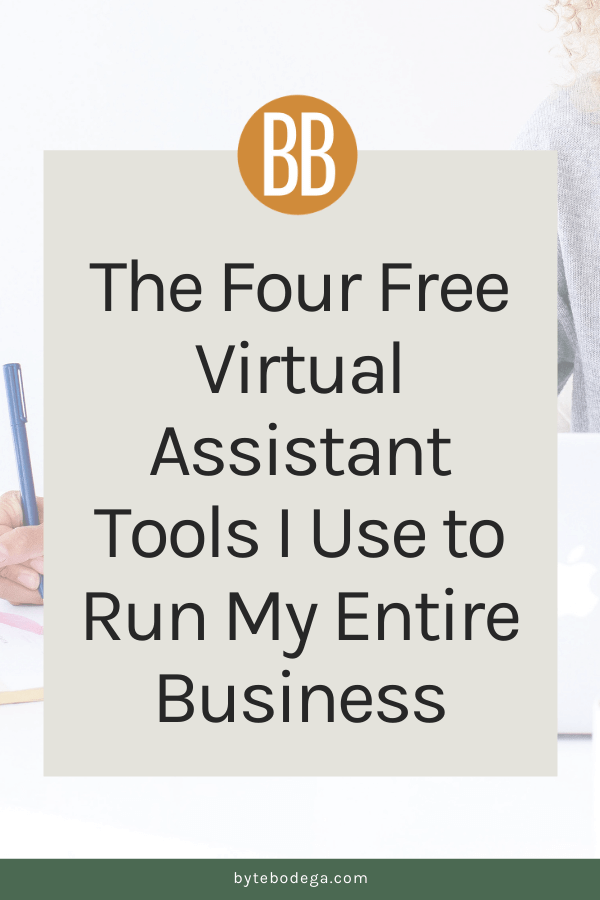 HOW I USE THESE SOFTWARES
Every morning, I take my 30 second commute from my kitchen's coffee pot to my home office. Then, these virtual assistant tools are the first windows I open on my computer to start the day.
They remain open on my computer all day, every day while I work.
Now, I don't think you need to approach using these platforms the exact same way I do. You'll most likely need to modify your processes to meet your specific services and clients. I just want you to have a vision for how I put them to work for myself so you can start to build your own.
I am lucky enough to have dual monitors, so these 4 tabs stay open on one while I work on whatever I'm doing on the other. Because I am constantly referring back to them throughout the day while I do my client work.
Even if you don't have dual monitors like I do, you could create the same type of thing by simply opening a separate 'desktop' on your computer.
Then you'll always have them handy if/when you need them. Because again, these four systems are really everything you need for daily operations in a virtual assistant business.
DUBSADO CRM
There are a lot of different Client Relationship Management (or CRM) platforms out there, and TBH I've tried most of them either for myself or clients. I have to say though, that none of them compare to Dubsado (that's an affiliate link!).
This is the software I use for all my onboarding, offboarding and forms within my business. So anything like a client questionnaire, client invoice, contract and/or proposal are all sent through Dubsado.
You can customize everything to include your business branding with drag and drop forms. It even allows you build workflows that automatically reply to client inquiries and send client's their onboarding materials when they sign their contract.
I'm not going to lie to you, it takes a long time to setup. But it can legitimately save you hours a week for years on end once it's done.
If you want to learn more about the differences between CRMs, check out my 17Hats vs. Dubsado vs. Honeybook comparison.
The best part is, Dubsado is completely free for up to three clients. So you can use all the ah-mazing features while you get your VA biz off the ground.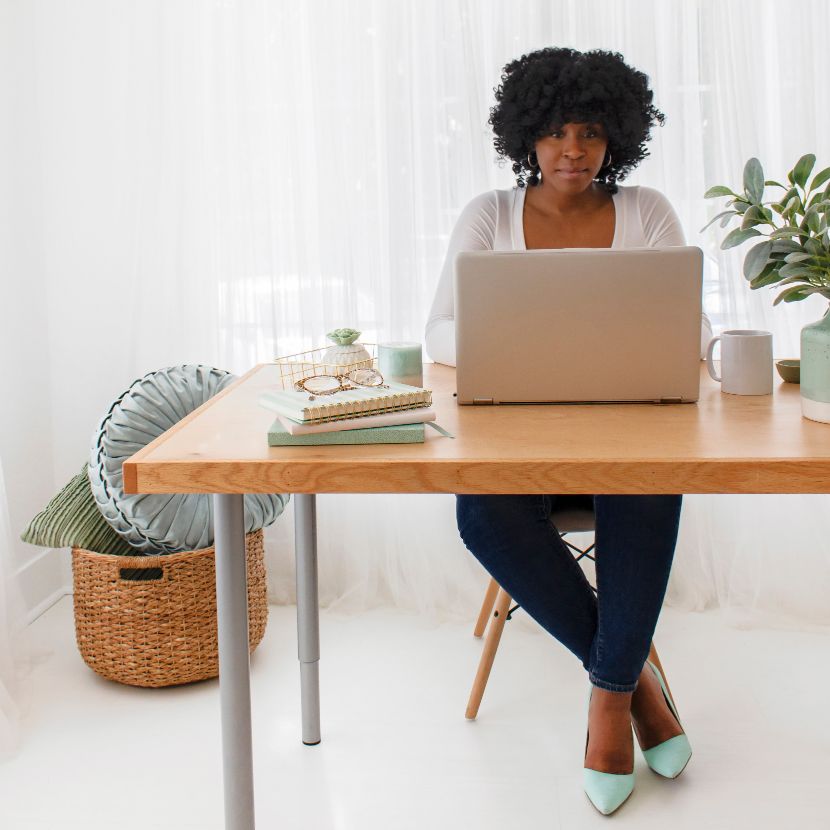 TOGGL TIME TRACKER
I want to preface this with the fact that you don't technically need this one. If you use Dubsado, they actually have a time-tracker built in that's great.
However, I personally just prefer Toggl's time tracker because it allows me to pull time reports way quicker and easier than Dubsado's currently does. Plus now that I have a team, we all use Toggl to record our time in one place.
I'm a huge fan Toggl because the company's software was designed to do one thing and do it well: Track work hours. And well, it does!
If you are planning to do any sort of hourly work for your clients and need clear and accurate reporting, Toggl is going to be your best friend.
You'll be able to track time as you work and allocate it to whatever client project it applies to all within a few clicks! If you forget to start your timer, it's not hard to go back and add it later too.
Even with three team members, I'm still using Toggl for free. So unless you sky-rocket your biz extremely fast – You'll be golden to use it at no cost for the foreseeable future.
GSUITE SERVICES
Okay, technically GSuite costs some dollars ($6 a month for the paid version)… But hear me out!
You can just as easily get started with using a regular Gmail account and wait to convert your account later when you need to. This is exactly what I did when I started building out my virtual assistant tools and it worked great because you essentially get all the same features anyways.
You just have to be willing to work with it a bit to make it work. For example, instead of having a branded email address from the start (like, hello[at]bytebodega.com) – You'll have to set it up with your domain host to forward. But doing that and a few other things once to save $6/month forever is no big deal.
Now, let's move on to what I use this for because there's really just two main things this does for me.
One is my main email address, which I'm not going to waste time explaining because… email.
The other is Google Drive. This is where we store and share all client content, trainings, templates, spreadsheets, master files, and everything else you can think of.
It's great because you can easily create and share files with your clients and the documents automatically update when you or a client is working on them. Using it with clients is incredible because it really creates one central place for trading and organizing content.
This helps eliminate those constant client questions like, "How do I send you this image again!?" Google Drive. Always Google Drive.
And again, you get a certain amount of Google Drive storage with your free gmail account to get you up and off the ground.
ASANA PROJECT MANAGEMENT
Last, but absolutely not least is Asana PM.
This is where I store every. single. task. for my entire business and our client's businesses. I'm not a huge fan of using paper planners (although I love them!) for working with clients, because it doesn't give them a way to see what you're working on and when.
It also doesn't give them any way to assign tasks to you as they come up and they need stuff done. I like to describe Asana as Byte Bodega's "Virtual Office" because it's where we communicate and plan out everything for clients.
You can create and assign tasks to yourself and your client and organize timelines for specific projects when you need to. By doing this you also build yourself some structure in keeping track of what you need to be doing for who and when.
This is super important because once you start juggling multiple clients and timelines, you have to have something to keep you on track. Nothing is worse than missing an important deadline for a client because it got lost in the shuffle of things and loosing credibility with them over something silly.
Asana helps you avoid that at all costs. I share more about how I setup and organize Asana projects in this post so you can set it up for yourself.
I also want to note that at the time of writing this, I'm still using Asana 100% free.
HOW IT ALL WORKS TOGETHER
This is going to be a verrrrrry generalized summary of how I make these softwares work together. Mainly because I'm concerned that if I dive in deeper on the details it'll get too overwhelming and it won't make any sense at all.
So here's the simplified verison of how it all happens in our general client process:
Client inquiry is received via Dubsado
Get an email notification in GSuite (Gmail)
Hold a discovery call with client
Dubsado automatically sends contract + all onboarding forms via a workflow
Email notification that forms are completed by client so I can start Asana build
Asana client projects and tasks are built out to manage and execute over time
….and Toggl works in the background to track all the time it takes to do the above!
I hope this super quick summary gives you a vision of how I put all these systems to work based on what I need for clients when I need it. Don't be afraid to build out your own system and make them work for you and your business!
These 4 platforms really are the backbone of my entire virtual assistant business. I hope this gives you a little insight into what each of them they are and how I use them to get you going on your own entrepreneurial journey!