Just because virtual assistants work remotely, it doesn't mean we don't appreciate acts of kindness!
In fact, I actually appreciate the sweet gifts and messages I get in snail mail even more than I do the digital messages of thanks I receive. There's something about someone taking the time out to mail a gift specifically for you that's really special. I know it can be hard to find the best gifts for assistants though when you usually don't have that in-person connection with the person.
That's why I thought it would be helpful if I shared some ideas for business owners or personal friends of virtual assistants who want to give their little work from home hermit a gift for the holidays.
If you're a VA yourself, you could causally just drop one of these links for your family member this holiday season. (I got you!) 😉
WHY GET A GIFT FOR VIRTUAL ASSISTANTS?
When you manage a team of virtual assistants, it can be easy to forget that there is a human on the other side of the screen. We fall into our weekly and monthly routines and when the work is getting done, and we just don't think much of it!
That's why Christmas gifts for assistants (or whatever holiday you celebrate!) are a really kind way to show your gratitude for your team member's hard work.
There are so few clients that do it – So you'll instantly be moved onto their favorite client's list if you aren't there already!
I love home office gift ideas specifically for virtual assistants because they will legitimately be used and enjoyed every day. When your assistant is working at home, they're going to think of you every time they start their day and use your gift. Which is really sweet!
Important Disclaimer: Some of these are the best gifts for assistants because they truly are an investment. I did my best to include ideas at various price points because to me, any gift is something that is super appreciated. However, I really stand behind the mindset of consuming well and consuming less for economical and environmental reasons. So I have some pieces of equipment in here that I personally use and love that are pricier, but I'm certainly not saying that level of gifting is required by including it!
But ya know, they're in there in case you're ballin' outta control and can't help yourself. 😉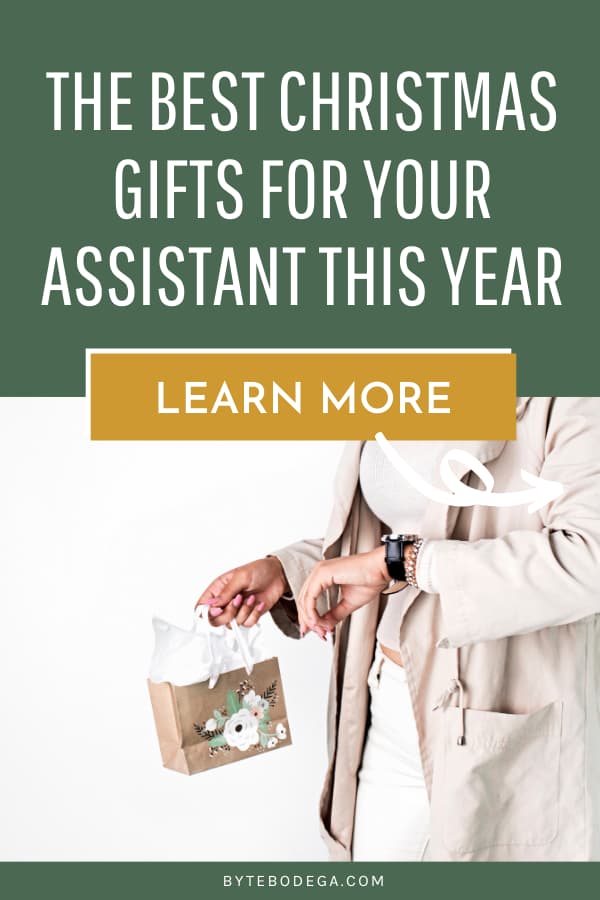 GIFTS FOR SMALL BUSINESS OWNERS
Technology
These are incredible for virtual assistants who work and travel or who have little (and maybe loud!) ones at home. They have incredible noise cancelling technology that is a lifesaver on a plane when you need to hear your training video or Netflix binge. Plus, they are comfortable enough to wear all day long without making your ears ache and that's pretty tough to find.
Have an apple lover on the team? You can't go wrong with a pair of AirPods Headphones. Because they're a part of the coveted apple ecosystem they are a dream to connect to your other apple devices. I love to use mine for work when I take client discovery calls and even when I'm grocery shopping because they're light and easy to use. These are my go-to personal headphones, but I also use them for work!
It wouldn't be the best gifts for assistants guide if I didn't include a computer, would it?! I'm an apple fan, so I always recommend the MacBook for a great computer that will last you for several years. Of course, there are fabulous PC machines that are awesome and more affordable too. But! Macs are especially great for creative virtual assistants because of the design tools they work well with.
I would have never in my life spent $100 on a computer mouse if my husband hadn't gifted this to me. I'm here to tell you though, it's a game changer. The quick and multi-directional scroll makes navigating your 300 google chrome tabs super easy. Plus, the ergonomic shape eases wrist pain because you aren't sitting with your hand wrapped around a little acorn ball-sized mouse anymore. I know this all sounds obnoxious, but you're gonna have to trust me that it's amazing. I wouldn't steer you wrong.
Have a blogger virtual assistant? This microphone is a great option for those getting started in podcasting or video content creation. It's a plug and play type device, so there isn't a ton of setup to work your way through and the sound quality is awesome for the price. I use it for all my webinars and video trainings and highly recommend it for the usability!
Office Supplies
Everyone has their own preferences on what they like in a planner, and Erin Condren has met almost all of them. The Life Planner has become a cult favorite for a reason. There are incredible customization options that would be awesome for branding it to your VA's own business. You can also pick from different calendar layouts for what works best for your work style. They even create sticker packs and other stationary that's all meant to work together to make planning cute, fun and functional.
This is certainly one of those home office gift ideas that fall in the "investment" territory. I personally have an uplift desk and can vouch for how incredible it's been for my health. Seriously. I have chronic upper back tension that's created by sitting in front of my computer all day (big surprise, I know…) and this helps incredibly. There are a lot of standing desks that you have to manually move up and down that are cheaper. But hitting a button and having your desk lift to your customized standing height motivates you to actually stand while you work. It's a great option if you know your assistant is planning a home office remodel or is a health nut!
This is something that can really be customized depending on the type of person you work with. For example, if they love sustainable earth friendly products – get them recycled wood pencils! If they they're fun and quirky, get gel pens with cute phrases on them or fun post-it notes. The options really are endless. But putting together a collection of stationary supplies that made you think of your team member (or VA family member!) is something that's super simple to do and it will always get used!
Marketing is a huge part of what we do as small business owners. So a lot of us carry business cards around with us every where we go! Instead of them flying around our car's glove compartment or purse, gift your assistant with a customized business card holder like this one! It's a super personal gift that's related to the work you both do together, but is still a fun item that they probably wouldn't buy for themselves.
One of the most important parts about working from home is creating an inspiring work space. I love to fill my office with fun decor that brings me joy and calm. I encourage you to find things like this fun "Everything is Figureoutable" sign and a few other small items as gifts for small business owners. It's something they can keep with them in their work space as a daily reminder of your appreciation for them!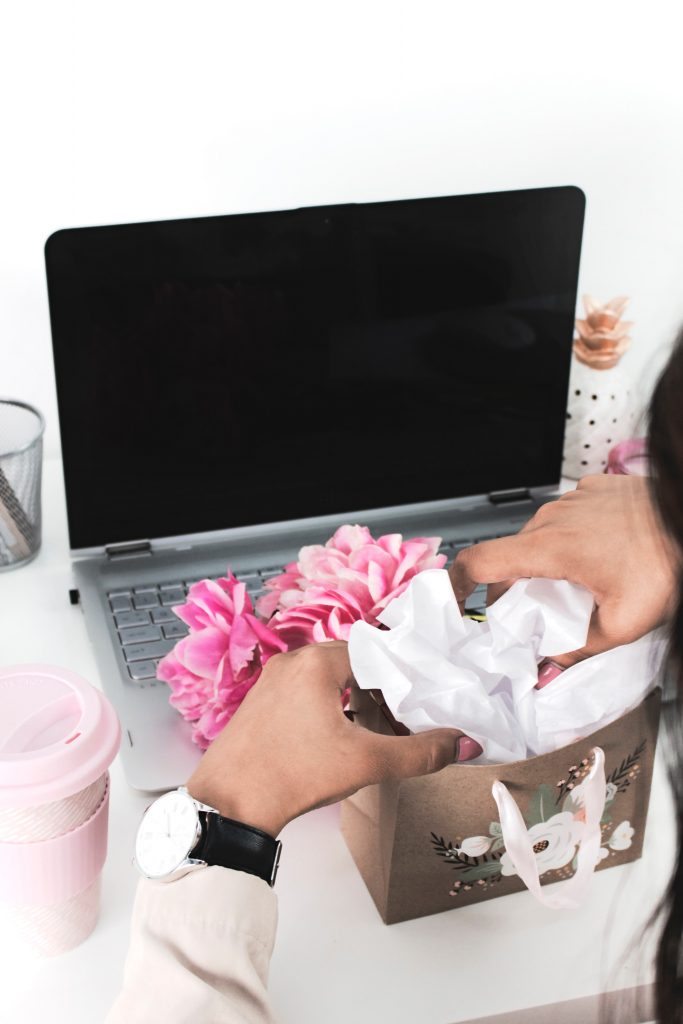 Work From Home Comfort
We are finally to my favorite part, work from home clothes! I live in New England, so naturally I'm a huge fan of LL Bean. I finally ordered a pair of their famous slippers earlier this year and now I never take them off. If you know that your assistant works from their home the majority of the time, gifting them a high-quality pair of slippers is something that will absolutely be appreciated.
One of the best things about working from home is wearing leggings every day. If you want to help your team or family member embrace the beauty that is black leggings, Fabletics is the way to go. They have every shape and color you could dream of and the quality is incredible. I wear mine every single day of the week (not an exaggeration) and I still have the very first pair I bought several years ago because they're still in great shape. So that's saying something!
When all else fails and you still need christmas gifts for the business owners in your life, get them a Self-Care Kit. These are the easiest, can't go wrong box of love delivered right to their door. As entrepreneurs, we tend to work a lot and push ourselves to the limit to hit our goals. That causes us to put creating time for ourselves on the back burner. Send your assistant one of these gift boxes to help them make space and time to rest and recover!
Got an assistant that loves to work from the couch? Get them a lap desk and they'll think you're god's gift to earth. These are also great christmas gifts for assistants who you know don't have that dedicated work space in their home. It can help them create a pseudo inspiration zone where they can create a work from home routine to stay productive.
In the age of COVID-19 and so many people working form home, I think we can all appreciate how much this sign is needed. If you have a virtual assistant in your family who complains about being interrupted during calls, this is an essential gift. I realize it is sort of a gag gift, but I'd wager a bet that they will actually put it to work in your home if you give it to them!
Business Books + Education
This book will help any math hating entrepreneur embrace business budgeting. The author has created a one of a kind, new approach on how to manage your money as a business owner that's genius. If you are working with someone who's just getting started in the online world or you know that your loved one's books haven't been touched in ages – They'll really appreciate this!
The Five Hour Work Week by Tim Ferris is a staple for online business owners for a reason. He walks through the benefits of outsourcing to leverage currency exchanges and how to structure your business model to complement the lifestyle that you want to live rather than the other way around. It's filled with a lot of unique tips and tricks that help entrepreneurs cut out the noise we often find ourselves deafened by and hone in on the most important tasks at hand.
I consider myself an ethical entrepreneur. I always do my best to prioritize the people in my business: My team, clients, students, community members – all of them – over the money I make. This book talks about the benefits to approaching business in this way. Why building trust and prioritizing people is the way to carving a long-term successful business and examples of how it works and what happens when people are put on the back burner.
Elizabeth Gilbert is a gift. She wrote this book sharing her thoughts and expertise on creativity and what it means to share your passions with the world. It's interesting to learn the perspectives on this from someone that is wildly successful as an artist in the modern world. I encourage this read for all creative business owners of any kind, not just virtual ones!
Got a systems junkie on your hands? Well, first of all – You're in good company. 😉 Second of all – buy them this book. The author walks through the importance of the visionary and the integrator roles in every successful business and how they work together. It's a great explanation of the partnership between clients and virtual assistants and how they can embrace one another's strengths.
Last Minute Gift Box Services
I totally get it if you get behind and need something quick and easy to show your gratitude. Here's two of the best gift box services that I use and love! These companies let you select from various pre-boxed gift sets that ship directly to your assistant without any action from you!
I hope these gifts for small business owners helped to inspire some gift ideas for the holiday season! Let me know what you've received from clients and loved.