One of the best parts of running your own business is that you get to do it on your own terms.
You have the flexibility to structure it however works best for you, your desired income and your lifestyle. There's countless ways to do it and there's certainly no perfect formula. Today though, we're going to hone in on one popular business structure: the virtual assistant subcontractor.
Subcontracting is a great way to build up your experience while maintaining a lower commitment as you're getting started. But more on that later!
WHAT IS A VIRTUAL ASSISTANT SUBCONTRACTOR?
The main difference between a 'regular' virtual assistant and a virtual assistant subcontractor how you find your client work.
When you're working as a traditional VA, you will go find and book clients on your own for your business. Then work with the business owners on a one on one basis.
As a subcontractor, you work for another VA doing their client's tasks rather than booking your own clients.
So instead of having a virtual assistant contract with the client, you'll have one with the VA you're working for.
Virtual Assistants (and sometimes Online Business Managers) will work with other VA's to outsource their client work so that they can take on more clients and make more money as their roster fills up.
Instead of them capping their workload and turning away clients (and therefore limiting their income) they hire a team and delegate out the work.
WHY TO CONSIDER SUBCONTRACTING
Lower Business Commitment
Freelance Subcontracting is an awesome option if you don't want the responsibility of your own clients, but you still want the freedom of working from home.
Since you work for the VA rather than the client, you don't have the headaches that come with it. If there's a major error made on client's work, you usually aren't the person that has to deal with it.
That's a huge relief of pressure off of you. So if that's something that freaks you out when you haven't been in the VA game a long time, it's a huge benefit of subcontracting.
No Worrying About Booking Clients
Since you'll be working with the Online Business Manager or Virtual Assistant's clients, you don't have to worry about finding your own.
You'll have a stream of constant client work coming your way without having to invest the administrative time of marketing, handling discovery calls, preparing proposals, questionnaires, and more.
Instead you'll be able to simply hop onto your computer each day and complete the tasks assigned to you. If you despise the back-end management it takes to keep a business up and running, you'll probably love this structure of work.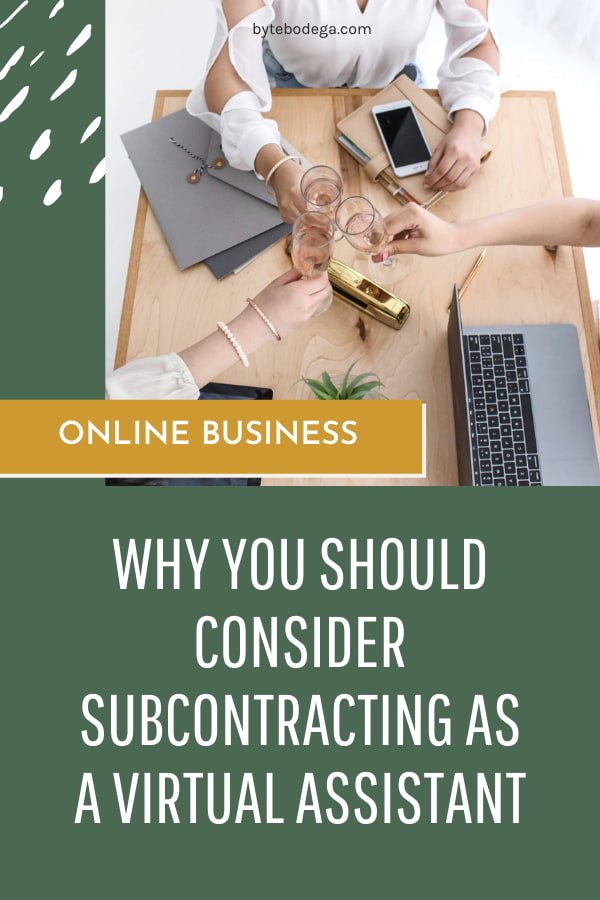 Gain VA Industry Experience
When you're a newbie VA, it can feel really overwhelming trying to learn the platforms and systems you need to know to work with clients.
When you're a virtual assistant subcontractor, you're generally provided trainings from the VA you work for on how to complete the tasks assigned to you.
That means you'll get the opportunity to not only gain the first-hand experience of working with clients but also learn the various platforms clients use every day.
Subcontracting is the perfect middle ground when you're working to build confidence in your skills without having to work for free to do it.
Learn From Expert VAs
Want a mentor to learn from? Subcontract.
Because you are working directly for another Virtual Assistant, chances are they've been in your shoes before. They've been a newbie VA looking to grow their skills and learn the ropes of the industry.
They're the perfect person to learn from and you've got an all access pass to them as their team member!
This obviously comes with the caveat of finding an awesome agency who wants to build up their team members, but it's totally possible.
I always encourage my team members to ask me for any and all advice that they want from me. I consider my brain an open book to them so that they can grow their own businesses however they want.
Even if that means they'll leave me at some point. If that's what they want, I want it for them.
Take advantage of the opportunity to learn from those you aspire to be.
Ideal for Part-Time Work
Freelance subcontracting is an amazing option if you are mainly looking for part-time work as a VA.
Whether you're a stay at home mom who only has nap time to work or you're side-hustling temporarily to pay off debt – it's an awesome option.
Skipping all the headaches of client hunting, contracts, invoicing, and more makes part-time work way more efficient and worthwhile.
Instead of dealing with all the back-end stuff, you can just log on to your computer, make your money and then carry on with your day!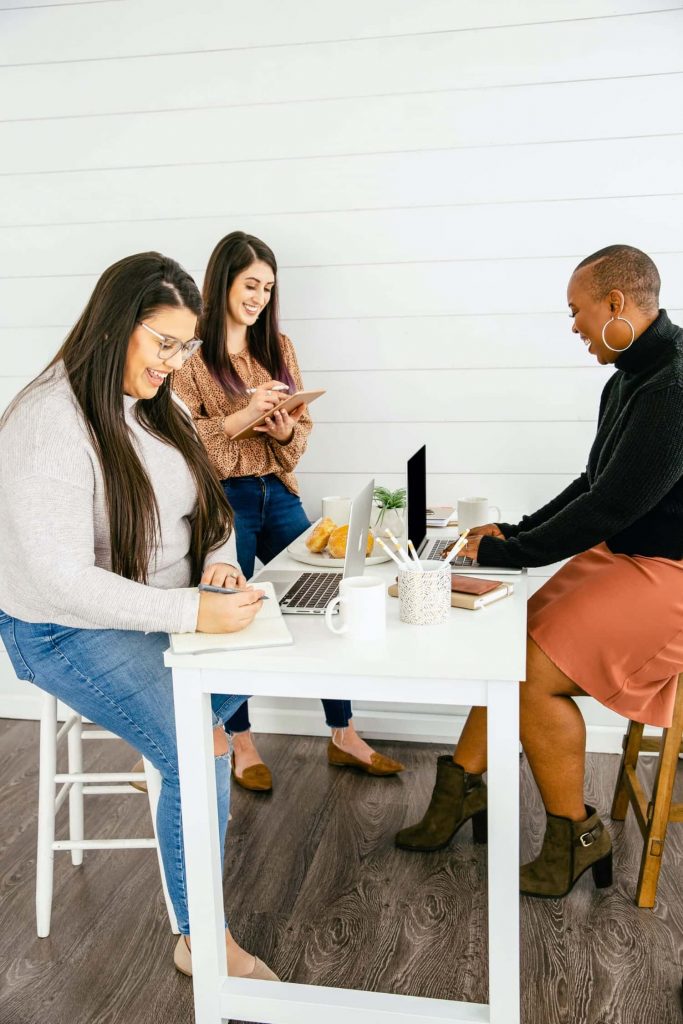 WHAT TO EXPECT IN SUBCONTRACTING
I will preface this with the understanding that every single subcontracting position looks a little bit different.
Since the position's specific responsibilities are decided directly between the VA and the subcontractor, it can really fluctuate depending on who you partner with.
With that being said, some of the things you'll do on a regular basis are:
Maintaining an email address for your communication with clients
Watching trainings (SOPs) for processes within the client's business to complete them
Holding monthly or weekly meetings with the VA you partner with to talk about updates and progress
Reviewing client's project management system for daily tasks to complete and for upcoming projects
The tasks you complete will vary a lot depending on the VA you work for and what client services they offer.
If you work for a website designer, you'll probably do a lot of website creation. If you work for a Pinterest Manager, you'll be in Tailwind scheduling pins a bunch. So take that into account when deciding what VA agency you want to work with.
The biggest thing I recommend when you're finding an established VA or OBM to partner with is to work with someone with established systems that has experience in managing team members.
It can become really messy, really fast when the VA you work for doesn't accurately communicate the parameters of a project for client. Then you end up looking silly to the client for no reason and (more than likely) super frustrated with the person you work for.
HOW MUCH MONEY YOU CAN MAKE
Ah, the biggest question of them all – Right?!
Now like we talked about, because you don't assume as much risk or invest the same amount of time into administrative work as the VA you work for – Your rate will always be lower than theirs.
You have to look at it from their point of view.
If they are bringing you on to work with a client that pays them $30 USD an hour and they pay you almost the same amount, what's the point of managing extra clients and team members?
With that being said, I recommend never accepting less than $10 USD an hour as a subcontractor. The general rate to expect ranges between $10-20.
There's always exceptions to this and I'm sure you could google around and find someone that makes $50 subcontracting. (go them!)
But these are the reasonable, most common rates you can expect from VA's that have full-service agencies and need contractors.
In my personal opinion, I feel it's a pretty fair deal for not having to deal with the 'business-owner hassles'!
I hope this sheds a little light on the mystery of subcontracting as a VA and motivates you to consider trying it!