I'm a big believer in online course creators and service platforms.
That's why I'm sharing a few of the systems and va courses that I have personally spent my money on and would do it again in a heartbeat because there is so much value packed into them. I've invested in some amazing stuff since launching Byte Bodega, and some that were a total waste of money.
Which is why that I feel it's important to share those that blew me away so you can check them out!
So if you are interested at all in learning more about any of these subjects, I recommend you run (not walk) to grab these resources.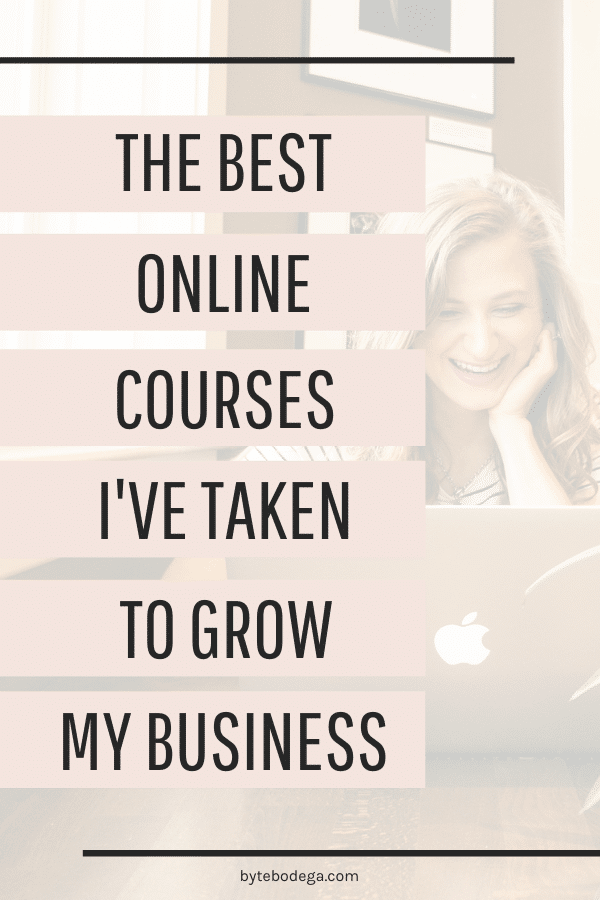 WHY INVEST IN VA COURSES + PLATFORMS?
It's often easier to simply find an expert on whatever it is that you're working on and investing in their service or course to get you up and running than spending countless hours trying to figure it out yourself.
You have to think about the opportunity cost. What's that you ask? I'm happy you did.
Let's say you're creating a onboarding packet for new clients and you could either:
Spend $49 on a 10 page designed template where you drop in your logo and text, which would take you two hours. OR Spend 6 hours designing the template yourself and then dropping in your logo and text.
If your hourly rate is $30 and you spend 6 hours designing your packet that's $180 worth of your time ($30 x 6 hours) versus $109 with the template ($49 + ($30×2)).
This is a prime example of why it could actually be costing you more money when it feels like your saving. So I encourage you to always take this approach in figuring out what the true cost is when you make a new investment, because you might be surprised!
DUBSADO CLIENT MANAGEMENT
Dubsado is a client relationship management platform that prepares and sends client forms for them to complete. These are things like contracts, proposals, invoices, questionnaires, etc.
I have to say that I was hesitant to invest in this one and put it off a long, long time. #guiltyascharged
But now I regret not doing it sooner.
Dubsado (That's an affiliate link!) has the ability to completely automate my entire onboarding process for me. Which means every time a new client inquires from my website, everything from that point to the start of the client project is on autopilot. I don't have to lift a finger to send my inquiry response, my contracts or anything else.
It legitimately saves me work hours and hours each and every week. So paying the $35 each month for their service is a minor investment because it ends up paying for itself multiple times over every month.
I am such a super fan that when they opened their lifetime plan for purchase for a single hour in 2019, I couldn't enter my card number for the $900+ investment fast enough. That's when you know it's good.
SITEGROUND WEBSITE HOSTING
Every single website on the internet has to have a website hosting service. In the simplest terms, this is what takes your website and puts it on the interwebs so that people can find it. Otherwise, you just have a website that's on your personal computer and that's it.
There's a ton of hosting services out there and frankly – Many of them are cheaper than Siteground. (That's an affiliate link!)
But when I built my website, I knew that I needed a service that had great customer support because I don't know a thing about hosting, servers, etc. I heard from a few people in my community that Siteground fit that bill, so I went with them.
Every single time I have any issue whatsoever, they have held my hand like the tech magicians they are until it's solved.
I've also never had an issue with my site being down due to their services, which is obviously a big consideration. The cheaper you go with hosting, the more likely it is that you'll spend time offline where clients can't find you.
So invest your money into your website and have the support team you'll need at some point in time. It'll save and protect your biggest marketing asset: your website.
IVORY MIX STOCK PHOTO MEMBERSHIP
Stock photos: We all love em' and they feel absolutely impossible to find when you need them.
I know a lot of people use stock photography as a place to save money, and I totally get it. It does feel silly to spend money on photos that you feel you can find for free. The problem is that it often takes a lot more time to search around the free photo sites to find what you need than it does just having them ready for you to use right away.
Using a stock photography service also makes all of your social profiles and websites style really consistent.
If you use random stock photos as you find them, it's harder to get a really professional, clean look to your marketing materials.
Last but definitely not least, you know with 100% certainty that they are royalty free. Because now that you have a business to run, you can't afford the risk of someone claiming copyright infringement. That's bad news bears.
All of this to say, that I'm a big fan of stock photography services – Specifically Ivory Mix. (That's an affiliate link!)
The owner, Kayla, offers her members instant access to her full library of 4,500+ images that meet every brand style and color. Her photos are the ones I use in my blog posts!
When you become a member, you also get access to canvas templates for Pinterest + Instagram and captions for instagram posts too!
These extra tools can really help solopreneurs get a jumpstart on their digital marketing, beyond just having photos ready. You can grab the photo, canva template and caption for your social posts and have 3/4 of the work done for you!
BUCKETLIST BOMBSHELLS COURSES
The Bucketlist Bombshells are online course creators that specialize in helping women create online businesses that allow them to travel the world.
These va courses were the first ones I've ever purchased, and to this day they are the best ones I've ever bought. Although I didn't buy them to start a business, it ended up working out that way and it was the easily the greatest thing that's ever happened to my career.
They have three main courses:
The Work Online and Travel the World Course: This teaches you the fundamentals of how to setup a freelance business and how to plan for your travels once you're up and off the ground
The Tech Skills Course: This teaches you the basic concepts behind digital marketing and the tech platforms online business owners use to run their businesses so that you can hop right in and get going when you book a new client.
The Design Skills Course: This teaches you the creative side of services to offer online like logos, branding and the concepts of design. Then, how to implement it with adobe and other creative online platforms to put those skills to work with clients.
The founders, Cassie + Shay, offer these courses individually and together for bundle pricing so that you can invest in what you need. If you are looking to simply learn the basics of all these concepts, I highly recommend these!
PIN PRACTICAL PROMOTIONS COURSE
Want to learn how to become a Pinterest virtual assistant? Pin Practical Promotions is for you.
Monica Froese of Redefining Mom created this online course all about Promoted Pins, Pinterest's Paid Advertising Service. She is an expert on the platform and has been using it since it's start, and it shows.
This course not only covers everything you need to know about how to setup a Promoted Pin Campaign, but how to do so that you see results. She teaches you how to review your results so you know whether or not it performed and setup your campaigns so you get the best return on paid products.
I bought it so that I could learn more about this part of Pinterest Marketing and build upon my services that I offer our clients within Byte Bodega. Out of all the VA courses I've bought, this one paid for itself the fastest.
I made my investment back with my first client that I signed on with the service. So whether you want to use Promoted Pins to grow your own business or offer it as a virtual assistant service, this course will help you get there.
YOUR FIRST 1K COURSE
The creator of Your First 1K, Mariah Coz, is someone I consider a business mentor. She's got a no-BS mentality about everything in her business and I really appreciate that outlook.
Your First 1K is all about how to grow an email list of engaged and interested subscribers to sell too. She covers the basic starting points of how to setup an email marketing platform, create freebies offerings that attract your ideal client, and creating a small digital product to sell them.
Now I realize that this isn't something that a newbie VA is looking to do, but it is something that a lot of your clients will be looking to do. So if you are working with a client who wants to build their email list of their first 1,000+ subscribers, this would be one of the best VA courses to look into.
Because after you take the information and use your knowledge to support your client, you'll be able to put it to work for yourself to grow your business with other revenue streams (like a course!)
You're going to reach a point in your business where it makes more sense to invest than spending your time managing all the details yourself on a project. If one of these VA courses or platforms solves the current issue you're having, know that you can spend your money on any of them with confidence.