Believe it or not, one of the biggest challenges about blogging is figuring out what to write about.
That's why I wanted to give you some virtual assistant blog ideas to help you get started on your next (or first!) few posts. If you decide to start a blog for your business, I highly encourage you to consider adding these posts to your library!
These are all created with the intention of helping you to book more clients and to establish yourself as an expert at whatever service it is that you provide.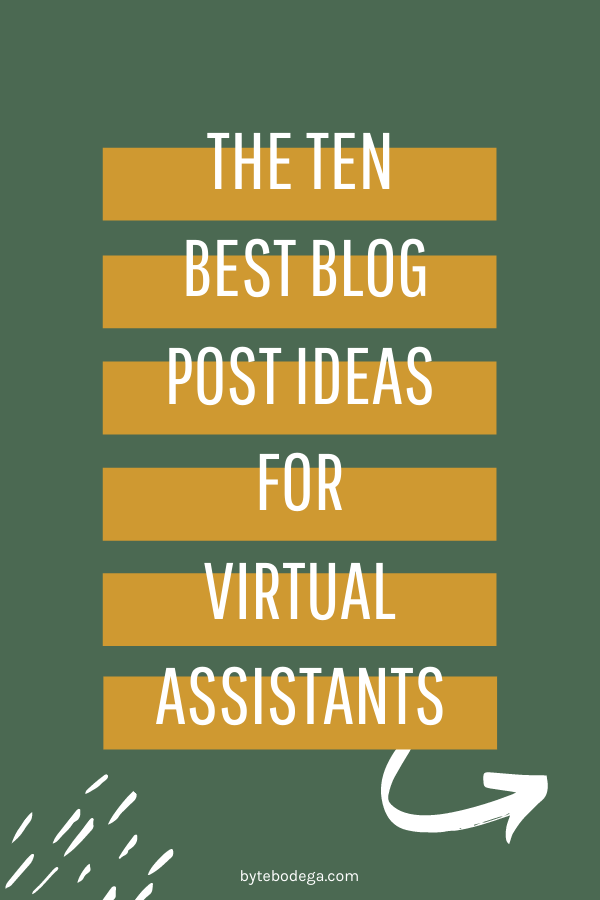 WHY BE A VIRTUAL ASSISTANT BLOGGER?
There are so many reasons that having a blog on your website can help you grow your business.
Blogging can be really time consuming when you compare it to other marketing strategies, but there's nothing else that can compare to the long-term benefits of it. Unlike other sales strategies, blogging is the only thing that keeps giving back to you time and time again from the work you put in now.
When you post to a blog on your website on a regular basis, you will slowly start to see evergreen traffic come in from google and other platforms. This means that if you are writing about topics that help solve the problems that your target client has, you're getting people to your website that have an interest in your services! So you'll have potential clients coming to you, automatically.
Sharing information about what it is that you do on your blog also helps you establish yourself as an expert in what it is that you do. You're essentially saying, "Hey look! I know a whole bunch about [enter your service here!] – if you have me do it for you, it's obvious I'm gonna do a good job because I know what I'm talking about!"
If literally nothing else, maintaining your own virtual assistant blog will help you learn about blogging. The tech, platforms, and strategy behind it. So when you start helping clients to do it, you'll know exactly what needs done and how to do it because you'll have already learned it all working on your own business.
Since blogging is one of the most requested virtual assistant services, it really comes in handy to know.
All of this will give you that much more confidence in yourself and your services, especially as a newbie VA! So without further ado, here's some virtual assistant blog ideas to get you started on your first few weeks of posts. 🙂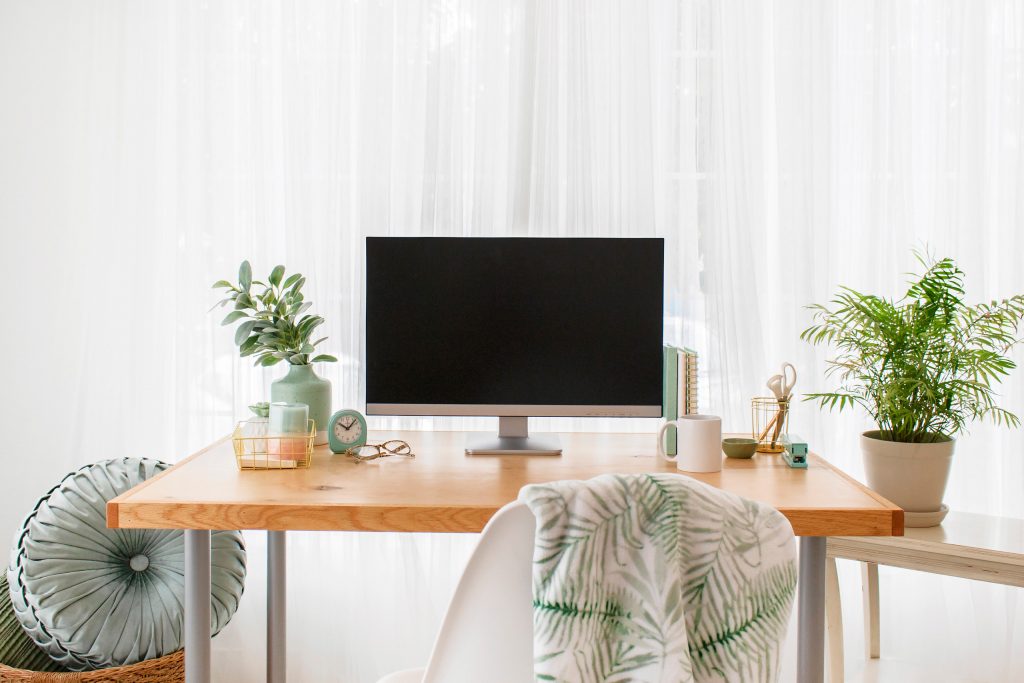 THE BEST VA BLOG POSTS TO WRITE
Differences Between Employees and Virtual Assistants
Some business owners don't even realize that a lot of virtual assistants work for themselves as independent contractors rather than formal employees. This means that there are a lot of differences between the partnership you have with a client than you would with a regular employer.
This blog post will lay out why they're different, why the differences are important, and how the differences work in their favor as a business owner. As a whole, this post is really just to help your client understand what and how your partnership will work.
All of this falls in line perfectly with the next post…
Benefits of Hiring a VA
This post's purpose is to lay out why it's actually more beneficial for your clients to hire you than a formal employee. Believe it or not, a lot of business owners prefer hiring contractors, like virtual assistants. Because many times – There's a lot less hassle that comes with it.
They don't have to deal with the added cost of providing required employee benefits like medical insurance and retirement. They also don't have to invest the time and energy for training or supply the employee a computer, desk and chair. If nothing else, they just don't have the long-term commitment of working with contractors if they don't feel like it's the right fit. These are huge advantages of working with a VA that a lot of small business owners don't even think about!
So writing a blog post to share this really helps them see and understand why they should hire you rather than someone else.
Ultimate How to Guide for Your Signature Service
Do you have one key, signature service that you specialize in or something that everyone comes to you asking for help with? Here at Byte Bodega, that service for us is Pinterest Management!
Think about that service or process and write a 2000-3000 word blog post about it, sharing everything from top to bottom on how to get started. Long posts like this are absolute gold for search engine optimization (aka: making google happy) but it also illustrates that you:
Know everything there is to know about your niche
Have full capacity to deliver on your services for your clients
I know it seems counterintuitive to share how to do what it is that you do, but it really shows that you know your stuff. It helps potential clients that may have otherwise been on the fence to trust you. Because reading through this will prove to them that you can deliver.
Client Case Study Features
This is one of my favorite virtual assistant blog ideas, because you get to feature all your hard work you do for clients!
When you finish a project with a client, ask them if you can feature it on your blog! You can share the final design or the results from the work you did together. Be sure to include why you approached the project the way you did and the performance or response it has created for your client.
These client case study posts give your future clients a feel for your style and/or an understanding of the results they can expect from working with you. It'll help convince them that the investment of hiring you will be 100% worth it.
Services List
Business owners often either underestimate how many different tasks they can delegate to a VA or they just don't know what to delegate first.
That's why I encourage you to write out a list featuring all the services that you can think of that virtual assistants can offer. I have a virtual assistant services list that you can check out for ideas if it helps to get you started!
This post can be a huge help when your client is figuring out what to hand off to you first! You can even direct your clients to this post on your blog as a reference point when they need to figure out what to delegate to you.
The only disclaimer here is that you don't want to list anything in your post that you wouldn't feel comfortable supporting your clients with. Otherwise, it'll make for an awkward conversation when you have to explain to them that you can't provide the service they asked for, from a list you created. That's not the most professional move.
How to Find the Perfect Virtual Assistant
When clients have always functioned as a solopreneur, they are usually really nervous about bringing on a VA for the first time. It's always really important to them to find someone that will treat their business with as much love and care as they do themselves, and that can feel all but impossible.
Write a blog post sharing tips for business owners looking for their perfect team member. You can include where to look for candidates, what to look for personality-wise, and how they can lay the groundwork for a great partnership with their new VA.
I also recommend discussing that not everyone is going to be the perfect fit and that's totally okay! You'll gain their trust by being super open and transparent this way, so that they'll be more likely to move through that process with you. 😉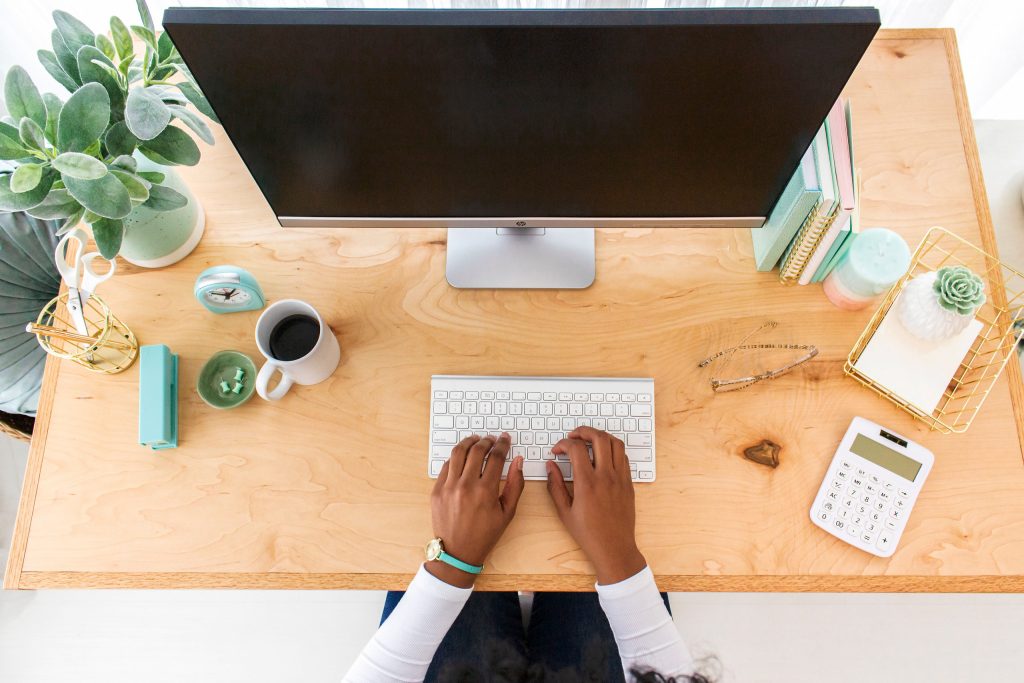 How to Prepare Your Business to Hire a VA
You won't believe how many business owners have reached out to me over the years saying, "I don't know what I need, but I know I need help." What they are basically saying is, I know I need to get stuff off my plate but I don't know what or how to delegate it.
So virtual assistant blog ideas like this one help them understand what it is that they need help with. Share that they should start by finding the top 1-3 tasks that they want to delegate, create trainings for them and how to find their perfect person.
No one wants to work with a client that doesn't know how to work with a VA. So tell them what you need before you even start working with them! If they decide to work with you, you'll know they're dedicated to being a good client because they've taken the steps to do so.
Tips + Tricks Related to Your Niche
If you know your service and know it well, you can pull out individual issues and concerns people have when they DIY it and write a blog to help them solve it.
For example, here at Byte Bodega we offer Pinterest Management services. So I could write posts on:
How to confirm your domain on Pinterest
How to setup Rich Pins for your Website
How to setup your Tailwind Account
These are all super common issues people run into when they manage their own Pinterest accounts. So when I write posts solving them for people, they know that I'm an expert at what it is that I do. That's because I know it so well that I can explain it to someone else.
So find your thing, and work to educate your community and your clients about it.
This falls under the same category as the How to Guide for Your Signature Service as it feels counter intuitive to share what feels like everything you know.
There are those people out there that will find your post, use your tip and leave. But there will also be plenty of people that don't want to deal with it themselves and hire you instead, knowing that you have the expertise.
Favorite Platforms List
As virtual assistants, we use various online platforms all day every day. Over time, we find those that we absolutely love and those that we'd rather cut an arm off than use ever again. (I'm looking at you, mail chimp…)
That's why you should talk about the ones you've used and loved! You'd be surprised at how many clients don't even realize that a lot of these platforms exist. So you can really help them out by sharing something that might end up working out better for them than what it is that they're using right now!
Pro Tip: Have a platform specific offering, like Asana PM setups or WordPress? Write individual blog posts about the specific features of the platform that you like. Do you think the world of WordPress's Gutenburg builder? Talk about it! Love that Asana has recurring tasks? Talk about it and why it's awesome!
Your Business Journey Post
This is one of the more personal blog post ideas, because it's created with the intention of adding a little more you to your business.
Write a VA blog post about your business journey. How and why you got started, how your business has grown, and why you love what it is that you do. It shows potential clients that you're passionate and dedicated to your business and treat it for what it is, a business. Not just a casual hobby.
Personal posts like this help you to share your humanness a little more. When we work online, it can be hard to share yourself because we never have that person to person connection like a regular job. So writing posts like this helps your client to connect with you on a more personal level instead of just seeing you as a virtual task-doing robot.
DO I ABSOLUTELY NEED TO BLOG?
The short answer to this is… no.
I didn't blog for the first two years of my business and earned a full-time income, so I'm living proof that it's not essential.
However, I do have regrets about not having gained the tech and SEO experience I would have had earlier if I would have started my own blog from the start. It also would have helped me build up my organic traffic for more automated client leads. Now I'm just getting started making this happen for myself.
All of this to say, if you don't want to be a virtual assistant blogger – You don't have too. But if you have the time, it'll only help you, never hurt you.
I hope these virtual assistant blog ideas help you brainstorm some new posts for your website! These topics will help you impress your potential clients and share your level of expertise.