I'm so thrilled to be sharing my business income, reflections, successes and fails for the first time!
It's important we take some time to reflect on our businesses from time to time and I love doing it at the end of each year. I'm planning to make this an annual post where I give you a behind the scenes look into my business year in review.
My hope is that it'll show you what's possible in an online, service-based business. Sometimes you can get caught up in the "comparison game" with other aspiring virtual assistants, thinking that they have it all together from their instagram feed.
But I want to show you that you can have a growing, thriving business while also having a few fallbacks along the way by being super transparent with some of my challenges in 2020.
Let's get down to it!
HOW MUCH MONEY BYTE BODEGA MADE
You can see below a general overview of my business's revenue since year one (I went back and found the numbers!) and how it's grown since I started in August 2017.
Just like with most things in life, slow and steady wins the race. I'm totally guilty of pushing to the next stage/goal in my business, but seeing this visual of the year over year growth of Byte Bodega reminds me that we're making leaps and bounds fast.
The jump in income growth in 2020 was mainly due to growing the Byte Bodega team and systemizing a lot of our services. The ladies on my team allow us to serve more clients and provide more value, which I think is reflected well here.
I highly encourage you to consider growing your business beyond yourself if you want to maintain growth in services income over time! Plus, it's a lot of fun having people you love to work with alongside you. 🙂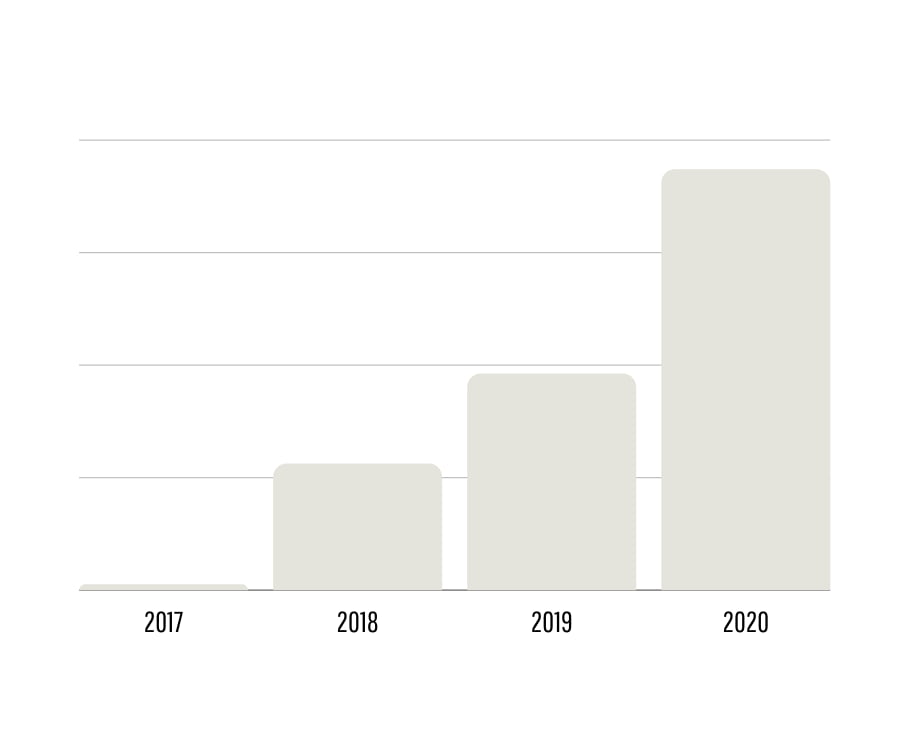 Here's a review of our month over month revenue for 2020:
I've talked before about having a regular budget for your business because as you can see, your income is never the same each month as a virtual assistant. I will say that our revenue stays fairly consistent throughout the year on average, since we mainly work with clients on an ongoing basis.
However, we obviously still see fluctuations over time as the needs of our clients change.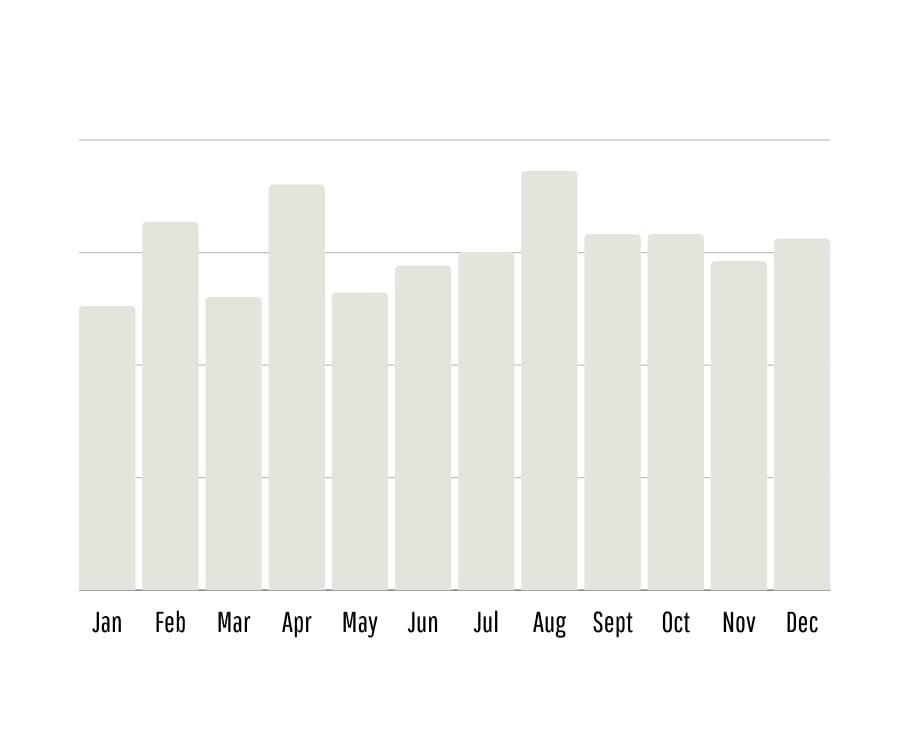 SUMMARY OF MY YEAR
I wanted to give you a super quick rundown of what my year looked like and where our focus was each month. Keep in mind that this isn't exact, but generally the timeline!
Here's what projects my team and I were working on internally thoughout the year:
January: Launched promoted pins service
February: Launched the Byte Bodega blog (+ started house hunting)
March: Got serious about email list growth (+ promptly stopped house hunting)
April: Revamped our Pinterest Management services
May: Experimented with paid advertising for Byte Bodega
June: Focused on creating blog content + Client recruitment
July: Learned about SEO + realized website updates were needed
August: Rebuilt website the first time + rebranded
September: Stopped everything + recovered from burnout
October: Worked with Webmaster to upgrade website
November: Rebuilt website the second time
December: Webinar with my bookkeeper and intentionally resting
MARKETING + CLIENT WORK
Throughout all of 2020, we worked with a total of 19 clients. This includes those that joined us for stand-alone projects and those that we work with on an ongoing basis throughout the year.
The majority of these small business owners were referred to us from our previous clients. The few that weren't, found us on google (thanks to the blog) or I found them through selling and pitching.
We also launched our new Pinterest Account Audit Service this year! After working with a lot of clients on their Pinterest presence, I realized that there were some solopreneurs that needed a jumpstart service for the platform. Business owners who weren't really ready to outsource their Pinterest Management completely, but wanted to know how to succeed with Pinterest on their own.
I created a project-based service to help support these folks and ended up working with 4 clients on it. It isn't something I promote a ton, so I am happy with the result after launching it in spring.
We officially launched the Byte Bodega Blog this year! Whoo! It's been a goal of mine to provide value and content for other aspiring virtual assistants for a long time, and I'm thrilled to have finally made it happen.
It worked out that our launch day was my birthday, February 4th. (send cake!) My goal was to publish once a week for the rest of the year.
I ended up publishing 35 posts of the 47 that I had hoped for. Although I wasn't quite as consistent as I had hoped for, I'm thrilled to have simply gotten it started. I'm a big believer in embracing the imperfection and not being held back by it being "perfect" and I think I hit that mark.
One of the reasons I didn't hit my blogging goal was because we rebranded in August! I felt it was time for a change soon anyways and when the project aligned with another one I was working on, I went for it! You can read more about why our company rebranded here.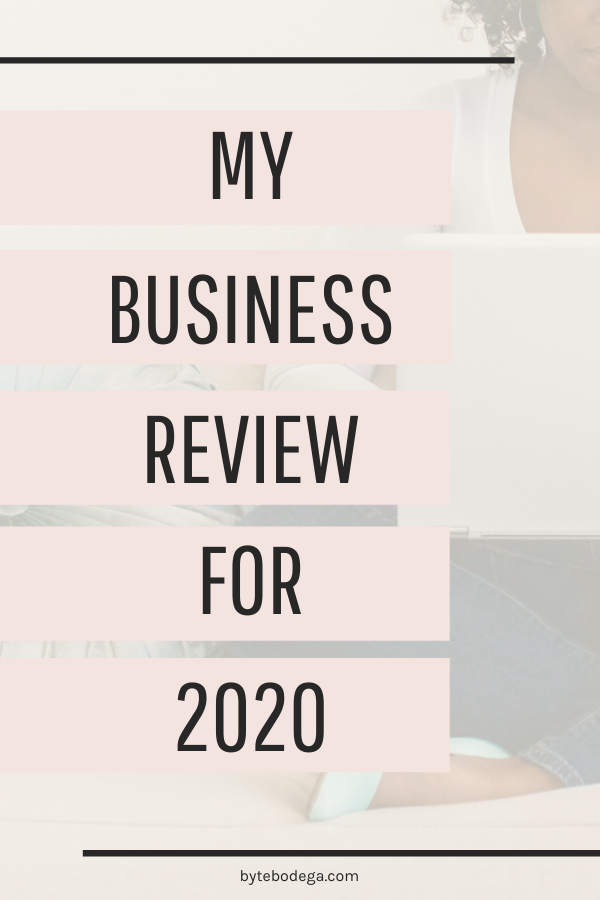 TRAVEL, TIME-OFF + LIFE UPDATES
I don't have to tell you that 2020 is not what any of us expected. Because I mean… clearly.
I wish I could share all of our exciting travels and experiences I had while working, but honestly I didn't have much due to the circumstances we're all in.
We generally don't travel much in the winter anyways due to snow here in New England. Then when my husband was laid off from his job in the spring, we cancelled our plans for the year. I was super grateful to be able to travel home for one long weekend though to safely visit our family in Pennsylvania.
This was the first year that I've ever experienced severe entrepreneur burnout. Thankfully, I was able to gain some extra support from my team and make space for myself. But that was certainly a learning experience for me on the importance of rest. (Even when you're in lockdown…)
During said burnout recovery, I picked up bread baking as a new hobby! I know a ton of people jumped on this bandwagon during quarantine, but this trend is here to stay for me. So if you've got hot tips for the perfect crust – Shout at your girl!
I do want to take a moment to share something here since I don't have a ton of updates for this section.
There has never been a single time that I have more grateful for my business than this year. The ability to safely stay home while still maintaining my job and providing an income for my team members during this extremely challenging time feels like an absolute gift.
I am so grateful to our clients who have continued to work with us and trust us with their businesses throughout this uncertain year. I also want to thank my team for sticking out this wild year by my side.
I'll never take it for granted.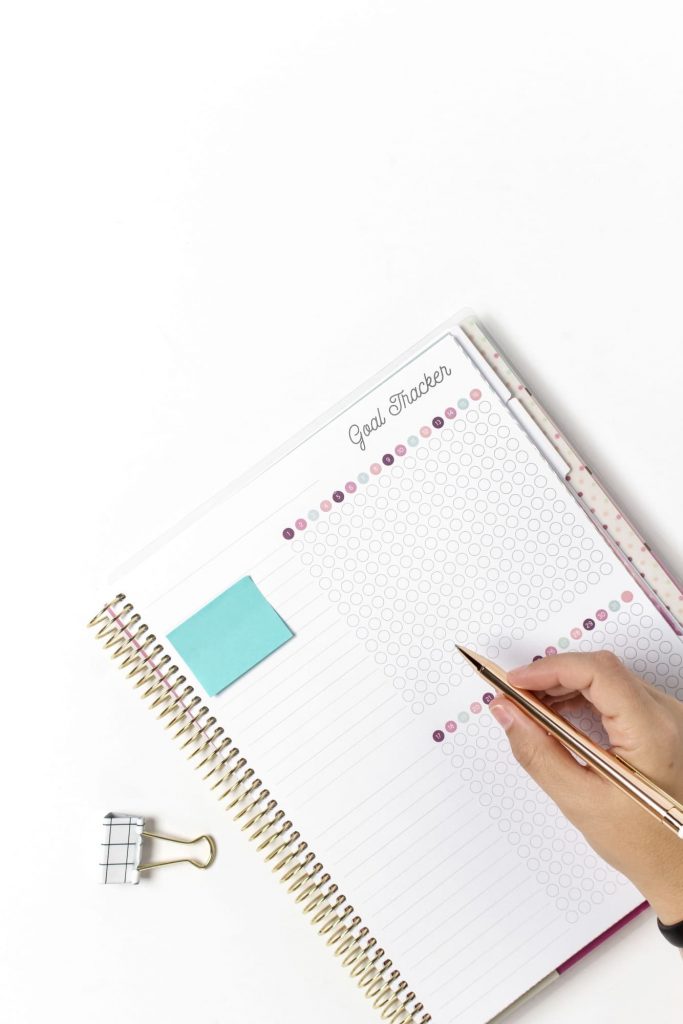 WHAT WORKED IN 2020
This is one of the best parts to write in my business year in review! Because so much went great this year.
Blogging was a fabulous decision. I pretty much knew it would be before I started, but once I started seeing continuous website traffic, email list growth, and clients rolling in on autopilot – I was sold on it.
Not only did it help me grow my mission to support small business owners, it's also helped me grow a community of aspiring VA's!
Client work as a whole went well too. We certainly experienced more ups and downs in clients due to the economic challenges that the year has brought us. Overall though, we grew our service offerings and continued to offer high quality support I'm proud of.
Since I got serious about creating content and blogging this year, I also spent a lot of time doing website upgrades and changes. It's crucial to have a fast loading, secure website to rank on google so I recruited some webmaster support to help me speed things up.
I'm already seeing an increase in performance due to the work we put in and I'm really excited to see how it progresses as I continue to publish new posts.
Things I enjoyed working on:
Recognizing what you enjoy and what you don't in your business can help you create a vision for what you want your future to look like. Sometimes we forget that we have the power (to a certain point, anyway) to build our workday around the things that bring us joy.
Blogging + Learning SEO
Pinterest Management Services
Workflow building for Business Management clients
Holding client planning calls
Webinars with my email list subscribers
Gaining more support from my team members so I could focus on higher-level activities
Slowing down and being more intentional due to the pandemic
Ability to safely visit friends and family in PA (even if it was only once!)
Bread baking and learning the glory of a homemade english muffin
WHAT DIDN'T WORK IN 2020
We're finally getting into the good stuff, my friend. Because there was a decent amount of crap that did not go to plan this year.
When I launched the blog early in the year, I had envisioned that I would make a transition into creating products. My hope was to provide more value and support to the virtual assistants in my community that want it, while creating a passive income stream.
Needless to say, that didn't happen. Once we learned more about the scope of COVID-19 and my husband's lay-off, this project got put on the back burner. It was more important to maintain my client income to support my family and my team members than it was to diversify revenue streams at the time.
Instead I focused on getting our systems super streamlined so that when we do dive into this in 2021, it's going to be that much easier. This experience really taught me that it's okay to embrace change and shift things where you need too. When things don't go to plan, the beauty of being business owners is that we have the ability to mold it how we need too.
A big part of the upgraded systems focus was our website updates. The webmaster I partnered with to handle all the super techie stuff recommended a fast, high-quality theme to me before we started working together.
Well, I decided I was smarter than her and chose a different one… I'm sure you can see where this is going.
I switched to one that was okay, but not nearly as great as the one she originally steered me to. She made the updates she needed to and s soon as we finished working together, I got to work on switching themes again.
If you've ever built a website or changed WordPress website themes, you know that it's a total pain in the ass and requires hours and hours of work.
All of this to say, I am fully switched over to the theme my webmaster originally recommended, after essentially rebuilding my website twice due to my own bull-headedness.
I'm embracing the lesson in this situation though: Trust the experts you have in your corner because you don't know everything and don't have too. That's why they are there to help.
Things I DIDN't ENJOY WORKING ON or avoided:
Rebuilding my business website twice
Working on tech-related things (even though my webmaster did most of it)
Market research for future course creation
Social media marketing for Byte Bodega
Resting more when I hit burnout
My yoga practice
Switching email marketing platforms
Trying to find flour for bread baking amidst a quarantine shortage
Staying away from family and friends most of the year to keep everyone safe
Coronavirus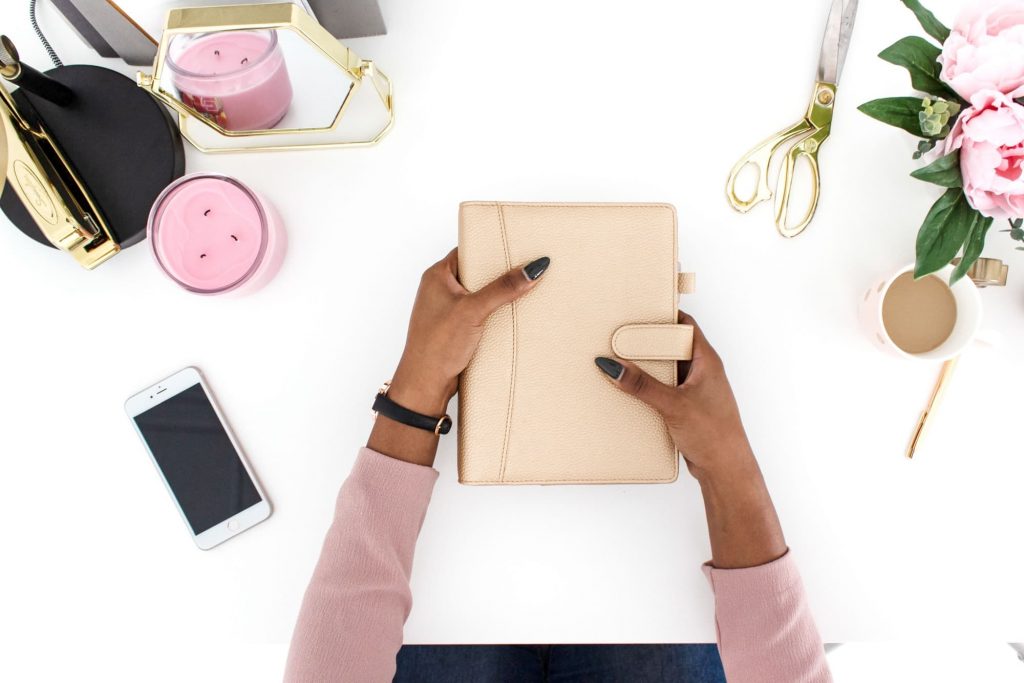 CHANGES IN 2021
There's so much I want to work on and focus on in the new year. I'm looking forward to a fresh start and fresh goals more than ever before.
Along with continuing to serve clients, I'm hoping to create and launch that educational product for the Virtual Assistants in my community. After thinking about it a lot, it's really the best way that I can provide a ton of value and support while offering it at a price that's affordable for new online business owners just starting out.
I'm also hoping to stay more consistent in my free content creation through the blog. Over time, I want to continue to grow our website traffic so we can grow our community even more!
THANK YOU, YOU'RE AWESOME
Seriously, you're freaking amazing.
If it weren't for you reading this, I wouldn't have a reason to be here in the first place. So you're really the Ross to my Rachel.
None of this would be possible without your support. I hope this shares some insight for you on the growing online business space and how you could become a part of it.
I seriously wouldn't change my business or what I do for a living for anything else and I want you to feel the same way.
Thank you to the incredible Paige Brunton for her Business Anniversary Reviews that inspired this post. If you're interested in learning about anything and everything there is to know about Squarespace, she's your gal!
Here's to 2021!