Creating a budget as a virtual assistant is one of the best things you can do in order to track and maintain your business's financial health.
All too often virtual assistants, social media managers, and other online business owners fail to create a freelancer budget for their business and it ends up creating a lot of unnecessary financial stress.
I personally identify as 'number-impaired' person, and if you're anything like me – You probably don't even want to touch a small business budget with a ten foot pole.
I know that's exactly how I felt when I first started my business.
Over time though, I've found a super simple system for a business budget that's easy to create and maintain even if you panic at the thought bookkeeping.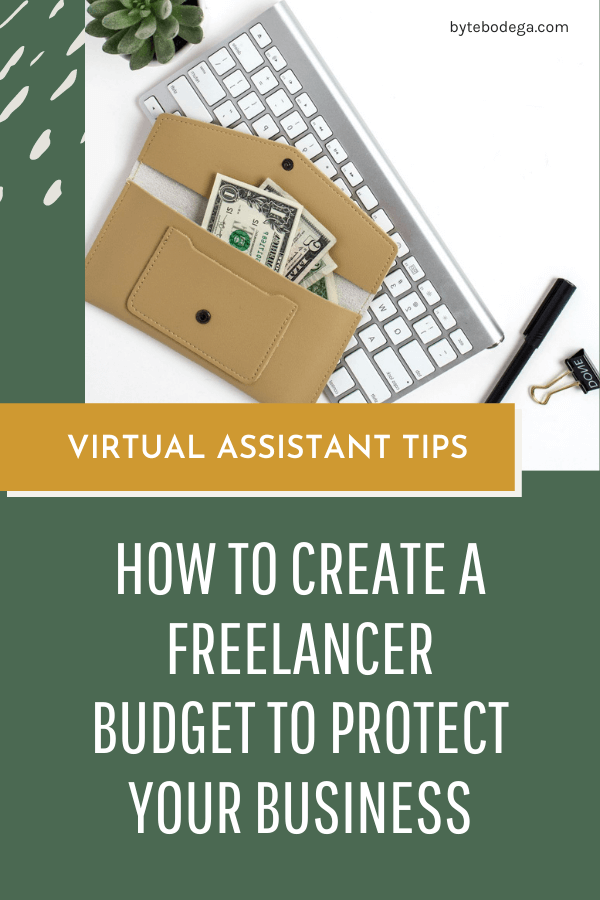 WHY YOU NEED A VIRTUAL ASSISTANT BUSINESS BUDGET
When you become a virtual assistant, you become a business owner. That's why it's essential that you start tracking your finances like one from the very start.
It's easy for side-hustlers to treat their finances like their business is a hobby. I find that this is most likely what makes them throw their biz expenses on a personal credit card and not think anything of it.
The thing is, it's so much harder to find and track those pesky little expenses that seem unimportant when it comes time for your monthly bookkeeping. And when you can't find them later, it throws off your bottom line number. (aka how much money you're actually making!)
So you truly don't know at the end of the month how much money you made, what you spent and how much you can afford to pay yourself.
Maybe most importantly, you won't know how much to save for tax season.
Which is all just a recipe for an unhealthy business.
Now don't panic if you already have a few clients under your belt and you haven't done this, because you can easily implement this simple budget tracker system anytime. It's just important that you do it sooner rather than later.
As you grow over time, it'll also help you avoid the 'feast or famine' that a lot of virtual assistants run into.
This is when you find that you haven't made enough for the month and you end up accepting clients or projects that are for less money than you normally would or simply aren't a good fit for you.
It also helps to make sure that once you reach the point where you're ready to make a new investment into your company, you can afford it. Say there's a new course or platform you've had your eye on: You'll know with absolute certainty that you have the means to buy into it without cutting yourself short on your personal pay.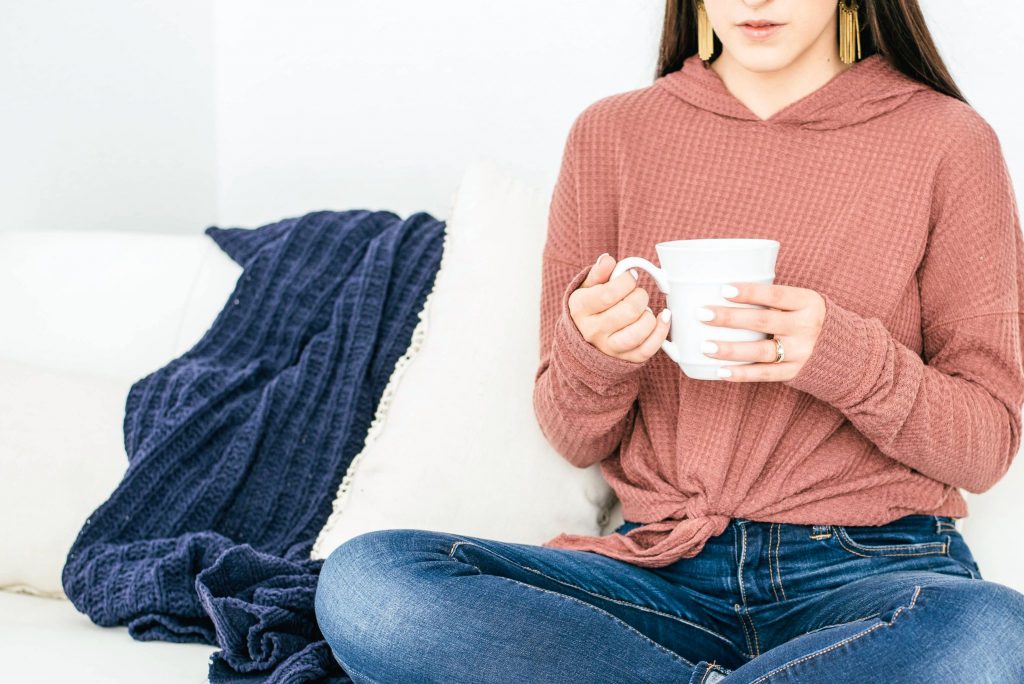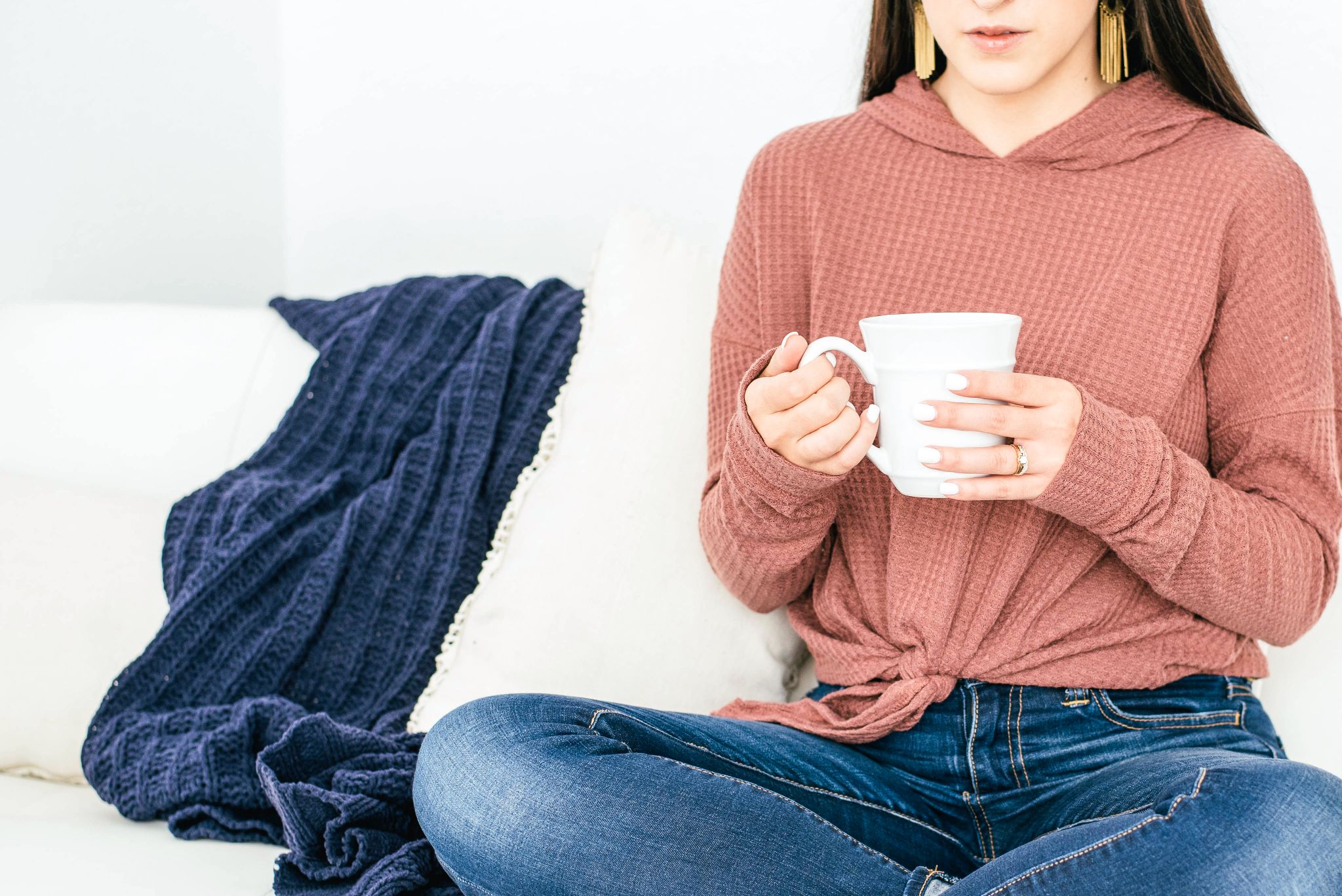 MY FIRST BUDGET AS A FREELANCER
When I first started out as a virtual assistant, one of the first things I did was open a separate checking account for my business expenses. It wasn't even a business account, it was just another personal checking. So it certainly wasn't anything fancy – but it did the trick.
This gave me the ability to throw all my platform subscriptions and payment processor fees for client invoicing on one account. So I knew that even if I didn't track everything penny for penny, the record would be there when I needed it come tax time.
Then I used a simple spreadsheet where I manually tracked my income and expenses every month.
The problem was, I didn't have a true budget I was trying to meet. I just had a way of tracking everything. So I was just watching my money leave and not really telling it where to go.
THE PROFIT FIRST METHOD FOR FREELANCE BUDGETING
Once I started to gain a little more traction in my business and made the decision to leave my full-time job, I knew that I needed something more substantial than my trusty spreadsheet.
I looked to some entrepreneurs in the online business space that I consider mentors and found that a lot of them recommended the book by Mike Michalowicz, Profit First.
I knew that I needed something simple and straightforward because again, I'm super numbers impaired (Seriously, it's bad… Ask my husband!). So when they said this fit that bill – I was all in!
Mike did a great job of writing a business financials book that makes practical sense for any entrepreneur and can be implemented no matter what the size of your business is.
The very simplified version of his method is to budget with Profit in mind first (pretty obvious, I know) and to make expenses secondary. Which helps you keep what you spend on your business in check and not get out of control.
My all-time favorite part though, is the breakdown he gives for how to budget where your money actually GOES in your business.
This is the breakdown he gives for businesses that make under 250K a year (as this is most VAs):
Real Revenue: 100% (The moolah you bring in!)
Profit: 5%
Owner's pay: 50%
Taxes: 15%
Operating Expenses: 30%
This was by far my favorite thing he covers in his book that made the biggest impact on me. It truly told me where and how I should be spending my business's money in order to make sure I stay profitable as a virtual assistant.
As soon as I finished this book (which I devoured in one sitting) I immediately put this concept to work in my business.
WHY THIS BUDGETING BREAKDOWN WORKS
The biggest thing that makes this system effective is the fact that it's SIMPLE.
Many of us that are trying to create a freelancer budget don't have time to learn the in's and out's of some super detailed accounting process.
We just need to know how much to spend, how to track it and what we can afford to pay ourselves. That's why I and so many other online business owners love this bookkeeping system!
I'm not going to dive too deep into the nitty gritty of Mike's process (just go buy the book for that!). But I want you to know that the percentage process that he outlines also helps you save for those larger business investments and avoid the 'feast or famine' concepts we talked about before.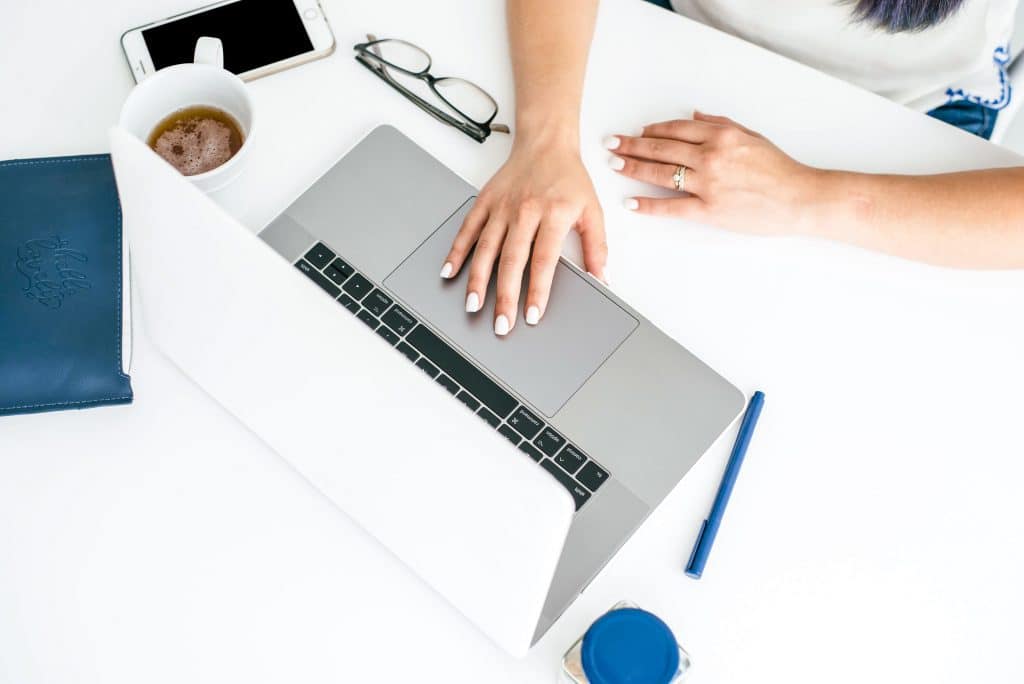 HOW I PUT THE 50/30/20 RULE TO WORK
The big thing that I don't follow that Mike encourages is multiple bank accounts for each of the budget categories.
Instead, I just use a spreadsheet and list out my real revenue and note what expenses from the month are going to be categorized within each of the breakdown categories to budget them out.
This is generally how I outline this budget template: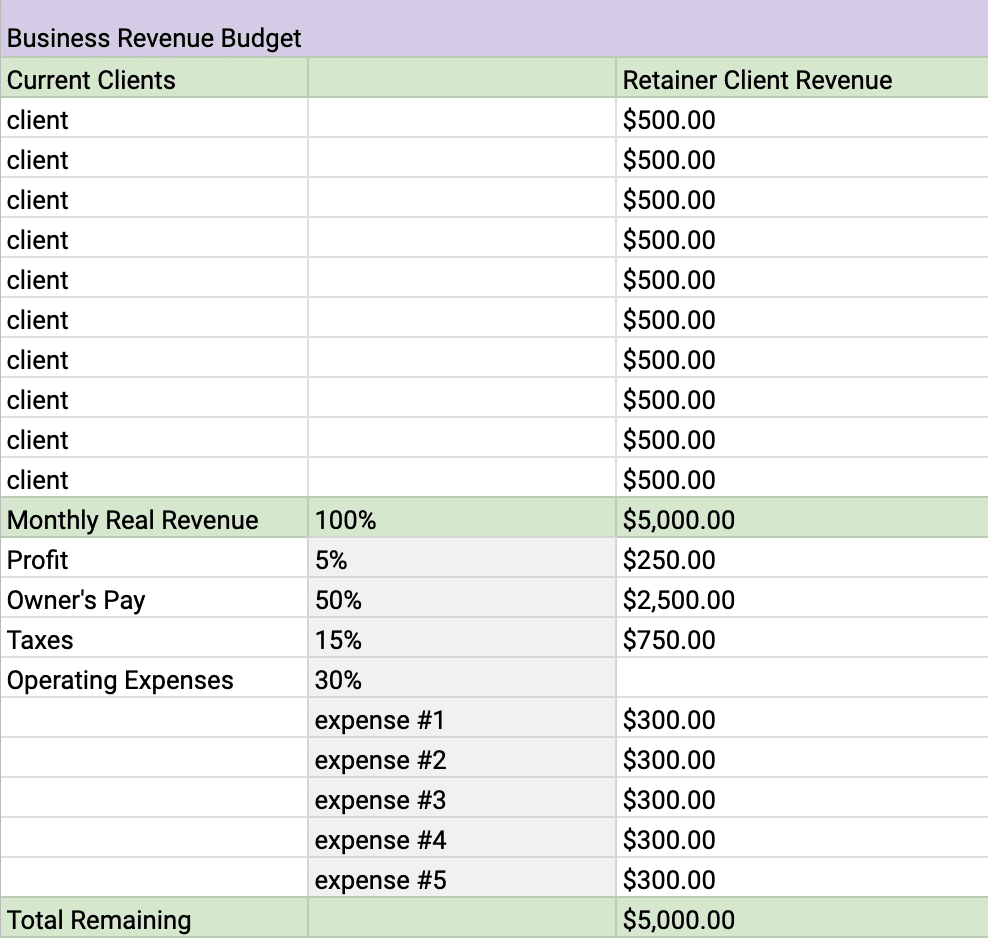 Essentially I just track all of my real client revenue (aka what I bring in money-wise for the month) and budget out each percentage category based on that.
When I reach zero dollars on the bottom line, I know that I've allocated all my money for the month in the specific categories.
I know having the separate business bank accounts essentially does this for you automatically.
I just find that having 5 bank accounts gets really tedious when you're just starting out with a set freelancer budget, because you generally only have a handful of transactions going in and out of your accounts every month.
This in combination with my favorite CRM Dubsado is what felt easier for me to manage when starting out as a virtual assistant while still following the Profit First system, so that's why it's what I recommend!
Outlining where and how you want to spend your money as a virtual assistant will help show you how much your hard work is paying off financially! Let me know in the comments if you use a freelancer budget or what you do that works for you.