Your client onboarding process is everything that happens immediately after a potential client inquiries about working with you.
A lot of newbie VA's get their awesome biz website setup, their service packages in place, and are ready to take on the world serving clients. But they struggle in understanding how to actually start serving them once they start to gain interest in their services. That's where your virtual assistant onboarding process comes in!
It's not uncommon to start asking yourself questions like:
What do I send new clients when they contact me?
Once they sign the contract…. then what?
How do I gather the information I need from them to do the tasks they need completed?
I'm answering all these questions and more so that you aren't left feeling like a deer in the headlights wondering what to do next. Instead, you'll be ready to take action to impress (and land!) that new potential client.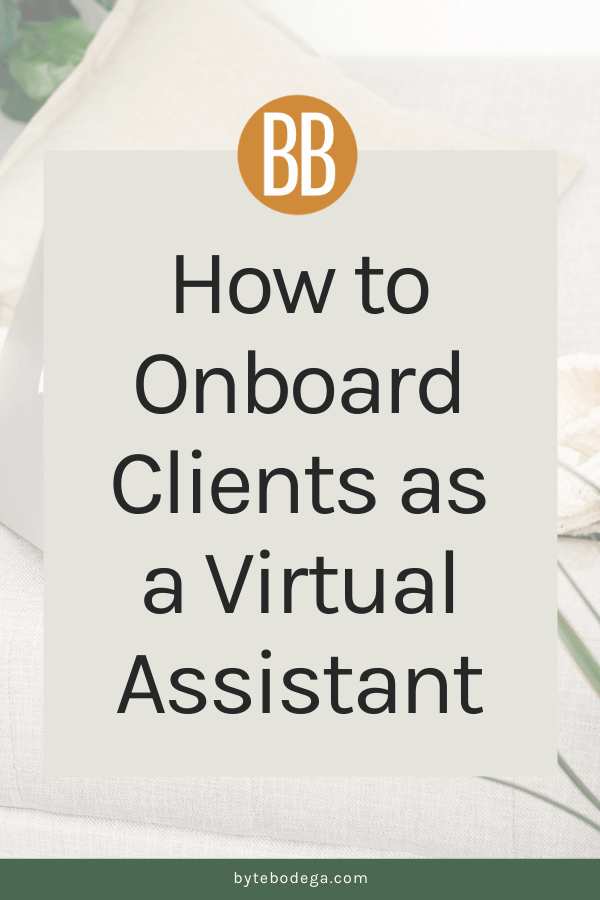 WHY YOU NEED A CLIENT ONBOARDING PROCESS
Your client intake process educates your client on what to expect in working with you and getting started in your partnership. You never want them to feel as though they were simply left confused as to what to do next.
The steps of your virtual assistant onboarding process tells them what to do next. By taking the initiative to do so, you're displaying your professionalism and expertise from the start.
It also helps you to make sure that all of your business tasks are completed so that you are doing what's needed to care for your own business while caring for theirs.
STEP ONE: DISCOVERY CALL
Once you receive a client inquiry from your website (or anywhere else), the first thing you want to do is schedule a discovery call with them.
Holding a discovery call with your potential client gives you the time you need to introduce yourself and learn more about them to see if you're a good fit.
I recommend using a scheduler link like Dubsado's (that's an affiliate link!). This allows you to set your availability ahead of time so that your client can simply view, select and confirm a time on your calendar. It eliminates all of the back and forth with you via email in order to schedule.


Once they choose a time, be sure to tell them how you're meeting. You'd be surprised how often people assume you'll be calling when you're sitting on a zoom meeting waiting for them to show up.
Then you end up missing each other! So be sure to note it and make it super clear for them so there's no mishaps that way.
STEP TWO: PREPARE + HOLD THE CALL
When using a call scheduler, you'll get an email confirmation when your client chooses their time.
Be sure to send a confirmation email to them so they know it went though. You can even do this automatically in Dubsado! It makes it super easy and automated.
After that's all set, take some time to learn about the client's business. Set aside 30 minutes before the call and review their website, check out their social media accounts and see what they're all about. Take notes as you do!
This will help you create a list of 5 or so questions you know you want to ask them during your call.
When you take the time to do this, your potential client can tell on the call. They'll be super impressed that you're so interested in their business and prepared for the call!
Show up to the call at least 5 minutes early so you have time to gather the notes you prepared. Enjoy the call and have fun! You can learn more about how to nail discovery calls here.
Before you end the call, let them know that you'll be sending a proposal listing your services and some more information about working with you. This will let them know that you're ready to begin working right away and let them know the next steps.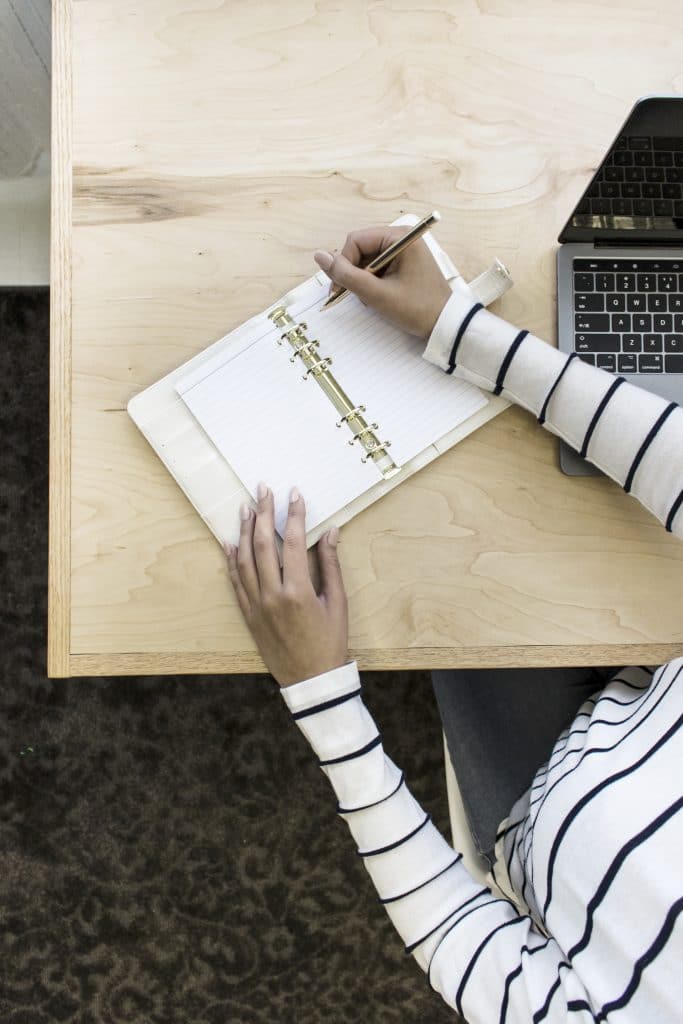 STEP THREE: VIRTUAL ASSISTANT PROPOSAL
If you haven't gathered already, I am a huge fan of Dubsado. So I recommend them for sending your virtual assistant client proposals! (no shame in my #fangirl game)
Their platform allows you to include your service packages, your contract and your deposit invoice all in one proposal document for your client to complete.
This makes it extremely easy for your client to have all the information they need to book your services with one single email.
So at this point, all we have to do is prepare that and send it along to your potential client to review.
Be sure to outline the tasks included in your service based on what you discussed during your initial call and include your pricing whether that's hourly or by package.
Crossing my fingers for you! 😉
STEP FOUR: FOLLOW UP, THEN DO IT AGAIN
This is the key to landing more clients. You cannot let this person forget about working with you after you send your proposal.
I recommend following up with them via email within 3 business days and again a few days after that if you don't hear back.
It's not uncommon for your email to go to spam or simply to be lost in your potential client's very full inbox. So this step is crucial to putting you back at the top of their list.
It also lets them know that you're a go-getter and that you really want to work with them because you're taking the time to check-in. They'll be grateful and impressed that you took the extra step.
At this point – YAY! Your client has officially signed on to work with you, so let's move into the good stuff.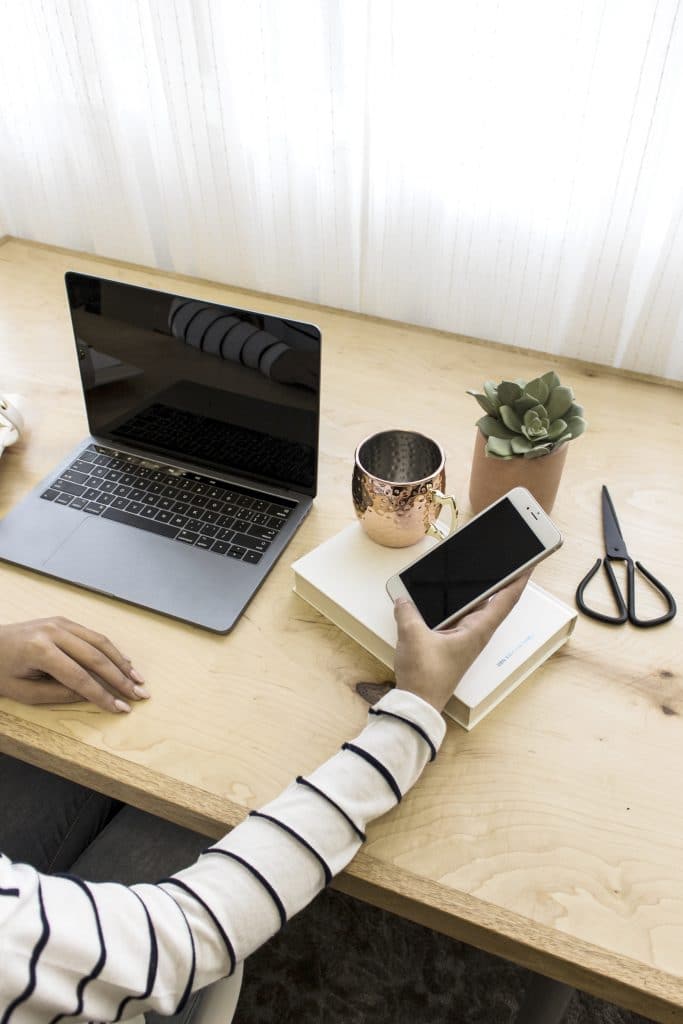 STEP FIVE: WELCOME PACKET
The very first thing your client should be sent after signing their contract is a welcome email showing your genuine excitement about working with them. This email will also include your virtual assistant welcome packet.
This document lays out the basic information that your client needs to know about working with you and how to expect to communicate with you as you get started.
You can do it any way you want. Just getting the information to your client and welcoming them as a part of your community is the most important piece.
STEP SIX: VIRTUAL ASSISTANT CLIENT QUESTIONNAIRE
It's time to send your virtual assistant client questionnaire. This is how you'll collect essential information from your client to get started in completing tasks for them.
These are things like:
Logos, Brand Colors, Mood Boards
Headshots + Brand Photos
Login Credentials for Accounts and Platforms
Ideas and Action Items for Projects
This is really the nitty gritty virtual assistant client intake form, because it's where you gather 99% of what you need from them to fulfill their tasks.
Once you send this out, be sure to follow up if you don't get it completed within a reasonable time-frame. Just be sure to keep in mind that this step is usually a lot of work for your client, so do your best to be patient if you can!
STEP SEVEN: BOOK A FOLLOW UP CALL
This step is by far my favorite part of my virtual assistant onboarding process!
Last but not least, you need to hold a follow up call with your new client.
Simply send another scheduler link in an email, asking your client to schedule a time to reconnect before you dive into working on tasks.
Here at Byte Bodega, I like to refer to this as the 'Plan of Attack' call. 🙂
This is when you'll confirm any final details that maybe weren't clear in the virtual assistant client intake form and plan out our initial tasks in working together.
You will really lay the groundwork for the first few projects you're going to work on with your client in this call, so be sure to use the time with them wisely and gather exactly what you need.
From there, all there is to do is dive into work with your new client partner! Congrats on your new VA client!
I hope that this gives you the jumpstart you need to developing your virtual assistant onboarding process so that you can confidently start supporting your new clients!