All of a sudden, more people are working from home than ever before as a result of COVID-19. This terrible virus has forced many of us into a new daily routine virtually overnight.
Even some who have never even desired to work from home, but are now suddenly being equipped by their employers to do so in order to protect those around them. This is why I figured that this was the best time to share my best tips for working remotely.
I've been working on Byte Bodega out of my home for over the past two years. In the time, I've learned a thing or two about how to stay productive (and sane) after being in your house for days on end.
So whether you're starting a work from home journey as a result of launching your virtual assistant business or from other circumstances out of your control, I want you to know what helped me make transition to ease your own.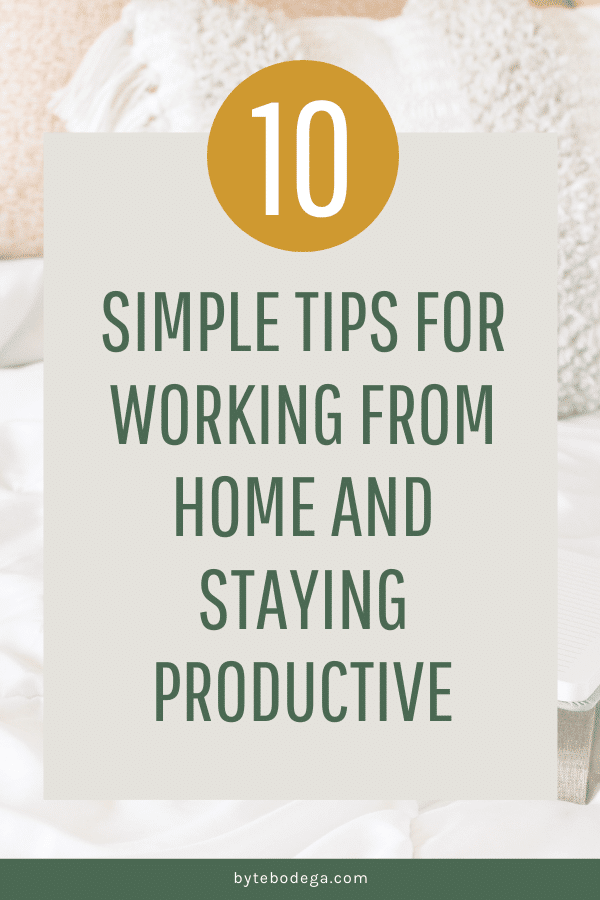 WHY WORKING REMOTELY IS DIFFICULT
I know there's some of you reading this thinking, "Working from home is difficult?! Yeah, okay… sure Chynna." But hear me out.
When you leave the house every morning dressed for success, you create a sort of mental checkpoint in your brain that says "Time to work!" that gets you in the mindset for your workday.
But when you work remotely, you loose all sense of that. Instead, you just roll out of bed in your pajamas and walk from one room to the other like you would on any lazy Sunday. And if you're anything like me, you are not immediately productive on a Sunday morning.
So it's important that when you work from home (or anywhere other than an office) you find the things that support your work process.
My obvious disclaimer to all of this is that I do not want to make it seem as though I don't recognize all of the benefits of it. I love my daily yoga pants and mid-day naps when I need them.
I simply want you to have the tools and ideas that I've used to support myself in the transition from going to the office every day to being at home 4-5 days in a row working non-stop. Because believe it or not, working from home with all it's luxuries – Comes with some challenges too!
Without further ado, let's dive in!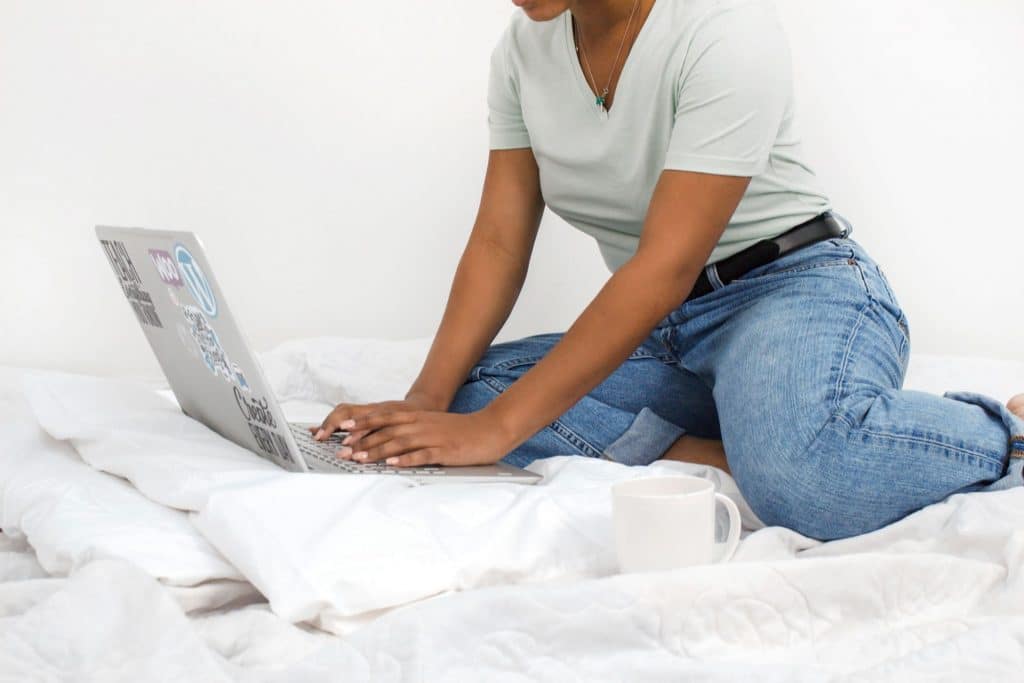 SIMPLE WORK FROM HOME TIPS
Find Your Inspiration Zone
This tip for working remotely is crucial for me personally. I have the amazing luxury of having a dedicated home office in my apartment. However, I know that this isn't available to everyone. So regardless of where you're sitting down to work, I encourage you to create a space that you love to be in. Ideally one that doesn't have too many distractions.
For instance, I have a tall, green tree in my office that has twinkle lights on it – simply because it brings me joy. You could light a candle, pour yourself a cup of coffee (or wine) or just open a window for some fresh air.
The goal of this is to make your work zone somewhere that cultivates inspiration and somewhere you actually want to be. It'll encourage you to head over to that space and get to work!
Set Office Hours (& Stick to Them)
When you don't have a commute at the start and end of your day, it's easy to find your work day slipping into your nights and weekends. There's endless distractions in your home, so I get it!
That's why it's crucial to set your the office hours when you're expected to be at your desk so you can begin to create a 'going to work' routine.
Whether it's a traditional 9-5pm or 10-2 then 4-8, you can design your day however you want (the beauty of WFH life!) just set it and stick to it.
Set Your 'No Work' Hours
This is a tip that I learned from a fellow online business owner who I really admire. Once you set your work hours, set your 'No Work' hours!
These are the times throughout the week that you will under no circumstances get online to work.
Because no matter what you do, your office hours will creep in to your free time. I've found that literally having that opposite limit really helps remind me to put down the computer and do something else.
Upgrade Your Pajamas…Slightly
Getting up and getting dressed in the morning is one of the oldest tips for working remotely that there is. But I'm going to twist it just a bit.
Because if you should know anything about me, it's that I wear yoga pants every. single. day. and I've never once worn jeans during the day to work.
I simply want you to upgrade your pajamas a bit. Instead of wearing the t-shirt you've worn to bed the last three nights to work today – wake up and pair your leggings with a nice, clean and comfy sweater instead.
This will help you feel a bit more put together and ready for the day without losing the benefit of being cozy at home.
Get the Right Tech
This is where I have to give my husband John all the credit. If it weren't for him, I'd still be balancing 36 google chrome tabs on my little 13″ laptop screen.
Once you start working from home full-time, I highly recommend investing in dual monitors and some noise-cancelling headphones. Honestly, it can just be whatever tech that'll make the work day easier on you.
This is absolutely not essential whatsoever to getting started as a virtual assistant. Once you start working on heavier projects for clients though, it makes a world of difference in your productivity and workflow.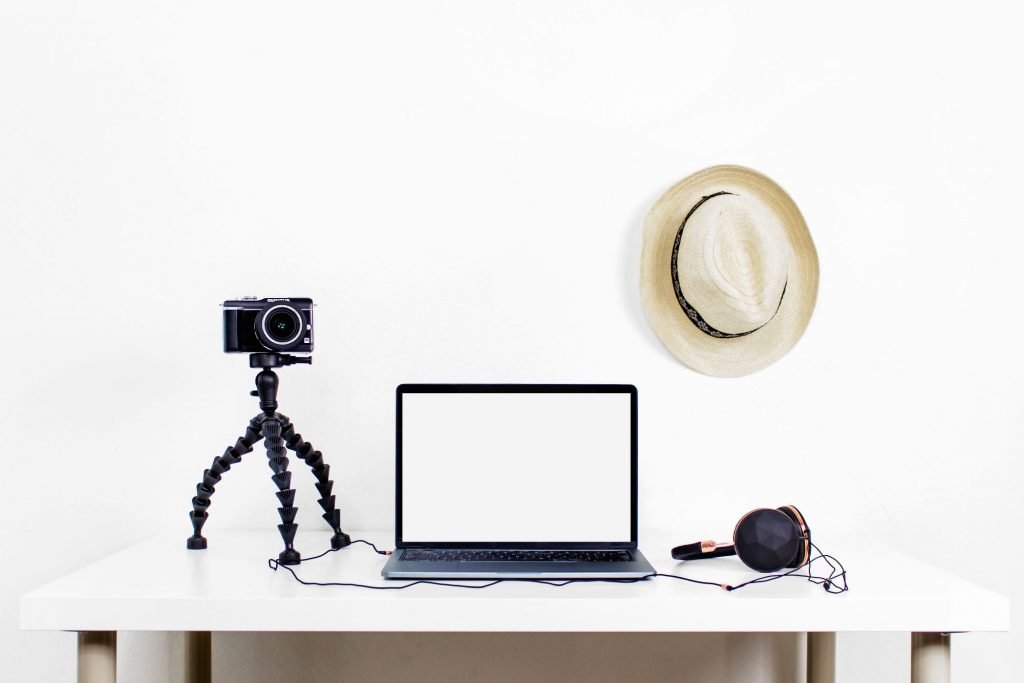 Over Communicate
One of the best tips for working remotely for those of us that are newer to it is too over communicate everything.
A lot of the work we do with projects and tasks gets lost in translation when you can't directly talk to your teammates and clients. They can't physically see what you've gotten done every day the same way they can in the office.
So do your best to communicate every where you can about what you're working on and when. It'll help keep everyone on the same page and avoid confusion of frustration later.
Set Boundaries with Friends + Family
Man oh man, this is a big one. Especially when you have loved ones that either don't work traditional hours or have never worked remotely before.
It's important to let your friends and family know what times of the day you're typically working and ask them to not contact you unless you're truly needed during those times.
Otherwise, you'll find yourself with a causal phone call from your grandma at 2PM on a Tuesday, about 15 minutes before a discovery call with a potential client. (ask me how I know this…)
Simply ask family members to respect your 'office hours' the same way they would if you were heading off the the office each day.
Schedule in Break Times
It's not hard to look up at the clock and find that 10 hours have quickly passed and your eyes are dryer than a bone from staring at your screen.
So I highly suggest setting break times throughout the day. It doesn't have to be anything complicated or fancy!
For me, I take a break around 11-11:30AM for lunch and watch a quick YouTube video while I eat. Then I take one more 15-30 minute break in the afternoon around 3PM, but I really just do whatever I feel like with that time. Sometimes I take a power nap, watch TV, run an errand, shower, or practice yoga.
Fortunately, there's a lot more options other than just taking a stroll to the water cooler when you work at home!
Don't Forget to Actually Go Outside
There have been more than a handful of times that John has come home from work and I'm in full cabin fever mode. That looks different for everyone, but for me it's laying on the couch in the middle of the day not knowing what to do with myself other than exist.
And I've realized over time that it's that I literally forget to go outside. Which sounds ridiculous, but it's real because you get caught up in everything you need to be doing for work.
So, this is my friendly reminder to you to actually go outside for a bit every day or two to get some fresh air and social interaction.
You'll be surprised how much literally just a walk around the block can do for your mental sanity.
Allow Yourself to Enjoy!
Above all of these tips for working remotely: Remember to enjoy the flexibility that comes with it!
You might not end up taking 3 hour lunches followed by a yoga class every single work day, but allow yourself to do that every once in awhile if that's what you love!
As business owners, we often forget to take time to enjoy the benefits of the lifestyle that we've built for ourselves. So if your bestie invites you to lunch during one of her vacation days – Schedule it in. All yourself to enjoy that time guilt-free, you've earned it!
We build virtual assistant businesses in order to enjoy our daily life, however we want. So structure your work from home days however they work best for you. Tell me your favorite tips for working remotely in the comments!