Essentially every business can benefit from standard operating procedures. But creating them in a way that works can be the tricky part.
I often find that small business owners either feel that they don't need a business SOP library or they know they need one but don't know how to make one.
That's why I want to take some time to share what they are and why they're critical to your backend operations.
Whether you're a virtual assistant or another online business owner, SOPs will help you leverage outsourcing to grow your business over time.
WHAT IS A SOP?
SOP stands for "Standard Operating Procedure" which is a step by step guide for a recurring process within a given business.
They are designed to help a team member execute a task without having a ton of one-on-one training time. Standard operating procedures outline each and every step in a given process with provided goals and outcomes so that the team member knows they completed it correctly.
SOPs are generally made for tasks that are repetitive on a daily, monthly or weekly basis. These systems generally don't change, so that it can be used over and over again.
Here's some examples of common SOPs for small businesses as a reference:
Blog Post Drafting
Instagram, Facebook, or Pinterest Posting
Email Inbox Management
Data + Metrics Recording
Podcast Editing
Sending Performance Reports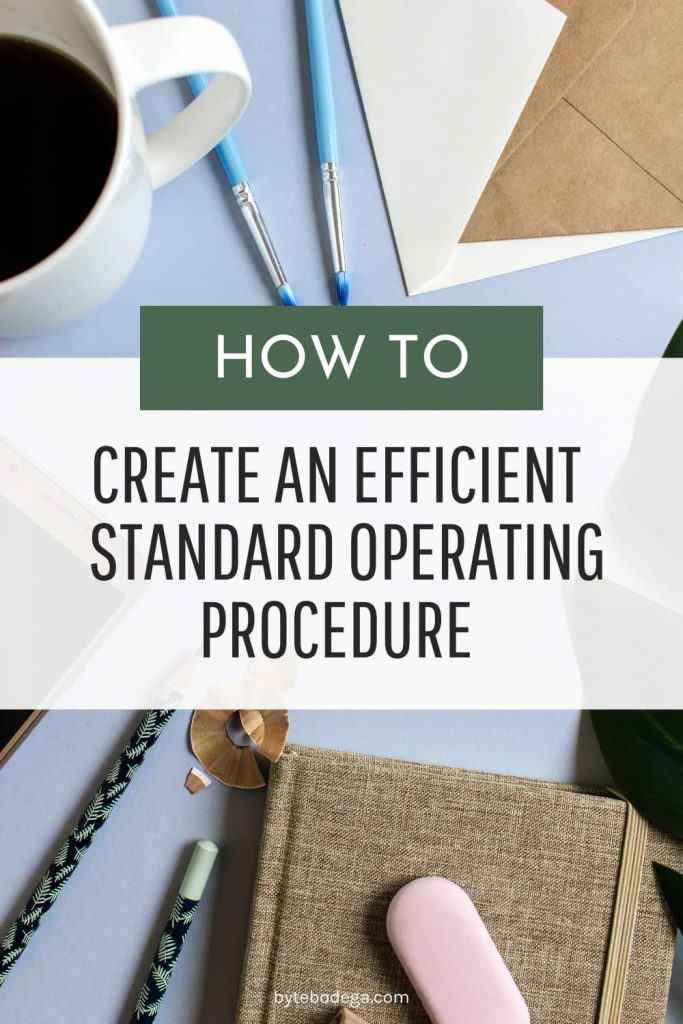 WHY YOU NEED SOPS IN SMALL BUSINESS
There's a million benefits to having an SOP library for your business.
If you've ever worked with me in any capacity, you'll already know this because I rant and rave constantly about them.
The biggest benefit of a business SOP is that it makes outsourcing an absolute breeze. So many small business owners struggle to understand how to get the support they need from a virtual assistant.
When you have a well documented process with an SOP, your virtual assistant can take on the task and run with it. Often with very limited extra support from you, because they already have everything they need to complete it thanks to the SOP.
It also makes transitions in team members way easier. If you have a current virtual assistant or team member that decides to leave your business for any reason, you need to have the tasks they complete documented. Otherwise, you're going to be left hopping in and completing them until you train someone new. Even worse, the task won't get done at all because no one else on the team knows how to do it.
When you have SOPs, you simply give your new team member the materials they need and let them run with it. It results in way less headache (or pure panic!) when changes happen.
Last but not least, it sets expectations for your team members. As virtual assistants, it can be hard to really know whether we're executing tasks correctly without clear guidelines. When we have a process to follow – it's so much easier to know we're doing things correctly without having you bother you to ask.
WHAT TASKS TO CREATE THEM FOR
"I don't know what I need, but I know I need help." – The most common phrase I hear from new-to-outsourcing entrepreneurs.
I encourage you to really think about what it is that you don't like to do, things that are repetitive and the most time consuming.
For example, I found that taking my blog outline and drafting it in WordPress took me way too much time each week. So I created an SOP for my virtual assistant on how to do it for me.
Not only it is something I don't like to do, it's something that I do every single week! Now I'll always have her help with it and I don't have to worry about it anymore.
SOPS AS VIRTUAL ASSISTANTS
One of the biggest opportunities we have to provide a higher level of service as a VA is to create the standard operating procedure for your client!
Whatever you start working on together, create an SOP for it and you'll look like a freaking rockstar to your client. Not to mention you're just making your life way easier for the next time you do the task.
Standard Operating Procedures are also crucial when you start outsourcing client work and growing your team. My team members have trainings I created on how to manage tasks we complete for our clients so they know how it needs to be completed.
This lifts a huge weight off your shoulders both in training but also in trusting your VA subcontractors with your client work. It's a big step to find someone you can trust with the clients you love and appreciate! Give them the tools they need to be successful and support them, and they'll reward you ten fold.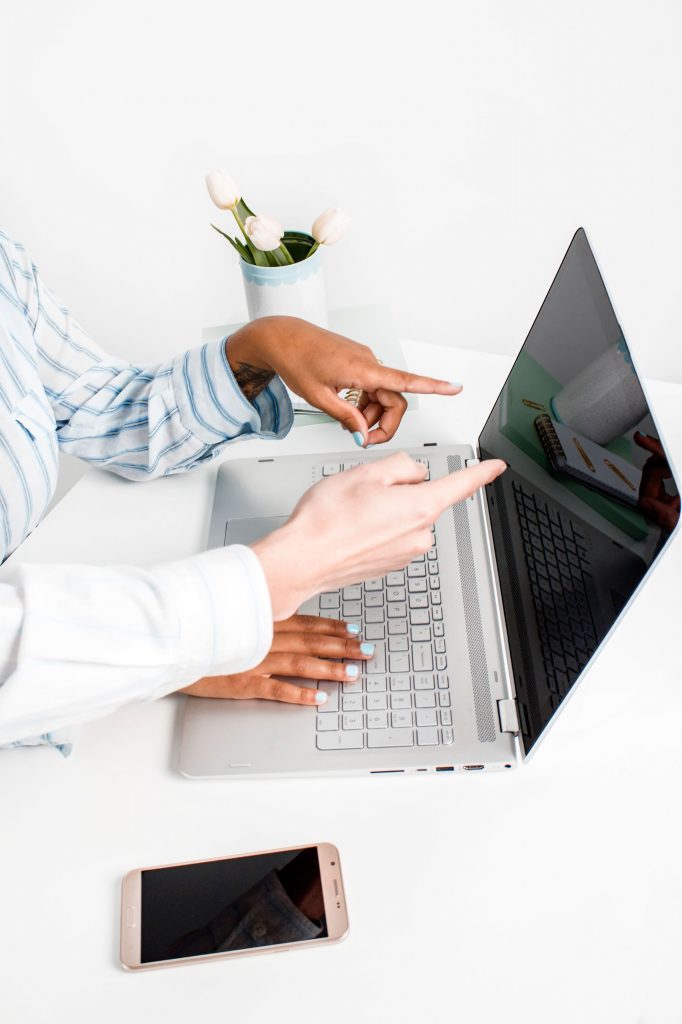 HOW TO CREATE A STANDARD OPERATING PROCEDURE
Pick Your SOP Format
There's two main formats for business SOPs: Video and Written.
The video format is generally a screen recording of you executing the given task and explaining the what and why behind each step. Then whoever is responsible for the given task can watch the video, follow along and learn as they do it.
Written SOPs are formatted in an online document (I recommend Google Docs for easy edits!) that include step 1, step 2, step 3 and so on for the what and why of the given task. These also usually include screenshots for each step in order to visually show where/what it's referring to for clarity.
Both formats have positives and negatives, but I've personally found that my team members always learn the easiest when I use videos.
Create a SOP Template
This mainly just applies when you are utilizing written standard operating procedures. Instead of starting from scratch every time you create a new one, make a template!
You can include things like: who is responsible for the task, a "step one…step two…etc" outline, and how often the task is completed. Then all you have to do is hop in and add the information for the given system. It makes it way easier and it doesn't need to be anything crazy complicated.
This also helps maintain consistent formatting amongst all your SOPs. Consistency between them makes it quicker and easier for team members to learn new systems as you delegate more.
Build a Organization System
I highly encourage you to create a simple filing system to keep everything in your business organized. This includes your business SOP library.
Dedicate one centralized google drive (or other cloud!) folder to store all of your standard operating procedures in. This gives your team one place to look when they don't already have what they need.
It's just another question that doesn't need asked of you to take up your precious time and it makes their life a lot easier.
As time goes on and you build more SOPs for your small business, it makes it easier to track what systems you have documented and which ones you still need to make. All you have to do is check the folder!
Make a List of Processes Needed
Starting from scratch? Don't worry! It's not as bad as you think.
I know it's really overwhelming when you don't have a single system documented, but just like anything else – You gotta start somewhere!
Create a list of all the initial processes you need to document and keep it somewhere handy. More than likely, you'll find more along the way that you can add to the list.
Commit to creating 2-3 new SOPs a week and create the most important ones first. This will keep you from getting overwhelmed with the project, but it'll also help you get support from your team member on those 2-3 tasks within the next week.
Create the SOP While You Work
This makes the creation process about 800 times easier. Obviously if you're filming screen recordings, it's nearly impossible not to do it this way.
But it is more helpful if the viewer can visually see you taking the actions as you do it rather than you just pointing at what you 'would' do. So make sure you film it as you're actually doing it.
If you decide written are the best route for you, creating it while you work allows you to grab the screenshots you need to include.
Approaching the creation this way also helps you miss the little details you might not otherwise think of if you were just breezing through the general process.
That'll save you a lot of headaches later when you forget to tell your VA about it and they've gotta go back and fix it or bother you about why it's not working for them. (Trust me, I've been there!)
Note Expectations for THE Process
Do you want to have a minimum of 10 Facebook posts scheduled every month? Expect the company email at inbox zero each day? Are podcast edits to be finalized by the end of day each Thursday?
Make it known in your business SOP.
The only way your VA knows that they are meeting your expectations is when they are clearly defined. Not to mention that if you have your expectations communicated to your team, it makes it way harder for them to justify their actions when things aren't done correctly.
It just helps to keep everyone accountable.
Link SOPs to Recurring Tasks
This is my favorite!
Once you complete a new SOP, attach or link the training to the task you have assigned in your project management platform. It doesn't matter if you use asana, Trello or something else – You'll be able to do this in some fashion!
This is a BIG time saver because you can simply assign the task to your team member and they'll be good to go. They'll already have what they need to do, when they need to do it by and the step by step process for how to do it within a single click.
It doesn't get much easier than that!
I'd love to know how you organize your standard operating procedures! What systems are you creating first? Let me know!