You can always tell if an entrepreneur is super clear on who they are and what they do from their branding photos.
That's because if they know what value they provide, you'll be able to tell what it is straight away just by peeking at a few photos of them. Personal branding photography benefits are endless in that they can give to you and your business in so many ways.
I waited over two years before I finally invested in formal lifestyle photography for my virtual assistant business. Once I did, I was so incredibly happy that I made the decision. I've found countless ways to use them to help me market myself and grow Byte Bodega.
Today, I'm giving you a list of a few of them so you can decide if it's time for you to get some personal branding photos for your business.
WHAT IS BRANDING PHOTOGRAPHY?
If you're unfamiliar with personal branding photography, it's a specific sector of the photography industry that finds ways to feature professionals and products doing what they do best.
You've more than likely seen photos of other industry professionals in your niche that are particularly personalized and high-quality.
You know, those people that you follow on instagram that always seem to have the cutest and fun photos that always work together perfectly in their feed.
Some examples of this could be:
Copywriters in coffee shops writing in a journal
Graphic designers drawing on their iPads
Podcasters talking into their microphone at their desk
Web Designers working on their computer
Chances are, these people have dedicated time to personal branding photography.
These are clear, visual representations of what you actually do and how you do it. Some people like to be adventurous and mix in more personal photos too, like with their cats, families, and donuts to create a more personal connection. (uhm, hi, hello… that's me! ha!)
This gives your potential clients a sense of what it would be like to be there beside you working on your thing for them or to be a bigger part of your life. That's what lifestyle and personal branding photography is all about.
It's really important because many times in the online world we never get the opportunity to actually meet our clients in person. So creating that sense of connection could be the difference between them choosing you over another service provider.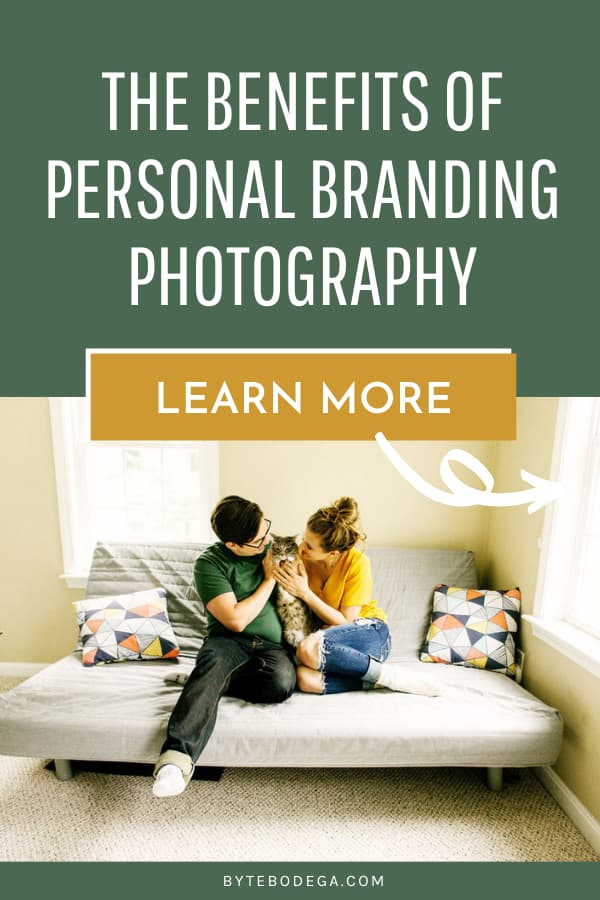 SHOULD I HIRE A PHOTOGRAPHER OR DIY?
Deciding whether or not to invest in a professional photoshoot really depends on where you're at in your business. You can generally plan to invest anywhere from $300-$1000+ on a photographer for this service, so you have to consider your budget and what makes the most sense.
I want you to know that is absolutely possible to DIY your own branding photography if you're willing to put in the work.
Will they turn out as beautifully perfect as they would if you hired a pro photographer? Probably not. But that's totally okay!
Creating a library of photos yourself will help you grow your business so you can hire a professional and upgrade your photo library later.
I'm a true believe in starting where you are with what you have, so if you have an iPhone, a shooting partner and a good eye – You can absolutely do a DIY photoshoot to create a library of photos to work with.
With that being said, there are personal branding photography benefits you get from working with a photographer. When I invested in a photo session, I had a lot of guidance on how to pose, what to wear, and what to bring to the shoot to make sure it turned out awesome. Plus, I didn't spend hours and hours afterwards digging through the photos to find my favorites and edit them to perfection.
So if you feel like you need that extra support – it might be worth spending the money to get the help you need from someone awesome.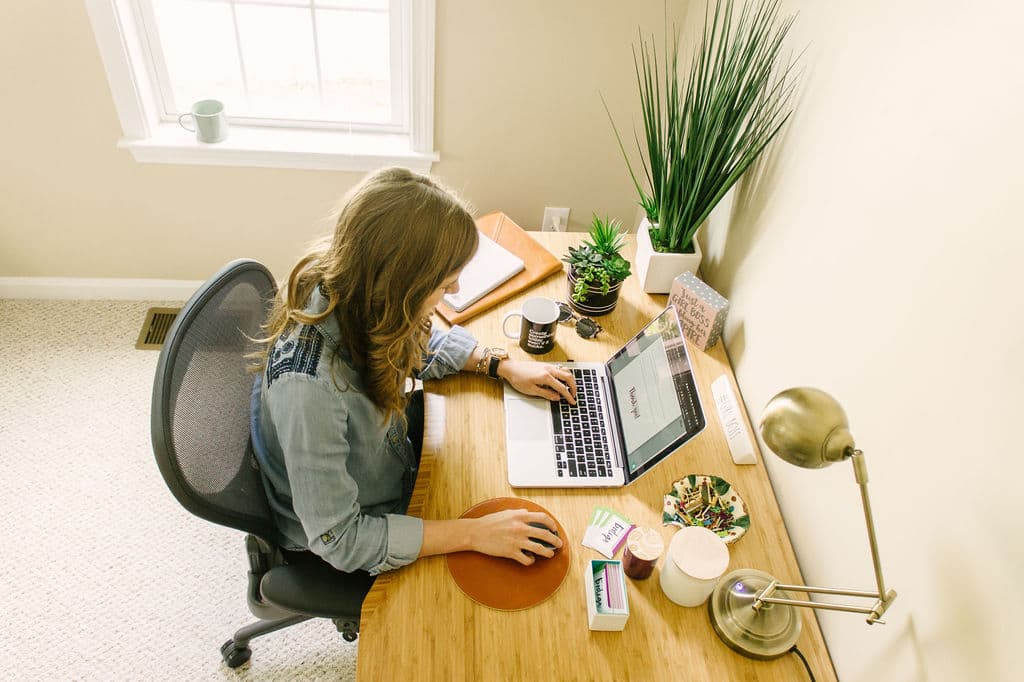 BENEFITS OF PERSONAL BRANDING PHOTOGRAPHY
Cohesive + Professional Look for Your Website
Since we as virtual assistants work (almost!) 100% online, it's really important to maintain a professional VA website. It helps you communicate a level of expertise to your potential clients and gives you a central place to collect and generate leads.
When you have a collection of branding photos that are all consistent in style, color and look – It helps your website to look a lot more cohesive.
If you create your own website, it makes the design process so much easier because you aren't searching endlessly for the perfect photo for that one section you just can't seem to fill. The same goes if you hire a website designer, because having a bank of great photos helps give them some creative freedom with so much content to play with.
Easy Social Media Marketing
One of the biggest challenges for small business owners is showing up consistently on social media. (Myself included!)
It makes it way easier to post regularly when you have a library of instagram-worthy photos that visually represent your business. Instead of scrambling last minute for a post every day (or week, whatever your schedule is!) you can simply hop in, write your caption and attach a photo you already have.
No one will know that you're rocking your second day leggings and top knot on the other side of the screen.
Gives a Look Behind the Scenes
If you're anything like me, you love to get an inside glance of other entrepreneur's lives. We all know that we work on a computer every day, so I like to feel as though I know the people I follow on a personal level.
Not only does that get people to like you, it drives people to buy from you. So when you give that personal look into your life through your branding photos, you're building sales.
I love to travel and take my work with me when I can, so having a few photos that represent that part of my life to share to give my audience gives them a better sense of what I'm all about.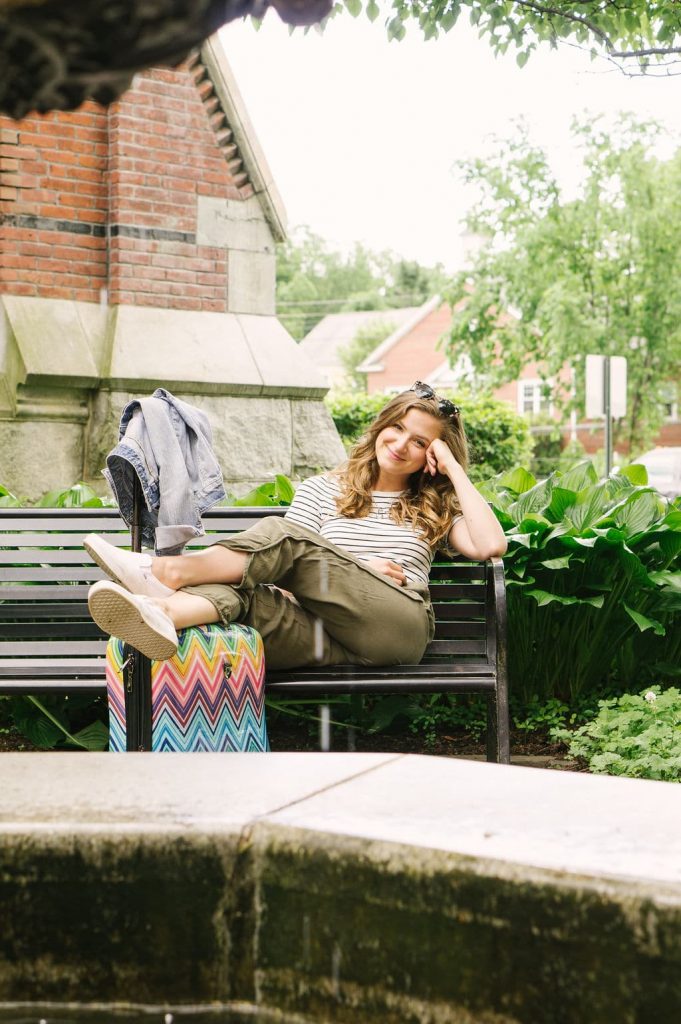 Puts a Face to Your Name
Have you ever visited a website where the copy talks all about "I do this" and "I can help you with that" and then never see that human that's going to do that thing? Yep, me too.
That's why it's incredibly important to have 2-3 high-quality headshots of you on your website.
This is yet another way that we can formulate that personal connection with our clients without actually being there with them. It builds trust because they feel like they truly know you, instead of you being this random stranger on the internet that just wants their money.
Builds Confidence in Your Business
I think this one goes without saying, but if you're happy with your personal branding photos – You'll be more confident in your business.
Aspiring virtual assistants often times suffer from things like imposter syndrome that keep them from showing up and growing as an expert.
One of the best personal branding photography benefits is that you can feel happy and proud to share your new business because you're excited about how you're represented in it.
When this is the case, you'll be shouting from the rooftops about your new online business adventure and you'll grow faster as a result.
Can Be Used Repetitively
You may have noticed a trend in that I've said to use these photos in a few different ways just here on this list.
But the reality is, there are countless ways you can use these photos again and again to grow your business over time. I had my (one and only!) personal branding photoshoot just a little over a year ago and I'm still using the images today.
Here's some of the easiest ways you can use them that you might not have thought of:
Headshot on social media profiles
Photos to introduce yourself in your client proposals
Podcast interview features
Guest blogging bios
Opt-in landing pages
Blog posts on your website (like me, right now!)
There really are endless options and you'll find yourself coming back to your library of photos again and again for different reasons.
Creates Inspiration for Your Clients or Audience
When you have a visual representation of what you do through branding photography, you're showing your clients what's truly possible.
I'll use myself as an example for this one! I teach awesome people how to start virtual assistant businesses so they can gain more lifestyle freedom and work from anywhere, like I've done myself.
So I have branding images of me with my suitcase so show my community that it's possible to work and travel at the same time. I also have photos of me working from my laptop in a coffee shop… and in bed (or ya know, wherever floats your boat!)
I want to physically show people what they can achieve and branding photography helps me do that.
Have you made branding photography a key part of your marketing strategy? I'd love to know how its helped your business grow!