One of the biggest time investments you make when launching an online business is the website design.
When you haven't built or designed a website before, creating one from scratch for the first time can feel like a major undertaking. That's why I put together a list of the best virtual assistant website examples to inspire you on that journey.
These virtual assistants, website designers, and social media managers really nailed the match of beautiful yet functional design on each of their sites. They managed to create a special corner of the internet just for them to share who they are and what they're about with their clients.
IMPORTANCE OF AN ONLINE BUSINESS WEBSITE
When you work remotely, having a website is absolutely crucial to your long-term business growth. Although you can get started as a VA without one, I highly recommend that you make it a big priority sooner rather than later.
It helps establish yourself as an expert in your field, someone who clients can feel super confident investing their time and money in.
When you have a website, it also gives your potential clients the opportunity to learn more about you and what makes you special. That creates a more personal connection that can be hard to cultivate when you don't have the opportunity to meet in person.
Last (but certainly not least) it gives business owners a place to learn about the services you offer and a way to contact you about them. Once you start networking and building connections online, you need to have a place to refer people to where they can learn more about working with you.
Your website is that place.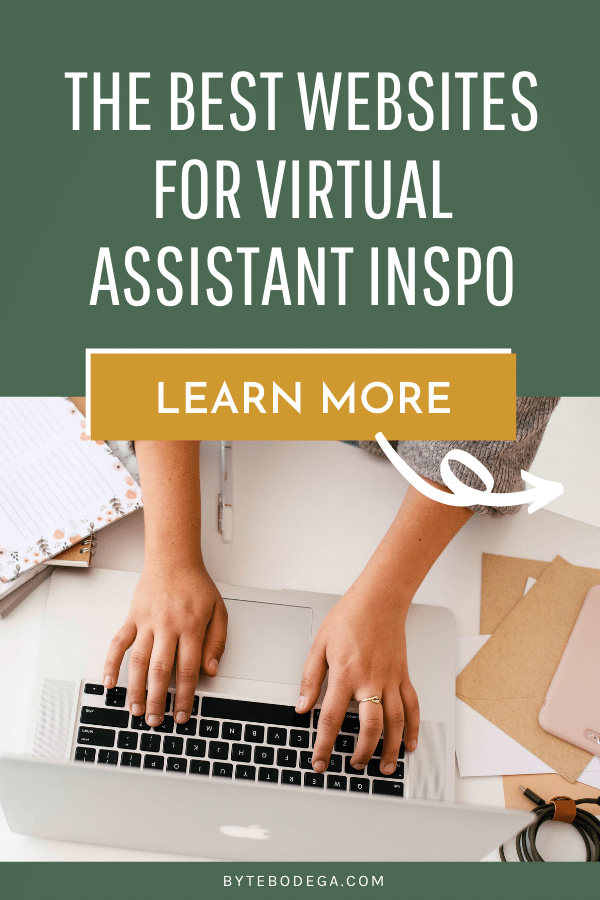 INSPIRATION VS. COPYING
It goes without saying that the designs on this list are unique to each business owner's vision.
It's totally normal to take inspiration from other's in our industry. However, there is a fine line between inspiration and copying other's work.
I know that if you're here and you're a part of the Byte Bodega community, you consider yourself an ethical entrepreneur and wouldn't intentionally take the action of copying another founder's work.
That's why I'm simply asking that you honor the hard work that these virtual assistants and designers have invested in their companies'. Let's admire and support others that are on the same journey as our own by building up one another, rather than copying one another.
Basically what I'm saying is, just be cool and don't be a big, stupid jerk face. Okay? Kay. 😉
Now with that being said, let's dive into the best virtual assistant websites to get your creativity juices flowing with the help of these other awesome industry members!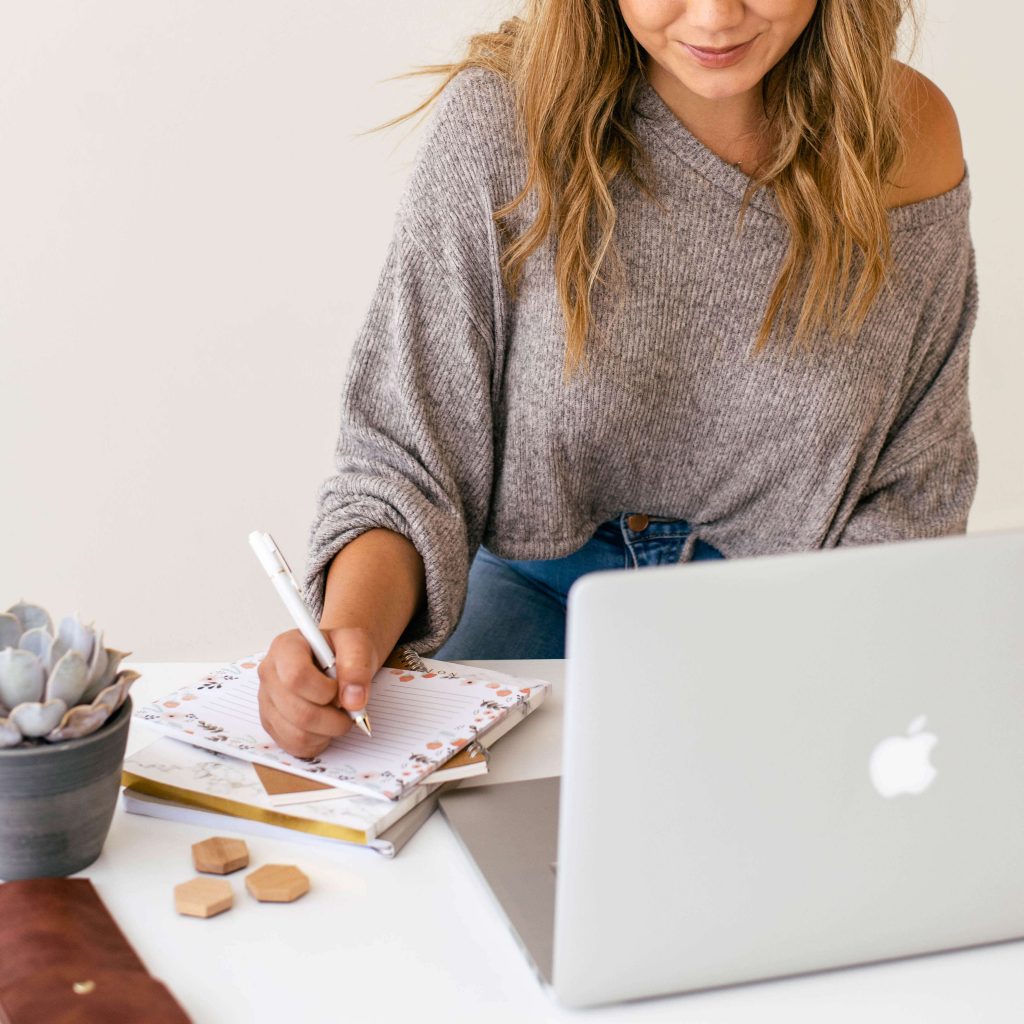 EXAMPLES OF VIRTUAL ASSISTANT WEBSITES
#1 Virtual Nina Creative
Virtual Nina Creative is dedicated to supporting health and wellness professionals through her virtual assistant services. The best thing about her website is that she makes it super clear who it is that she works with immediately when you land on her site. This almost says to her ideal client, "This is where you belong, come and stay awhile." That's exactly what to aim for.
#2 Courtney Weimer VA
Can we just talk about the bad-assery that is Courtney Weimer VA's website? Her entire website design speaks to the beauty of textures and shapes, which I love. Plus, since her primary services include content planning and graphic design – It really displays her ability to deliver results for her clients right on her own site.
#3 Keeping The Creativity
Madison from Keeping The Creativity created a clean and organic design that screams professionalism to her clients. It can be hard to find examples of virtual assistant websites that show a lot of personality, but hers does and in a natural way. When clients visit your website, you want them to get a sense of you and Madison nails that factor.
#4 Katie J VA
If modern feminine vibes are your jam, you need to check out Katie J VA, because she absolutely nails it. The reason I love her design as one of my virtual assistant website examples is that she makes two crucial must-haves front and center on almost every page of her website. Past client testimonials and the specialty services that she offers, two items that help make a website convert.
#5 EC Virtual Services
There's only two words I can think of when describing the EC Virtual Services Website: Bright and Fun. I can't help but smile as I look through it! This goes to show that website designs don't have to be boring. They can be as perky + exciting as you want them to be if it helps show your bubbly personality. Don't be afraid to show who you are as well as what you do!
#6 The Virtual Creative
Alyssa of The Virtual Creative shows how simplicity can speak volumes in design. Her simple, modern and feminine design walks her potential clients through the information they need to learn about working with her. Once they decide she's the perfect fit (because duh, of course she is!), it's super clear in her main navigation how she wants them to take action to start working together. By slapping that "Let's Work Together" Button!
#7 Kara Cahill
Kara Cahill is an Instagram Strategist and you don't have to look past the first sentence on her website to know it. That's important, because she's sharing the incredible niche value she offers immediately to capture the attention of her ideal client. I also love how she incorporated a pretty script font in her design as a simple way to add elegant detail to website pages!
#8 Mint STR Hosting
Mint STR Hosting has one of the coolest niches of all-time! Lace creates social media strategies for short-term rentals (aka airbnb owners!). I wanted to feature her as one of our virtual assistant website examples because she illustrates just how unique and specific you can make your business if you want too! Plus, she has a beautiful website to help her do it. 😉
#9 Strategically Chic
The Strategically Chic's Chelsey shares an incredible amount of social proof on her website. This is when you use the power of other's feedback to prove your value. She includes several glowing testimonials from past clients, past media publication features and a list of the brands she's worked with all on her homepage. It makes her look like the credible and valuable marketing expert she is, but not just from her – from people that have paid her to do it. That speaks volumes!
#10 Virtualuwell Balance
Virtualuwell Balance is one of the best examples of virtual assistant websites I've seen that creates a brand that speaks directly to your ideal target client. When you see the natural tone greens and purples of her website, your brain instantly connects to health and wellbeing. And guess who her target client is? You guessed it: wellpreneurs. She illustrates how you can create a business supporting business owners that work in something you're personally passionate about.
#11 LJ Media House
LJ Media House is a creative brand and website designer for small, female-owned businesses. Linsey beautifully explains her unique, two week design process on her services page. I love this approach for VAs or Remote Creatives who have a special approach to their work. It helps your potential client understand what they can expect in working with you even before getting on a consultation call. That way, you know your client is on board with the way you choose to run your business before you waste your time on a call.
#12 Loran Elise Collective
Loran from the Loran Elise Collective is the pinnacle of modern pink design! If you're a pink lover, you're going to be obsessed with her feminine site design. She offers two versions of a high-end specialty service and walks her potential client through both options seamlessly. If you are struggling to figure out how to share your services in a clear and concise way, check her + her shop of resources out!
#13 ABBEY Louise
I originally connected with Abby when we were both moving through the Bucketlist Bombshells courses. She had a dream of moving to Lombok from the UK to work on her business and she did it! I love that she built her business website and her branding around her story and the life she's built for herself. She's a prime example of how to incorporate your story into your site!
#14 Kajsa nikole co.
Who doesn't love a good monochromatic minute? Kajsa Nikole Co. does a fabulous job at showing us that having a simple color palette isn't a bad thing – at all. My favorite thing about her website design is the fact that she dedicates an entire page to her testimonials. It's something that not a lot of people do, but I think it's a great way to showcase the results and the feedback you've gotten on client projects.
#15 Lauren Taylar Design + SEO
Lauren Taylar Design + SEO is the best of virtual assistant website examples for use of navigation. She has all the most important pages she wants her potential clients to see in her header navigation at the top of the page. But she also includes more links in her footer navigation at the bottom of each page. This is a great way of directing your potential clients to the most important info first, while still giving them more if they want or need it without the distraction.
#16 Made on Sundays
Made on Sundays is everything that vintage 70's vibes are made of. Cheryl created a beautiful demonstration of her brand design skills with her very own website. The unique design paired with her clever copywriting on each page easily shows her potential clients what she's capable of. This is especially important when you're first starting out as a creative VA. Show your potential clients what you can do with your own company!
#17 The Mood Lab
Love black and white feels all day every day? The Mood Lab's website will steal your heart. The thing I love most about Sienny's brand is that it is unapologetically minimalist. When business owners come to The Mood Lab, they know exactly what they're getting and what Sienny's design style is. That helps her make sure she gets the types of projects she wants and tells her potential clients from the get-go whether or not they're a perfect fit.
#18 Creations by Faria
Creations by Faria's site design is beautiful, there's no doubt about it. What I think is the coolest thing though? Her blog. She shares practical solutions to common problems that DIY website owners face when they create their own Squarespace websites (her signature service). This demonstrates to people visiting her site that she knows her stuff, which ensures potential clients that her services are going to be incredible. Plus, all of her blog posts speak directly to her target client!
#19 Salma Sheriff
Salma Sheriff is a super specialized service provider because of her previous education and work experience. She's super fortunate to have that expertise to bring to her clients, and she is sure to mention it clearly on the about page of her site. If you obtained a formal education or have extensive experience in your niche, make sure to feature it like Salma does!
#20 Abby Martinez
Abby Martinez is an OBM for creative women and boy does her website speak to her market. Not only does her website have a super modern feel with overlapping elements and vertical text alignment for visual interest, it's also incredibly easy to navigate. Sometimes when designs get really intricate, they become hard for actual clients to click through to different sections of your website. But Abby's is the perfect blend of unique design and usability!
#21 Pivot Media Co.
Want a funky yet professional feel? Pivot Media Co. is the absolute best. Ashley's color scheme is somewhat similar to my own, so it definitely speaks to me! I love the way she incorporates those 'perfectly imperfect' shapes throughout her design. It adds a unique funkiness that shows personality without it being tacky so it's still super professional. Consider incorporating some unique elements to spice up an otherwise every day design!
Okay, one more for good measure! 😉
#22 White Ox Creative
I really wanted to include White OX Creative's website design on this list because it has a much more "business-y professional" vibe about it than most of the others in this list. The thing is though, it's also not a boring at all. Glenda, the founder, shows that creating a more streamlined and classic brand style can still be super fun and exciting. So if that's your style, go for it! You don't always need arrows, floral patterns and neon colors to have a beautiful website.
These are some of the best virtual assistant websites I could find and I love every single one!
This list shows how no matter how many VAs there are in the world, you can still bring you unique voice to this industry through your little corner of the internet.
Let me know what your vision is for your website design!