If you want to become a VA, the one non-negotiable piece of launching your business is creating a client contract.
I know for a lot of new virtual assistants and freelancers, it can feel a little icky to ask clients to sign a contract before starting to work with them. Especially when you are just starting out and you don't want to upset your new potential client and scare them away. But in my opinion, signing a virtual assistant contract is absolutely essential.
There are a few really important terms and conditions that I recommend that everyone includes in their contract. I want to share them with you today so you know how to get started in preparing yours!
WHY YOU NEED A CONTRACT
When you become a virtual assistant, you become a business owner.
That means that you have to do everything you possibly can to protect all the blood, sweat and tears you've put into building your company. The most effective way to do that is by establishing a virtual assistant contract.
Ensuring that you have a written agreement in place before starting work allows you to outline your policies with your new client from the get-go. This helps you set expectations on what your working relationship is going to look like and sets healthy client boundaries with your client. If they read your contract and sign it, you both know what to expect from one another so there's no grey areas when you dive in.
Contracts don't just benefit you, they benefit your client. So there's no reason not to use one!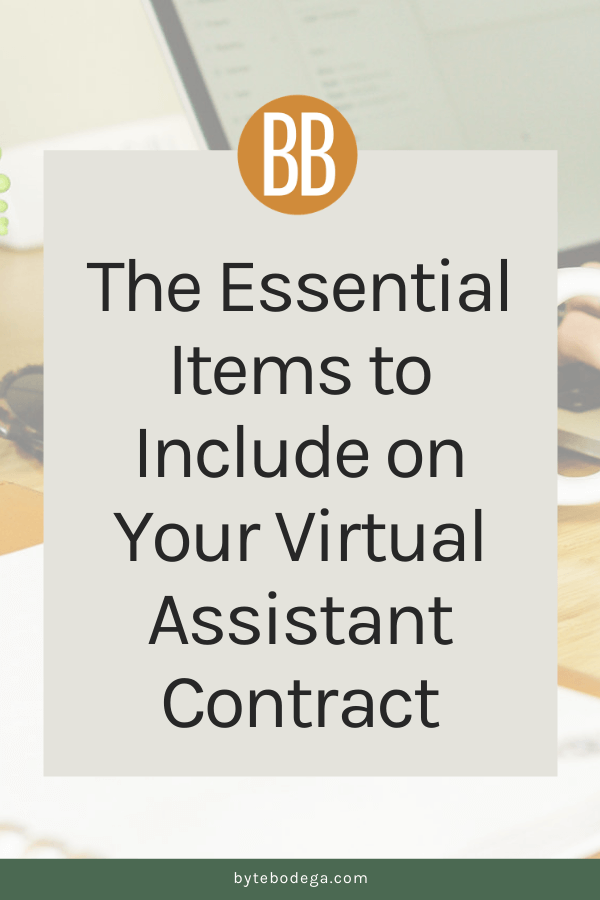 HOW TO SEND CLIENT CONTRACTS
It's important when you are starting out to find a reputable platform that allows you to send legally-binding contracts to your clients that allows them to e-sign.
The days of emailing, printing, signing and scanning are very, very over. And don't get me started on fax machines – Gah!
My favorite platform that I use every day in my business to do just this is Dubsado (that's an affiliate link!). The best part about it is that you can get started using it for free, and it'll grow with you as your business does.
I also really recommend The Contract Shop (that's an affiliate link!) if you are looking for a lawyer drafted contract. The founder specializes in writing and selling template contracts specifically for online and creative entrepreneurs. So if you want something super secure, check that out!
WHAT TO INCLUDE IN YOUR FREELANCE CONTRACT
It's time to officially talk about what to include in your virtual assistant contract.
Your final draft is most likely going to have different policies than someone else's, and that's okay! You just want to make sure your contract works for you based on what you want your work process to be with your clients.
Payment Process
You'll want to outline how you actually receive and accept payments in your business. Depending on your service packages, you might invoice monthly, weekly or at the beginning and end of a project. Just let your client know!
Be sure to include how you actually accept payments as well, such as credit card or bank transfer. I recommend using an invoicing and payment processor platform. It makes it as easy as possible on your clients to accept their payments.
Learn more about payment processors + sending invoices in this post.
Missed or Late Payments
Outline what will occur when an invoice goes unpaid and whether or not they will incur a late fee of any kind. I recommend sending automated payment reminder emails from your invoicing software to give your clients a friendly reminder if/when they need it.
Be sure to include how long you will continue to complete tasks for them when a payment is missed… but I don't recommend that you make it long!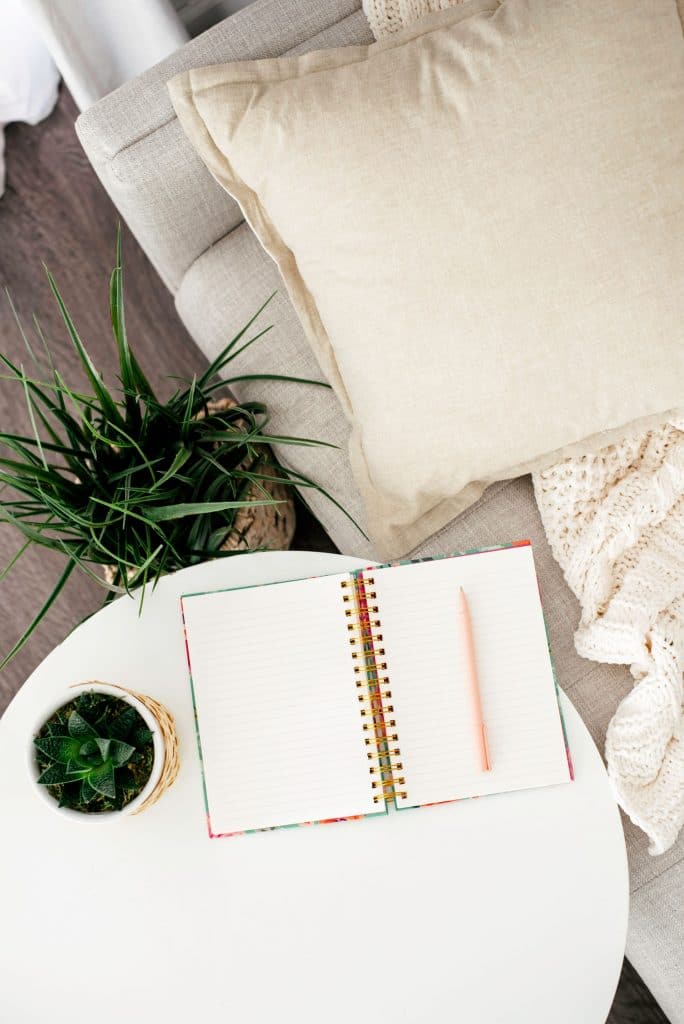 Rush Job Policy
As your business grows, you'll have more tasks and more clients to balance and it'll become important to manage your time wisely. That's why you can't have clients expecting a response from you on certain tasks within a short period of time.
However, emergencies do come up and clients will need support immediately. I recommend that you implement a rush job policy for this reason.
If a client needs something completed within 48 hours or less – You're going to charge a higher hourly rate for that work. Of course, you'll ultimately decide what that timeframe is for you.
Cancellation Policy
As much as we'd like, working relationships generally don't go on forever. So it's important that you establish a contract cancellation policy.
This will outline what is expected of either party in the event that anyone chooses to cease your partnership. It's generally just a written notice sent to the other party with a minimum amount of time.
Maintaining a clear cancellation policy helps you make shifts in your business and your services as time goes on. It allows you to escape a client partnership that isn't a good fit for you.
Vacation, Personal, + Sick Time
You will inevitably want or need to take time away from work. Even if you are a person that generally doesn't take a lot of vacation, you'll want to make sure you have a game plan for if/when an emergency happens.
Outline in your virtual assistant contract when your client will be notified of upcoming vacations. Also, in the event of a personal emergency or illness – You aren't held liable for any missed task due dates.
Service Packages
The way you outline your service packages in your contract really depends on the types of services you offer.
If you work hourly: I recommend that you set a time limit on how long your client has to utilize their hours with you. For instance: if a client has 30 hours a month scheduled with you but only uses 10, what happens? Will they roll over to the next month for use or expire? Let your client know so they can prepare accordingly.
If you offer packaged services: Be sure to clearly outline what specific tasks are included. This will help you avoid what is referred to as "scope creep". Clients will ask you to complete other tasks and expect them to be included in the original cost. This gives you the leverage you need to ask for additional service payment if and when they need that extra support.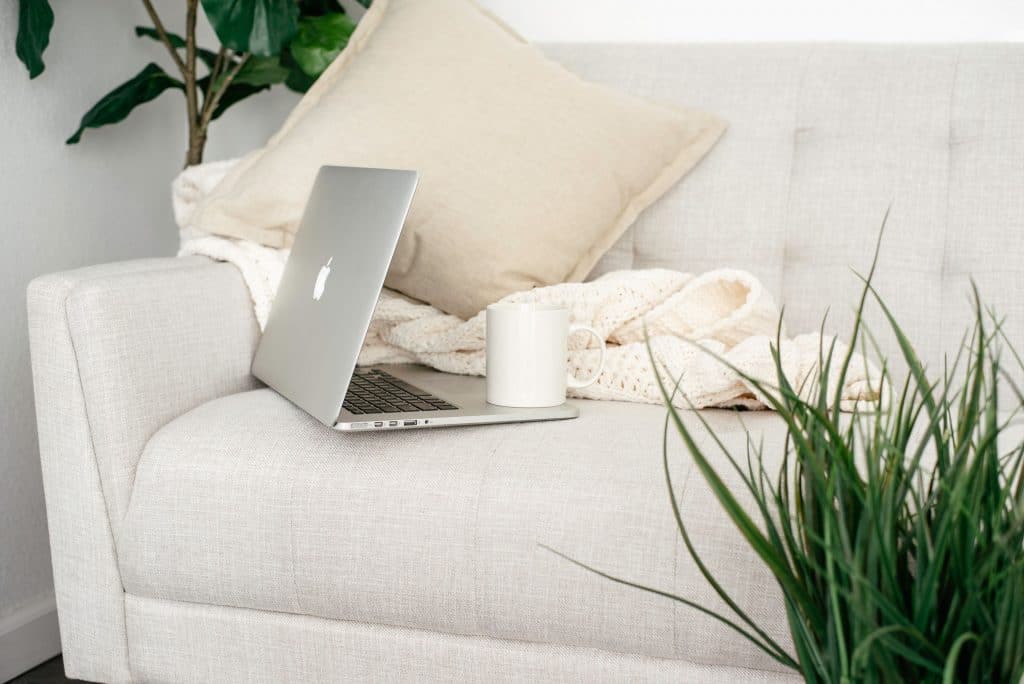 IF YOUR CLIENT DOESN'T WANT TO SIGN A CONTRACT
I want to start off by saying that any time a client questions your contract it should signal a red flag for you. (Assuming that your policies and requests are kind and reasonable!)
However, if your potential client has a few simple questions or requests in regards to your policies (that you also feel are kind and reasonable!) then this is totally understandable. More likely than not, they are simply doing their due diligence. They want to ensure that they are hiring the right person and protecting their business as much as you are your own!
The thing to keep in mind that not signing any kind of freelancer contract is not acceptable and if your client isn't willing to sign one at all. Do not work with them.Period.
You deserve to work with people who respect you and your business, and signing a contract is a part of that.
I hope this helped you understand why a VA contract is such an absolutely essential piece of your business! Regardless of whether you're on boarding your first client or have been doing freelance contract work for years, it'll keep your business safe.