It can get super overwhelming when you start to collect all the softwares, documents and templates you need when you're starting a virtual assistant business. That's why I'm sharing a list of alllll the essentials you need to have in place.
One of the best things I've ever done for myself was launching an online business, because it truly changed my whole working life. If you are interested in starting a virtual assistant business of your own to do the same, learn what I recommend having in place before diving into what might just become the best work adventure you'll ever have.
RELIABLE COMPUTER & STRONG WIFI
Alright, alright. I know, this is a pretty obvious one.
I had to mention it though, because its hands down the most valuable asset in an online business. Without a strong computer and wifi, you won't be able to connect and serve your clients on any sort of consistent basis.
So do what you need to in order to make sure that you have a reliable connection and a computer that serves you. Whether it's in your home, at a local co-working space or a luxurious villa in Bali (a girl can dream) – It just has to work.
However, this doesn't mean that you have to have top of the line everything to start a virtual assistant business. When I first got started, I was working on a macbook pro that was already 3 years old just because it's what I had (actually at the time of writing this, I'm still using it!). I didn't even have headphones to take client calls with at the start!
One of my current team members runs her business from a chromebook that only cost her about $200 bucks. She made that back in the first month of working. So you don't always have to buy a fancy $1,200+ computer to get your biz off the ground.
Just start where you are with what you have and make it work.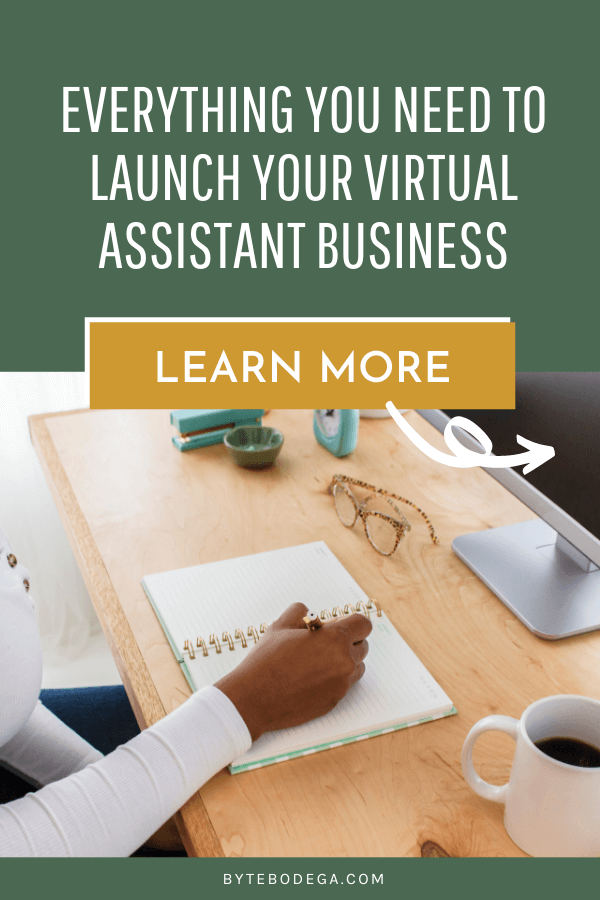 INSPIRATION ZONE (AKA WORK SPACE)
You're going to need a space where you can focus without distractions.
This doesn't mean you have to have a dedicated work from home office or a fancy co-working space. Maybe it's a local coffee shop or literally just the old Ikea futon in your spare bedroom. I've even seen people put their desks in a spare closet to save space and avoid distraction!
When I was building my website for the first time, I literally did everything from my couch. Everything. Not just because it's where I felt comfortable working, but because it was all I had – I literally didn't even have a dining table or a desk to work at in our apartment!
So I want to you take some time to try out different spots and see where you are most productive and inspired. You might find that working at your dining room table is perfect for you or maybe it's buying yourself a latte and settling in at a local café to get in the zone. You might be like me and prefer the couch with your furbaby on your lap. (I have no shame in my cat lady game!)
Starting a virtual assistant business (or any business!) is one of the most brave and creative things you can do, so find a space that makes you feel that way so you are inspired to be there and you can get to work.
CHOOSE YOUR VIRTUAL ASSISTANT BUSINESS NAME
Now we're onto the fun stuff!
It's not surprising that this step is so easy to get hung up on. Your business name is usually the first thing your potential clients learn about you and it can really set the stage for you and your personal brand.
As important as it is, I don't want you to get hung up on it because even though it might feel super permanent – it's really not. You can change it anytime if and when it makes sense, so I don't want it to be the thing that holds you back from launching an online business.
I've seen great VA's wait months to launch (and miss out on a ton of potential revenue!) just because they couldn't pick a biz name.
Here's what I recommend if you're stuck: Give yourself a set amount of time to decide and if at the end of that timeframe you don't have anything – Self Brand.
I suggest no more than 7 days. Take that time to brainstorm, ask friends for feedback, and check your website domain availability. If you don't have anything at the end of the week, buy your name as your domain and go with it! There's nothing wrong being "Chynna Benton Virtual Assistance!"
THE SERVICES YOUR OFFERING + YOUR PRICING
There's a bunch of different ways you can build out your services for your biz. Most likely, you'll learn really quickly once you start working with clients what your preference is, but you have to start somewhere!
You might want to work on an hourly basis or you might like the "get in and get out" style of packaged services. The beauty of it is that this is your business, so you can offer the services that make the most sense for you and the way you like to work with clients.
Based on the way you structure your services, decide what your hourly rate will be and/or what your service package price is.
Then, decide how you want your clients to pay you.
Once a month at the start of the month
At the end of each week
50% up front and 50% once the project is completed
Something else that makes sense for you
It doesn't matter what you choose, just pick one, stay consistent and communicate it to your clients so they know what to expect and plan for. They have budgets to meet too, so you want to be respectful of that. 😉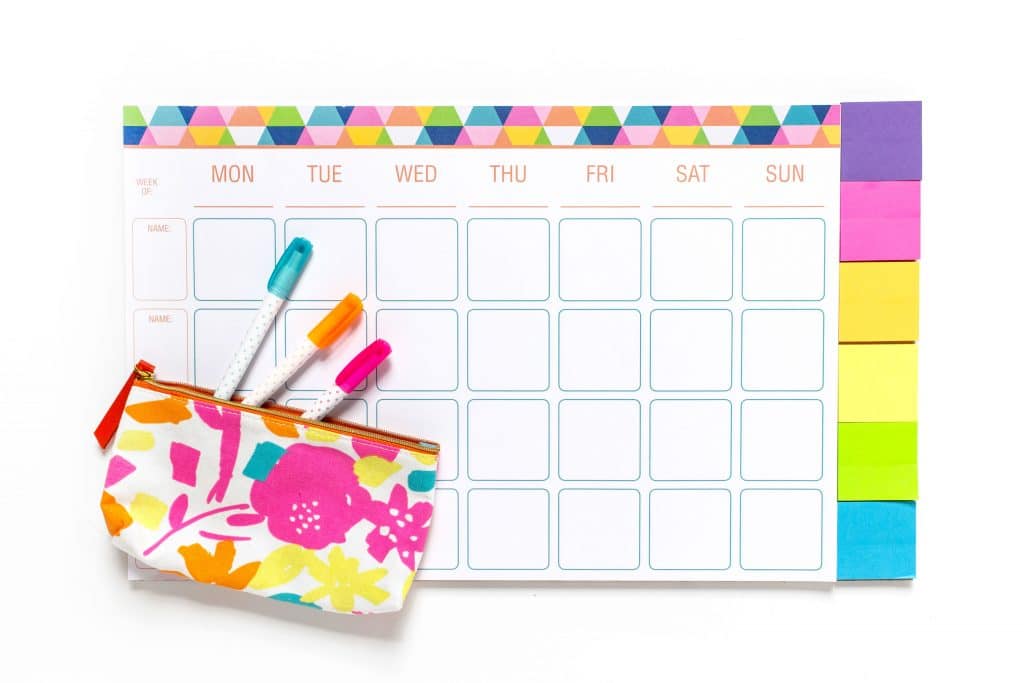 VIRTUAL ASSISTANT CONTRACT
Repeat after me: I hereby solemnly swear to never, ever complete a single client task without a signed contract in place.
Any quality client will understand your request for a signed contract prior to starting work together. It helps lay the groundwork for your partnership and protects you in the event that something goes sour in your relationship. No matter how understanding and kind a client may seem, you are building a business and you have to protect it.
My top recommendation for client contract templates is, of course, Dubsado. (That's an affiliate link!) They have a great templates library for those that are just starting a virtual assistant business. I have also personally used proposify in the past and have really enjoyed it!
CLIENT INVOICING + PAYMENT PORTAL
Now that you've got your signed contract in place (Right?! You promised!), you'll need a way to collect that moolah!
When you have an online payment platform setup, it's easy for clients to submit their invoice payments and it makes you look really professional by having everything streamlined and easy for them.
I used Freshbooks for the first year of my business and really enjoyed it. They're time tracking feature is ah-mazing when you just need something simple and easy that works. I eventually left them for Dubsado as my business grew because I wanted to keep everything (contracts, invoices, questionnaires) within one platform.
In order to use any online payment platform, you also have to have a payment processor.Hands down the two top choices for this in the industry are Stripe and Paypal. This is the company that actually pulls the payment from your client's credit card and sends it to your piggy bank.
I've personally used stripe since day one of my business and have never had a problem with them.
CLIENT WELCOME PACKET
After your new virtual assistant client signs their contract (You swore!!) and pays their deposit, you'll want to immediately send them your welcome packet.
This is a simple document that outlines the general policies and procedures that your client can expect in working with you, contains your primary contact information and a welcome note thanking them for choosing to work with you! (Because well, you're awesome.)
If you want to learn exactly what to include it yours, check out this post.
PROJECT MANAGEMENT PLATFORM
The project management platform you use will become the virtual office hub for your VA business. If you aren't familiar with them, they are really just well organized and streamlined to-do lists. That's the best way I can explain it in the simplest terms!
There are a bunch of great options out there that you can take advantage of and the best part is that most of them are totally free! I know I gotcha on that deal. 😉
Since day one of my business, I've used Asana. I love it and I find that client's generally pick up on it easily if they haven't used it before. But other's really love Trello and Clickup as well.
Just sign up for accounts on a couple different ones, play around, and find what works best for you. There's really no wrong choice!
I highly recommend that you create a workspace in your PM (a 'team' as Asana calls it) and invite your client into it. You'll be able to create projects and tasks with due dates for yourself and for your client.
It's by far the easiest way to keep track of where you're at with your client tasks!
CREATE A PLAN TO GET YOUR VIRTUAL ASSISTANT CLIENTS
I saved the best for last, didn't I? 😉
This is essential because at the end of the day if you don't have a plan to get clients, you don't have a business. They are what pays the bills and makes your business viable – so this has to be a priority when getting started.
I'm not going to lie to you, you're going to have to put in the #work to get your first few clients. But once you do and you provide them with an incredible experience – They'll have their friends knocking down your door through referrals in no time.
I feel like we can sometimes get caught up in being told to do #allthethings to market our businesses when it's simply not feasible. Especially if you are balancing a 9-5 along with starting a virtual assistant business, you have to find what works and stick with it.
Here's a few of the top strategies I recommend for finding clients:
Facebook Groups your target market hangs out in
TELL EVERYONE (aka your friends and family and pretty much anyone else that will listen)
Cold Emailing in an authentic and meaningful way
Referrals from previous clients
Choose 1-2 strategies and focus 100% of your energy on those for a minimum of a month. Then take a bit of time to analyze what your results were in client recruitment and decide whether it was effective or if you need to explore a different strategy based on the number of inquiries and leads you gathered and/or the clients you booked.
Viola! You've got the plan. Now go get em', tiger!
BUY YOUR WEBSITE DOMAIN (& BUILD IT)
I cannot explain how freakin' important a website is to the success of your online business (almost as important as your contract… Seriously, you promised!).
I can hear you now: "But Chynna, then why is it all the way down here on the list?!" Good Question.
You can absolutely bring on your first client or two without a website in place. Chances are, if you get a client recommendation from a friend or family member – They won't care so much if you have a website or not.
But if you are marketing to remote clients online who have literally never heard of you before (and will likely never meet you in person) having a business website becomes your own personal storefront and your introduction to you as a person.
It's what establishes you as a professional, an expert in your niche and it shows that you are worth the rates that you charge. Think about it, if someone reached out to you on the interwebs and wanted to work with you – the first thing you'd do is look them up to learn more and contact them, but clients can't do that if you don't have a website!
So even if you don't get it setup before launching your biz, put it on your todo list for sooner rather than later.
I use and recommend the WordPress Divi Theme from Elegant Themes. Check it out if you want an easy drag and drop builder!
There you have it, folks! That's everything you need when starting a virtual assistant business. Let me know in the comments if there's anything else you're adding to your list!