Are you dreaming of running your own virtual assistant business someday? Today I'm sharing my personal story of building an online business in just 6 months so I was able to quit my job and serve my VA clients full-time.
So if you are thinking of building an online business of your own to have more lifestyle freedom and get an inside look into one person's experience of the process.
I'm sharing all the details today! Prepare yourself: It was a wild ride!
QUICKLY, BEFORE WE DIVE INTO BUSINESS STORYTELLING…
I want to tell you that I'm not sharing my journey today to just give you another crazy story of how someone launched a business and had what seems like instant success. Although my business moved and grew quickly, I see just as many Virtual Assistants start and work for years before they decide to go full-time.
While balancing both my 9-5 and my beloved side hustle, I found that inspiring business stories of other girl bosses fueled me to keep going. These stories really showed me what was possible.
So if you're like me and find other entrepreneur's business success stories super inspiring, read on sister – I'm sharing my wild ride just for you.
Since this industry is still so new, I feel it's important to share what exactly is possible through our own stories as business owners who have been there at the beginning stages of building an online business. So we can help others do the same.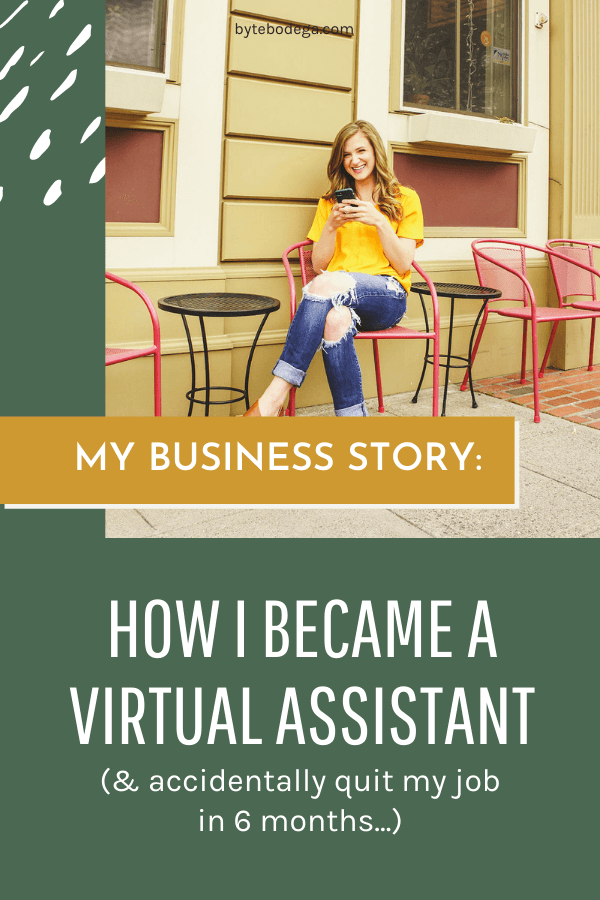 HOW I LEARNED ABOUT THE VIRTUAL ASSISTANT INDUSTRY
I'm going to start by throwing us way back to Summer 2017 when I was working full-time at a Massachusetts Hotel and Event Venue as a Sales Coordinator. I started shortly after moving from Pennsylvania for my now husbands job.
One day while I was scrolling aimlessly at my desk, I found an online course created to help its students learn the skills required to build an online business. I was looking to find something that would help me learn more about digital marketing so that I'd have a stronger argument for my upcoming request for a raise.
Although the course was targeted towards aspiring entrepreneurs, I actually had no intension of actually trying to build a business.
Little did I know that these courses I just stumbled on would change the course of my entire career.
LANDING MY FIRST VIRTUAL ASSISTANT CLIENT
Needless to say, ended up signing up for the courses and running through the modules and lessons, building a website (more for practice than anything else) and teaching myself the different strategies and platforms.
I found that I actually really enjoyed the work!
So I decided in September that I would put my fancy new-test website to work and see if I could actually land a client or two with the thing.
Couldn't hurt to try, right?
Truth be told, I didn't have high hopes for the process – But to my surprise, I ended up landing my first virtual assistant client the next month. I still remember that first official inquiry come through from my first client, I freakkkked out in the best way possible. It all got real very quickly!
I decided at that point that I would be building an online business side hustle alongside my 9-5 to help pay my student loan payment.
MEANWHILE AT OUR 9-5 JOBS
While I was dabbling in the VA world during my free time from my couch, I was working with my Director at my 9-5 who was doing everything possible to get me the raise that she knew I deserved from upper management.
Recently, I'd been offered a similar position with another company (who, frankly, had way more opportunities for me and my career) for nearly 25% more money than I was currently making. I turned it down with a general agreement that I would be met with a fair rate increase to meet this offer within the next month.
Three months later, I was provided with what I personally considered a low-ball offer from my current employer… a just 13% increase in my salary. So basically, half of the increase I would have seen if I had taken the other job offer.
On top of all of this at my own job, my husband (John) had found out in early November that he was being laid off from his corporate job that we had relocated to Massachusetts for. We were losing over half of our household income.
This is when I made the decision to get serious about my Virtual Assistant Side Hustle.
I'd already proved to myself that I could land a client and that people were willing to pay for the service packages I created. So I set out with the new mission to supplement my husband's income with my little VA biz in my free time.
MY ONLINE BUSINESS WAS ROCKING AND ROLLING
By the end of November, two months into launching my business, I already had three wonderful, dedicated clients. I was learning the ropes of how to recruit and onboard clients seamlessly while providing a service that helped creative online business owners run their business with more ease.
By the middle of December, I landed my largest hourly retainer client thus far.
In total, I was working about 75 hours a week and my Byte Bodega workday usually started at 4am before starting at my day job at 8am. From there, I'd return to my home office around 6pm after cooking a quick (and quite often burnt) dinner for John and I and finally finishing the day at about 10pm. Thankfully, he had received a new position within his current company and could afford a lot of take out during this time. Cue the Mcdonald's drive through to the rescue!
John was constantly telling me as I pounded away on my computer in the evenings, "You're going to be full-time by February." I responded with pure laughter. I told him he was crazy and that maybe, MAYBE, I would be full time by next summer… maybe.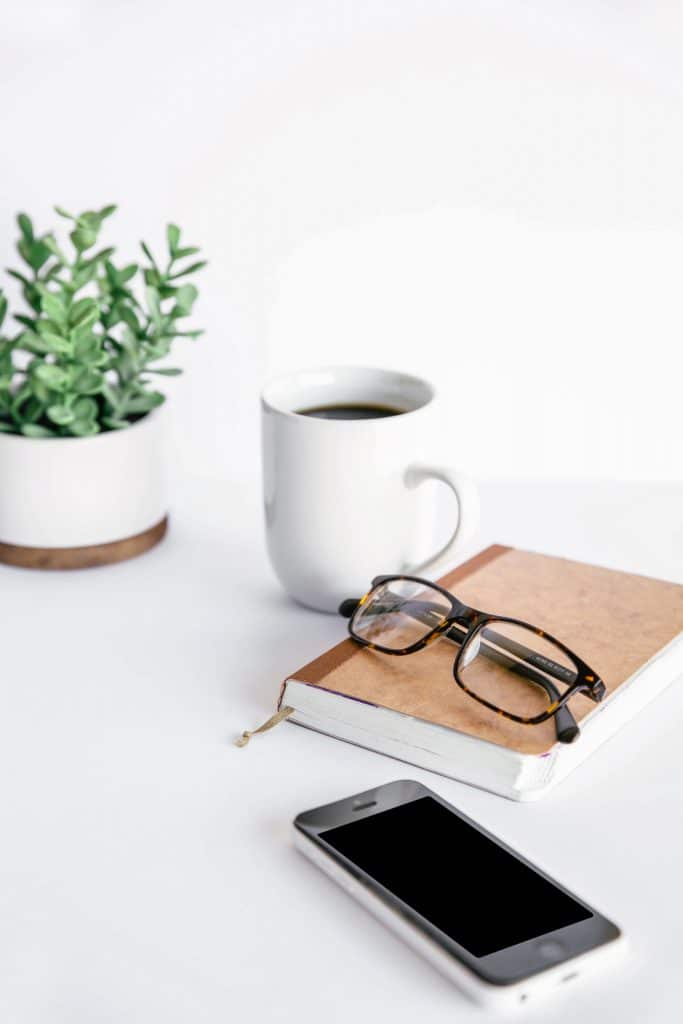 LEARNING MY VALUE AS A VIRTUAL ASSISTANT + FALLING IN LOVE WITH THE INDUSTRY
HOLY MOLY it was a lot of work and real hustle.
But I had truly never been so excited about anything related to my career before. I have always been that, "I'll just change my major… again!" person because I had never felt that super deep passion about anything I worked on. Don't get me wrong, I loved my day job – But that's exactly what it always felt like: a 'job'.
I never felt like I had control over my work the way that I did whenever I was serving clients. I was able to use my voice and my skills to help them run their businesses more efficiently and I was serving others in a meaningful way. It became clear how deeply valuable it is to my client's businesses to have the backend task support of a Virtual Assistant, and I was so honored to be the person providing it.
All of this to say: It was the shortest, most challenging and most rewarding time of my career.
SPILLING THE BEANS ABOUT MY SIDE HUSTLE
Up until this point though, I was hiding my (not-so-little-anymore) side-gig from my 9-5 job.
But we were getting ready to go into the busy season for Events (Allll the December Holiday Parties) so I didn't want to freak out my extremely loving team… But I knew that taking on this larger client meant that something had to give.
I finally made the decision to sit down with my boss and share the news about my new venture.
Now remember, she had just fought for the previous three months for the raise I was just given and they created a budget for a new assistant so that I could take on higher level tasks within the department. So finding out that the person you just coached for an entire quarter was quitting during busy season is not usually the thing a Director wants to hear. I was terrified to tell her after she had been so good to me.
But she was incredibly proud and so, so thrilled for me. Seriously. She told me that she wanted to do whatever she could to help me and wanted me to succeed.
We together to create a plan where I would go slowly move into a part-time role until they found a new person to replace me. This way, I would have the extra work time I needed for my business each week and they would have the support they needed to get through busy season.
SUPPORTING MY TEAM FROM THIS EXPERIENCE
To this day, I aim to support my team members, clients, and client's team members the way she supported me during this moment. I will always do everything I possibly can to help my team members and clients grow and become the best version of themselves that they can possibly be.Whether that's with me or out on their own moving to the next step in their career, I'll give them everything they need to get there.
Let's all grow together people! I will always work to move with this intention in my business regardless of my business growth (or lack thereof) thanks to this incredible lesson that I learned.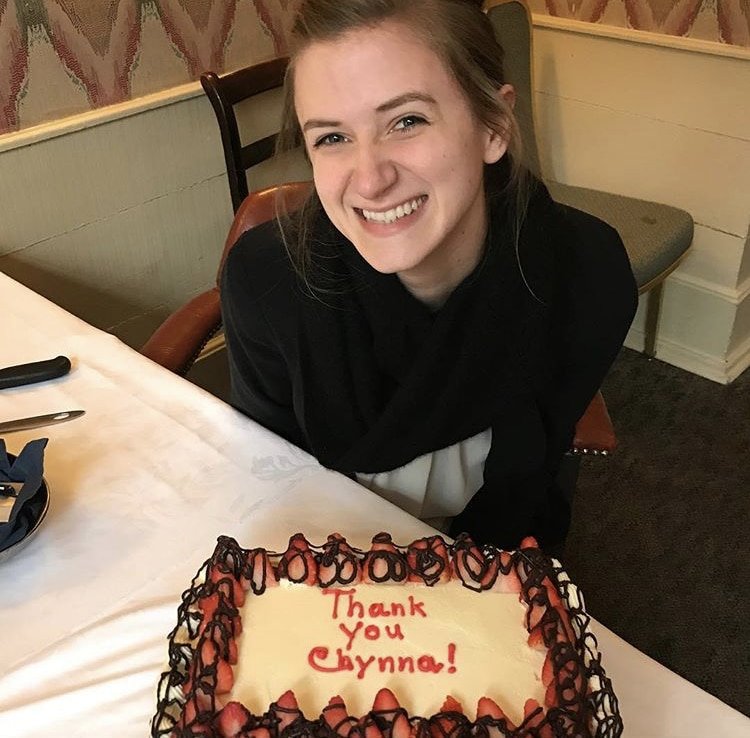 (That's me on the last day of my 9-5 job!)
BECOMING A VIRTUAL ASSISTANT PRO
By the end of December I was only working three days a week at my 9-5, with the intention of going full-time by the end of March. This was mainly because I wasn't sure they would find someone to replace me quickly and I still liked having some steady income while my client base grew.
It was the second week of January when they hired someone new and I started to train them during my remaining shifts. In that time I landed another client that gave me the financial comfort to schedule my last day of my nine to five on January 31st.
So, turns out John was right: I was full-time by February after launching the September before. And honestly to this day – it still completely blows my mind.
REFLECTING ON MY BUSINESS GROWTH
I am beyond grateful for this journey and I am still literally brought to tears when I think about the support of my 9-5 team and my clients at the time. Who all gave me the encouragement and drive to move forward in building an online business, especially when I was still working like a mad woman.
Words can't describe how honored I am to have you with me in this wild entrepreneurial life.
I love hearing other people's online business launch stories because they all tend to vary so much! Share how you are building an online business below in the comments, I'd love to hear it.