Sharing helpful and informative information on your website is one of the best ways to grow your business over time. But you've got to get all the life out of it that you can.
Because it takes a lot of time and energy to both figure out what to create, but then actually create it. That's why learning how to repurpose content is really crucial to maintaining consistency (and your sanity).
WHAT IS REPURPOSING CONTENT?
Repurposing content is the process of figuring out how to reuse content in different ways. "Content" in this case are those blog posts, podcast episodes, Youtube videos, or something similar that you create to serve your potential clients or online community.
It allows you to take one concept or idea and share it in other mediums that might be more accessible in other ways.
There's no sense in creating constantly when you can just reframe the work you've already done in another way to serve your community. Instead, you're just working to everything out of that one thing that you already made.
Besides, your target audience probably isn't going to see your newsletter, instagram post, pinterest pin, and more talking about the same thing. So it's okay to reuse!
There are probably more ways to repurpose content than you might think. So even if you feel like you can't reshape your ideas into something else, I'm here to tell you that you're dead wrong. 😉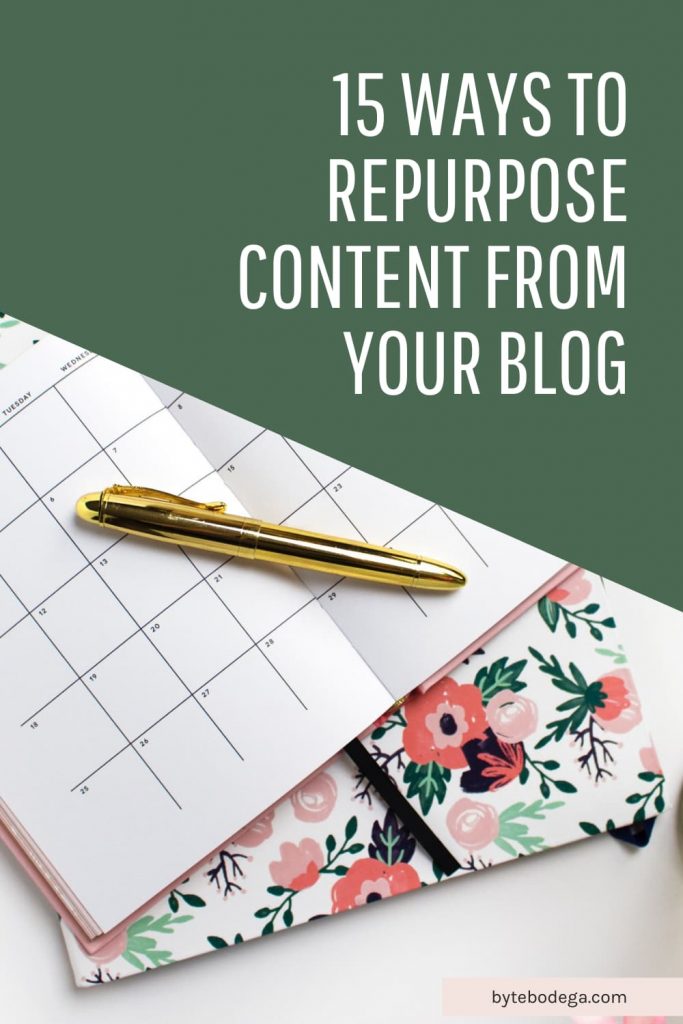 WAYS TO REPURPOSE CONTENT FROM YOUR BLOG
Instagram Posts
Instagram is a great way to let your community know about the new resource that you created for them. You can even reuse a lot of the copy from blog posts in the caption to keep it even easier! Just take a picture for the feed and reshare your intro from the post itself!
The best part about instagram specifically, is that there are so many different mediums that you can use to get even more out of your content. For example, you can take one blog post where you share 9 different tips on "your thing" and use three of them in a post on your feed, three more as a reel video and three more in your stories!
That allows you to take one piece of content and repurpose it 3 different ways just on Instagram.
Weekly Newsletter
Growing an email list is one of the best long-term strategies you can implement to grow your business over time.
As you grow that list though, you have to actually talk to your subscribers! That means that you need to send them emails on a regular basis to keep them updated on what you're creating for them.
I encourage you to send an email every time you publish a new piece of content. You can pull the blog post copy to repurpose right from your post or share a description of your video or podcast to encourage them to check it out.
Pinterest
Pinterest is in my humble (Pinterest Manager) opinion, the best platform that you can share your content on than any other. Because Pinterest is a search engine, you can gain traffic back to your content again and again – Rather than just once or twice like you do on other platforms.
I encourage you to create 3-5 visual pin graphics on a beginner-friendly design platform like Canva and pin them to Pinterest. You'll instantly have 30 or more pins to share just from those few graphics and they'll continue to work for you over time.
I recommend a platform like Tailwind (that's an affiliate link!) for scheduling on Pinterest.
Facebook Feed (Personal + Business!)
This is probably the easiest way to repurpose your content! Simply share the article from your website to both your personal Facebook feed and your business's Facebook Page.
I encourage you to make sure you have a "featured image" set for sharing in your blog post, so that Facebook can populate a relevant image for the post. It makes it a little more enticing to readers to click as a result.
Create an Infographic
Infographics are a fabulous way to visualize the value you have to share. It allows you to communicate your message in a different, more visual way that's often easier and quicker to digest.
This is a great example of an infographic by Carley Schweet to inspire you!
You can experiment on your own with designs if you're creative in platforms like Adobe or Canva. I find though, that the best way to have these made is by a freelancer on a site like Fiverr or Upwork.
There are experts dedicated specifically to this service and it's reasonably affordable! Bonus points if you share the infographic on your social platforms as a "repurpose your repurpose" strategy.
Social Media LIVESTREAMS
If you're comfortable with going "live" – It's a fabulous way to connect with your community and repurposing gives you something to talk about while you're streaming!
I especially love reusing list posts as lives because you can walkthrough each of the tips and it's easier to stay on track, even if you're a little nervous! However, you can truly reuse anything that you can make work.
I recommend approaching a live as a more causal approach to your content than your formally published piece. Just hop in, have fun and chat through it with your community!
Record a Youtube Video
If you aren't already recording and posting YouTube videos, it's always a good idea to create one!
When trying to figure out how to repurpose content this way, I always recommend filming videos for your evergreen content. So you can head over to your website, find a blog post that performs super well and film a YouTube video of you talking through the points of it.
If you have a podcast, you can easily record your Podcast while filming yourself talking through it and make that your video! It becomes the easiest two-for-one ever.
Video is fabulous for SEO because Google owns YouTube, so you get all the SEO points as a result!
Record a Podcast Episode
The same goes for podcasting if you're already creating Youtube Videos.
If you already create videos, you can have your editor rip the audio from it and publish it as a podcast instead. Voila! You've got yourself a video and a podcast episode from just one recording session.
I love recording podcast episodes from blog content as well. Generally you only need to rework the copy a little bit in the introduction and the ending to make it more "podcast-y". Otherwise, your script for recording is 90% written in your post!
Create a TikTok
Tiktok is the new, go-to social media platform! Because it's still growing rapidly, it's a lot easier to compete with others in your niche to get your content seen.
You can create a short TikTok walking through the tips you share in your content. At the end of the video, let your followers know that they can view your original content for even more tips!
It's a great way to cultivate a following on the platform while gaining momentum for your evergreen website content.
Make a Webinar
Webinars have incredible conversions rates in comparison to any other form of marketing. I know they generally have a bad rap for being boring and stuffy, but they can be so much fun if you create them the right way!
Webinar conversions stand at an industry average of about 30% where emails are about 20%.
I recommend utilizing one of your top performing pieces of content from your website for your webinar. You already know that it's content your community loves, so it'll be really attractive to show up live for it!
Guest Post
Guest posting is when you write and share an article on someone else's website in order to expand your reach to their community. You can share the expertise you have with someone else's audience and grow your own as a result!
Consider asking some people in your niche (not direct competitors obviously!) whether they'd be interested in publishing one of your existing written pieces of content on their site.
Of course, you'll ask to be credited as the author but otherwise the hard work is done because you'll just share your existing article!
Tweet it
This is just as easy as sharing your post to Facebook in that you can simply share a new or archived piece of content that's still relevant to your twitter followers. Make sure to share an engaging graphic to better promote it or have that featured image selected so it populates in a great way.
You might want to include a short message letting your audience know what they'll learn if they read, watch or listen in!
Create a Resource Page
This is an idea that I got from my webmaster, MaAnna, over at BlogAid and it's genius! (She's amazing, btw.)
Consider creating one primary resource page on your website where you can create a sort of library of your own information for your community. All you need to do is create different categories and posts within each one to keep it organized.
For example: I might have a "Virtual Assistant Services" category on my resource page that I include posts titled "top VA services", "best VA services for beginners", and "every single VA service" underneath. Each of these would be individual blogs posts that might be helpful for someone.
It's a fabulous way to create even more value for your audience with content you already have! Plus, it can earn you awesome SEO points with google too.
Free Email Course Opt-in
Free Email Courses generally have great opt-in rates and portray a ton of value for your new subscribers when they sign up. That basically just means that they'll fall in love with you from the very start because they're super impressed with what you're teaching them for free!
Create a series of three or five short video lessons that you deliver with a platform like convertkit (affiliate link!) on autopilot.
All you need to do is reframe these video lessons from three or five of your existing pieces of content with maybe an extra tip or two. Chances are the person watching these videos haven't seen every single piece of content you've ever written, so it'll still be new and helpful to them!
Update + Repost it!
Things are always changing in the online world, so when they do – update your content!
Instead of creating new posts all the time, go back and make sure previous articles and videos are up to date. Then you can share the newly published article as though it's brand new to your audience with the other strategies we covered. Chances are, no one will remember what you posted this time last year – So it'll look brand spankin' new to everyone but you. 😉
Of course, this isn't a short-cut that should be used just to republish the same articles over and over again to cheat the system. However, it is really beneficial to keep evergreen content working for you without a ton of extra effort.
What ways to repurpose content will you use in your business? I'd love to know what you're implementing or if you have another idea all together!