At some point, you're going to hit a wall where you can't take on any more client work.
I know this concept can feel very laughable when you're first starting out because it seems as though you'll never reach that point.
I'm here to tell you, that if you do incredible work for your clients – which I know you do because you're ah-mazing – you will. So you need to have some ideas on what to do with your business when you reach that point. That's why we're talking about some ideas for how to scale a service business.
These are some simple ideas that you can implement when you're ready to move from client recruitment and working with clients one-on-one to growing your business over time.
WHAT DOES IT MEAN TO SCALE MY BUSINESS?
Ah, scaling. This is one of those buzz words we hear all the time in the online business world. You know the ones.
The "Scale your business to 10K Months in 30 Days Working 1 Day a Week!" kind of stuff. But what does scaling actually mean on a practical level in business?
Scaling is increasing the scope of what you can offer in your business. It means that you have established systems and processes to support you in the anticipated growth that you're planning for.
This is different than just growing your business, because you can grow without technically being ready to scale over time.
Here's a quick example: Let's say you're a website designer and you work with client's to build custom websites for their businesses.
Over the course of 6 months, you go from building 1 website a month to 3 because you start gaining referrals and marketing your business more. This is growing your business, but it's not scaling it. Because you're simply just doing more of the same thing than you were before.
At some point, you're going to hit a wall with how much you can take on (and therefore how much money you can make).
In that same example, let's say you build standard operating procedures for each step in building a client's website during your first project. Then by the sixth month in business, you hire a subcontractor to take on that second and third project you're handling each month. This is scaling.
Because you have processes in place that assist you in the growth that your experiencing, rather than just growing indefinitely without making it easier on yourself to make the extra money. You aren't just taking on all the work yourself as more and more comes in.
There's a lot of different ways to scale a business, especially for virtual assistants. That's why I thought it was important to share some of the most common directions you can take.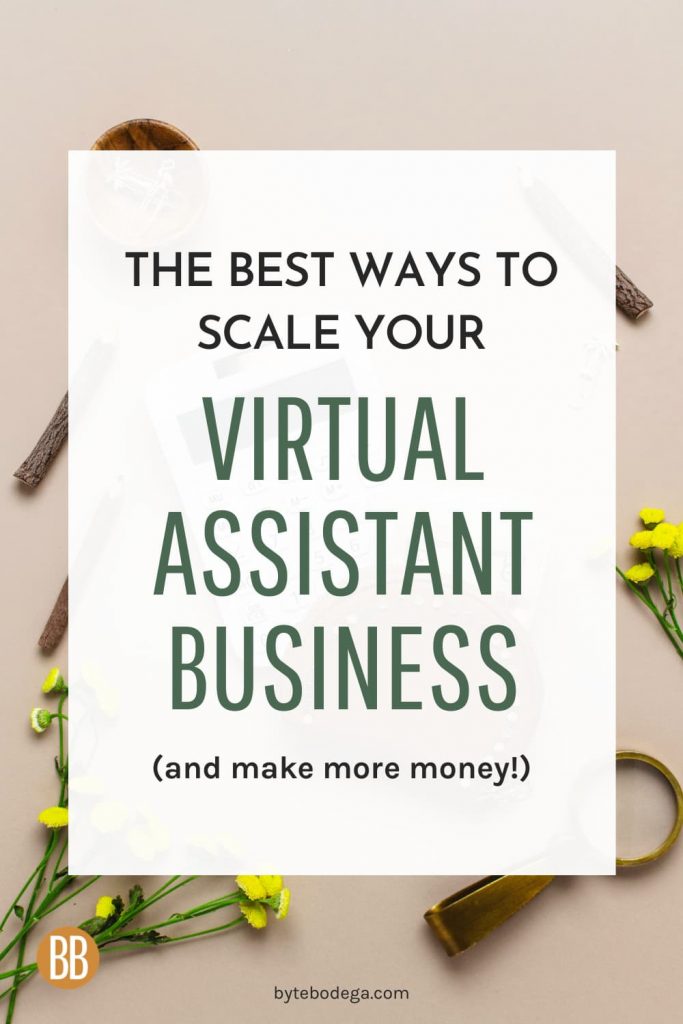 HOW DO I KNOW IT'S TIME TO SCALE AS A VIRTUAL ASSISTANT?
Deciding when it's time to scale is a very personal question because I really feel as though it's based on the goals you have for your business.
Some VAs desire to work a maximum of 20 hours a week with just 1-2 clients in order to have time to raise their kids and that's totally normal and okay! It might mean though, that it doesn't sense for you to scale past where you are in order to meet your personal goals.
However, some people want to have 10+ subcontractors under them and offer a one-stop-shop kind of service for their clients. If this is the case, it's going to be really important to create the systems you need to scale as early as possible.
So you first have to decide if and why you want to scale and whether or not it's the right fit for you and your goals. There's no wrong answer here, it's just molding your business to what you want and need. (And isn't that the whole point of this remote work life we love?!)
Then it's figuring out when to scale.
The sure fire way to know that you're ready to scale your virtual assistant business is that you have more clients than you have time.
Once you fill your client roster and you're working in your business full-time, you naturally hit an income cap. Because if you can't open more time in your calendar, you can't make any more money.
That's when it becomes time to decide how to scale your business. Because you have to figure out a way to increase your income despite not being able to take on more client work.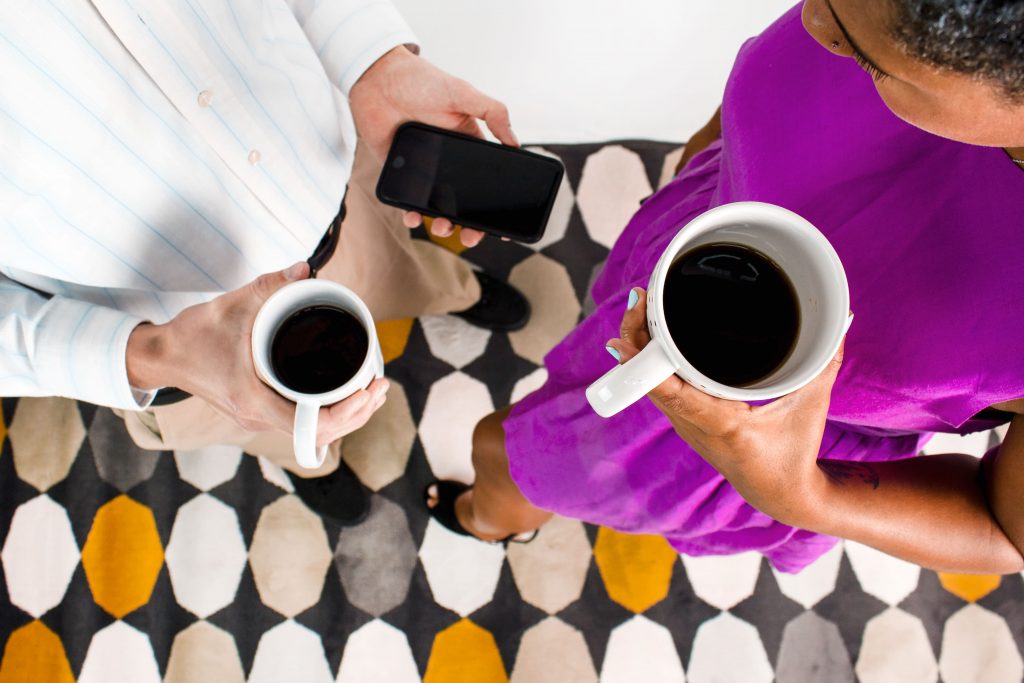 SIMPLE WAYS TO SCALE AS A VIRTUAL ASSISTANT
#1 Create a Packaged Service
Many virtual assistants start out working on an hourly rate with clients. This is something I fully support (and actually recommend!) However, this makes it hard to standardize the services you provide because you end up doing anything and everything your client needs.
This makes it difficult to systemize the work you do for clients in order to save you time. When the tasks are the same for each person, it makes it easier to automate your process because you use it over and over again for everyone.
Consider how you might be able to offer your services at a packaged rate instead of hourly so you can automate your tasks and save time. The added benefit to this is that you don't loose money when you get faster at the services you provide because your client will always pay you the same amount rather than just for the time you worked!
Learn more about packaged and hourly services in this post.
#2 Grow a Team
I'm obviously biased here, but I absolutely love the idea of growing a team as a strategy for how to scale a service business.
Once you reach your limit in how much client work you can take on, hiring a subcontractor is a great avenue to take. This is when you hire another virtual assistant within your own business and delegate your client's work to them. So your client is still working with your business, but your team member is now taking on the work rather than you handling it all.
This is a great option for packaged services. As we saw above, the process is the same for every client so it's a lot easier for the contractor to learn and repeat the same tasks over and over again.
#3 Raise Your Rates
If I'm being 100% transparent, I don't think that raising your rates is a great way to truly scale your business.
Because at the end of the day, there's still a maximum price that every client is willing to pay for certain services. So if you're charging astronomically more than all your competitors – At some point people might stop booking you.
Of course there's exceptions to this rule and I know that, so don't go dragging me for this either as I know it certainly works in some circumstances. 😉
Raising your rates is a fabulous way to dip your toes into scaling when you're just starting to grow. It allows you to narrow down the number of clients you serve as well as the type of client you serve, so it's great for putting more money in your wallet with less time invested.
So if you're just maxing out your client schedule and are still trying to figure out what long-term route to take with scaling – start by raising your rates!
#4 Specialize or Niche Down
Virtual assistants often start out serving anyone and everyone doing just about anything and everything.
After awhile though, you'll begin to find the things you're truly good at and what you really enjoy doing. Those tasks you're happy to work on for hours on end for your clients. Not to mention, you'll also find what you absolutely loathe working on too…
Use this to your advantage by narrowing down the services you offer and who you offer them to. For example, you might move from offering general administrative work to just Instagram Management because you find you really enjoy it!
You could also decide that you only want to work with Health Coaches offering a variety of services because you love that type of client. So instead of focusing on a single service, you focus on a single target client.
Don't be afraid of "losing out" on clients that don't fit within your new service or niche, either! This is really common fear because it can feel as though you're loosing money by not taking on clients that don't fit anymore. I've found though, that it actually increases your value rather than the other way around.
#5 Tripwire Products
Tripwires are low cost digital products that are usually between $9-47(ish) and are offered as an upsell when someone opts-in to your email list.
If you focus on growing an email list within your business to gain client leads, this can be a great way to start earning income without a huge commitment or audience. They take way less time to create than a full-scale digital course, so they're a fabulous stepping stone when you're interested in digital products and scaling.
Tripwire products can also be setup to run on autopilot in the background while you focus on client work – So they become a great, small source of passive income.
#6 Online Courses
When you're ready to dive into digital products in a big way, online courses are the way to go! I especially love them for when you can turn a service you offer into a course for your potential clients.
Online courses are a way to transform your services from a one-to-one experience to a one-to-many experience. This means that instead of you working with one client for your service at a time and implementing the steps of it on their behalf, you give them the tools for them to do it themselves.
It's a great offer for clients that might have the budget to work with you one-on-one. Instead, you can refer them to your course to gain your insider tips at a lower rate that's more accessible.
Online courses one of the best ways to serve more people with less time and effort from you.
#7 Sell Templates
Do you offer a service that requires templates or frameworks of any kind? Selling templates could be a great option for you!
You can pair these with an online course offering or sell them individually.
This is great for VAs that offer creative virtual assistant services because a lot of entrepreneurs need affordable access to beautiful designs. However, this certainly isn't the only option for templates that you could sell!
Here's a few examples of templates you could sell that compliment common VA services:
Website Design: Website Themes or Templates for the Platform you work with
Instagram Management: Customizable Grid Templates or Instagram Story Covers in Canva
Online Business Management: Standard Operating Procedures or Project Management Platform Templates (asana or clickup)
Whatever it is that you do, think about what templates you use behind the scenes of your business for clients. Consider how you might be able to reframe them to sell for clients to implement independently.
#8 Coach + Educate
Is your business model something other people show interest in doing themselves? Consider passing the torch and educating and/or coaching others.
When I was really gaining traction in my VA business, I had a lot people reach out to me with questions or looking for tips on how to get started in their own businesses. So I knew that once I reached a point where I had the time and energy – I was going to educate others. Because this work truly changed my life, and I wanted to share it if others were interested.
If your business is structured in a similar way, where you have people reaching out to you on why / how to get started in doing what you do – Educate!
This can be offered in the form of online courses or working with people one-on-one to coach + teach them the tricks of the trade.
I hope this helps you get started on brainstorming the next move for your business. Let me know what strategy you're going to take to scale as a VA!